ATTENZIONE: il seguente articolo potrebbe contenere spoiler su The Flash 4
Ahh, il Natale: le tavole imbandite, l'atmosfera che si respira, le canzoni, la neve che cade, le ferie… l'unica nota negativa? Le tue Serie Tv preferite vanno in pausa fino a gennaio. Potresti approfittarne per recuperare gli episodi che non hai ancora visto, oppure potresti iniziare Serie Tv nuove, ma il mio hobby preferito sapete qual è? Formulare teorie su teorie: chi è A (e AD) in Pretty Little Liars, chi ha ucciso Jason Blossom in Riverdale, e soprattutto capire se Jon Snow è davvero morto.
Questa volta, a passare sotto il mio attento occhio da detective HOSsiano è The Flash.
La quarta stagione della Serie targata CW (che in Italia debutterà il 6 febbraio 2018) è andata in onda con il midseason finale lo scorso 5 dicembre, lasciando i fan con il fiato sospeso fino al prossimo 16 gennaio. Cosa dobbiamo aspettarci allora dalla seconda parte della stagione? In attesa di vedere le prossime avventure di Barry Allen (Grant Gustin) e dei suoi amici, io vi parlo del perché credo che Barry Allen abbia una figlia. E l'ha pure incontrata!
Per poter capire di cosa sto parlando, bisogna andare indietro di un episodio.
Prima del midseason finale, andava in onda un cross-over dal titolo "Crisis on Earth X" (qui per la recensione): i protagonisti di Supergirl, Arrow, The Flash e DC's Legends of Tomorrow, ancora una volta uniti contro il cattivo (e che cattivo!) e riuniti per celebrare un matrimonio.
Nella prima parte di questo cross-over, Barry fa un incontro abbastanza ambiguo.
La scena è questa: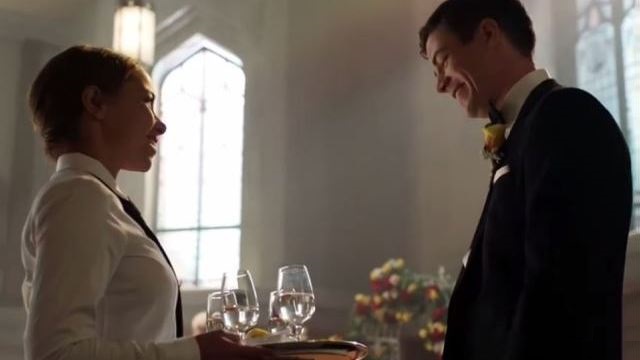 Seppur duri pochi minuti, è abbastanza per capire che la ragazza nasconde qualcosa. Si avvicina all'uomo più veloce del mondo e, vedendolo ansioso, gli chiede se vuole qualcosa da bere.
Lo guarda con occhi sognanti e pieni di ammirazione (perché sta guardando suo padre o perché ha davanti Grant Gustin in smoking? In tal caso come darle torto…) e fa fatica quasi a parlare. Non dice come si chiama ma si mostra piuttosto entusiasta di essere ad un matrimonio e lo confessa a Barry. Ora, pensateci bene: perché una cameriera dovrebbe essere così felice di servire a un matrimonio? Un po' insolito, non trovate? Forse perché non si tratta di due sposi qualunque, ma di Barry e Iris.
Un altro indizio evidente è l'aspetto fisico della cameriera interpretata da Jessica Parker Kennedy (già vista in Black Sails) : mulatta con occhi grandi e verdi. Vi ricorda qualcuno? Forse Iris West (Candice Patton)? La teoria non è del tutto infondata, infatti dal fumetto della DC Comics, leggiamo che Barry e Iris hanno avuto non uno, ma ben due figli gemelli, nati nel XXX secolo: Don (il maschio) e Dawn (la femmina) ed insieme formeranno il duo di velocisti, conosciuto come Tornado Twins.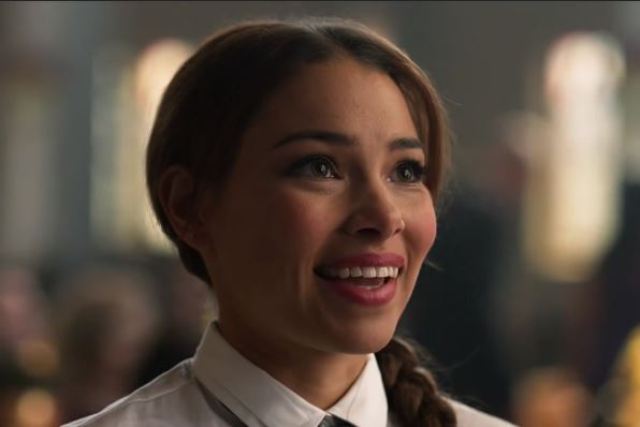 Ora: ipotizziamo per un momento che la cameriera e Dawn Allen siano davvero la stessa persona (il suo sangue da velocista potrebbe aver accelerato la sua crescita), come ha fatto allora ad incontrare il Barry del XXI secolo? Per i velocisti, viaggiare nel tempo non è di certo una novità, ma ecco qui un altro collegamento che ci riporta a un'altra Serie Tv: la prima parte del cross-over (qui per leggere la nostra pagella) viene mandato nella puntata 3×08 di Supergirl.
Ma cos'è successo di recente nella terza stagione di Supergirl di significativo da poter essere collegato all'apparizione di Dawn? A National City viene trovata una navicella aliena, con a bordo delle capsule contenenti persone sotto l'effetto dell'ipersonno. Mon-el (Chris Wood) è una di queste persone che, dopo essersi risvegliata, racconta a Kara (Melissa Benoist) di aver vissuto nella terra del futuro per sette anni. Indovinate un po' da quale secolo è tornato? Proprio il XXI secolo.
Che Mon-el e Dawn abbiano viaggiato insieme sulla stessa navicella? Dobbiamo prepararci a un nuovo cross-over tra The Flash e Supergirl?
Vi ricordo che questa è solo una teoria, dunque potrebbe non essere esatta. Intanto non ci resta che aspettare e seguire i prossimi sviluppi dei nostri supereroi preferiti.