Eccoci qui, l'ultima recensione di The Flash prima della pausa invernale e dell'attesissimo crossover che inizierà lunedì sera con Supergirl. La puntata di questa settimana è la seconda parte di quella di martedì scorso (se te la sei perso, leggi il nostro commento qui) e anche questa è stata intitolata The last Temptation of Barry Allen, andata in onda la sera del 3 Dicembre su The CW.
Questo episodio, a differenza dello scorso, ha racchiuso tutta la sua parte emotiva negli ultimi 10 minuti, la parte restante è stata dedicata all'azione tipica della serie, con combattimenti ed effetti speciali. Avevamo, infatti, lasciato Barry Allen mentre si trasformava definitivamente in Dark Flash: dopo una straziante indecisione, ha accettato il virus del dottor Rosso, cedendo alla tentazione di poter sopravvivere alla crisi.
Ovviamente, come gli aveva detto anche la Forza della Velocità, seguendo le condizioni di Ramsey, Flash ha perso tutta la sua umanità, la sua anima è stata corrotta. Incomincia così a seguire gli ordini del suo nuovo padrone e infrange la sua morale dell'eroe: ferisce i cittadini di Central City e soprattutto i suoi amici.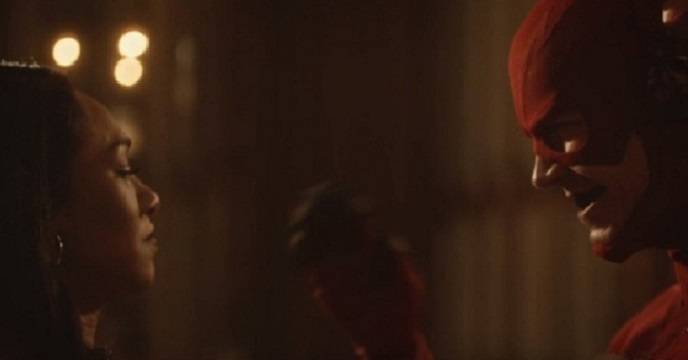 Questo episodio di The Flash si sviluppa seguendo una narrazione molto semplice: Dark Flash e Bloodwork, il nome da villain del dottor Rosso, vogliono infettare i cittadini, spargendo terrore per la città. Ogni persona attaccata dal virus si trasforma in una specie di zombie senza controllo.
Dunque, a far fronte a questo problema, troviamo ovviamente Iris e Cisco che lavorano senza sosta negli S.T.A.R. Labs per trovare un antidoto, poi abbiamo sul campo di battaglia il distretto di polizia con a capo Joe e Frost che cercano di contenere gli infettati. Infine è presente anche una mini storyline in cui vediamo Kamilla e Cecile, intrappolate in un edificio in cerca della salvezza, seguite da un'orda di zombie.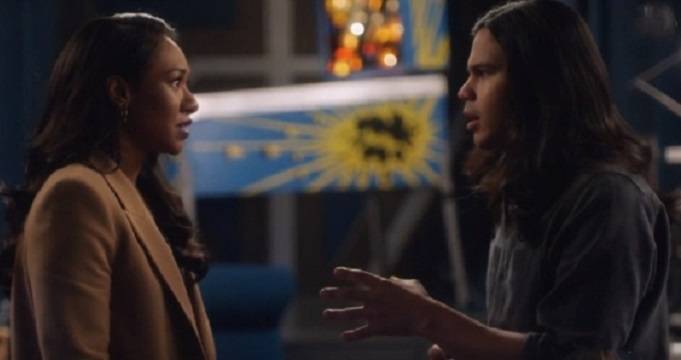 Il grande piano di Bloodwork è quello di entrare nei laboratori e usare l'acceleratore di particelle per diffondere su larga scala la sua "cura" e per farlo si serve di Dark Flash per ingannare Iris, sfruttando il legame che li unisce. Barry, però, anche se completamente soggiogato, riesce a dare dei piccoli indizi ai suoi amici, mostrando loro che dietro a tutta quella cattiveria c'è ancora la sua umanità che sta combattendo per salvarsi.
In questo modo, grazie anche all'aiuto dei poteri di Allegra e con la leadership di Cisco, sono riusciti a salvare l'intera città e curare la parte oscura di Barry. Sono stati anche in grado di imprigionare Ramsey e spedirlo alla A.R.G.U.S., anche se non sono convinta che questa sia la fine del suo personaggio.
Penso che in qualche modo sarà un villain che vedremo ripresentarsi anche in futuro all'interno della stagione, forse negli ultimi episodi, per concludere in maniera meno sbrigativa la sua linea narrativa, soprattutto ora che abbiamo anche visto anche la sua trasformazione completa, molto simile a quella presente nei fumetti. Un mostro ripugnante e viscido, abbastanza realistico per gli standard televisivi.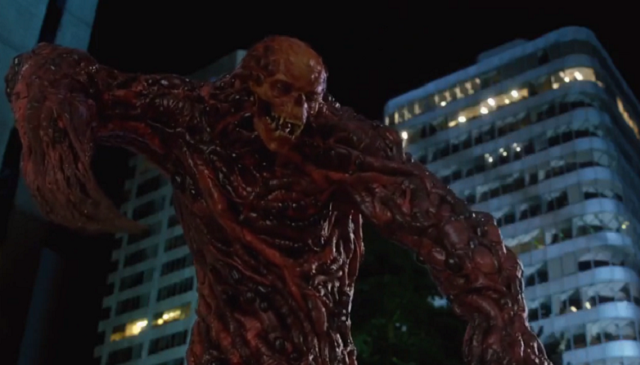 Per ora il Team Flash può cantare vittoria. Una gioia solo passeggera perché la vera battaglia sta per iniziare.
Come ho detto all'inizio di questa recensione, la puntata è stata molto meno emotiva della scorsa settimana. In quell'episodio si era dato ampio spazio alla sfera psicologica, alla mente di Barry e alla sua umanità, una parte fondamentale del suo essere eroe, ma anche una parte molto fragile e molto spesso ricca di dubbi.
Con questo secondo episodio si è deciso di optare per la pura e semplice azione, a mio parere non molto efficace perché alternata come al solito a linee narrative secondarie che non hanno molto appeal. Per esempio, la storyline di Kamilla e Cecile poteva essere eliminata così da poter dare maggiore spazio alla resa dei conti tra eroe e villain.
Infatti, la parte migliore della puntata è stata sicuramente il finale: gli ultimi dieci minuti nei quali quasi tutto il team (mancava Ralph, non si sa che fine ha fatto: altra scelta non molto sensata, secondo me), si riunisce per godersi gli ultimi momenti di tranquillità. A mezzanotte scatterà il giorno fatidico, la crisi si avvicina e non si sa come o quando si presenterà.
Si riuniscono dunque a "festeggiare" questa piccola vittoria e a ricordare quanta strada hanno fatto: hanno iniziato in tre in un piccolo laboratorio contro i primi meta umani della città e oggi si ritrovano ad affrontare una tra le più grandi sfide della loro vita. Barry come al solito dice delle parole molto toccanti, verso Joe, Iris e i suoi amici, un momento di alta emotività. Molto carino e sentito.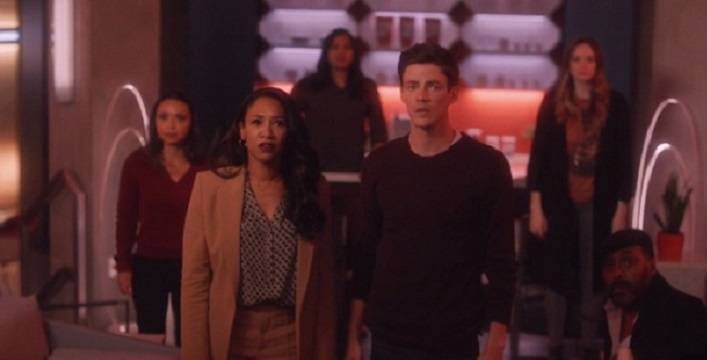 Poi scatta la mezzanotte e tutto cambia. Sentiamo un boato e il cielo inizia a tingersi di uno strano colore rosso-violaceo, come avevamo visto nelle visioni del futuro di Barry. La crisi è arrivata.
Prima di concludere con questa recensione di The Flash, però, dobbiamo dedicare un piccolo spazio a Nash Wells, l'unico che sta veramente indagando su questa crisi e sta cercando di capire come sconfiggere Monitor.
Vediamo l'uomo nel tunnel sotterraneo attaccato anche lui dagli zombie. Sembra arrivata la sua ora, quando Monitor lo salva. Da quel momento sentiamo la voce di Novu che dice a Nash che le risposte sono sempre state dentro di lui. Questa frase sembra aver fatto scattare qualcosa nell'uomo che, avvicinandosi ai simboli, li tocca secondo una determinata sequenza a noi sconosciuta. In quel momento, il muro si apre, si vede un grande fascio di luce che lo irradia, finendo per risucchiarlo nel muro.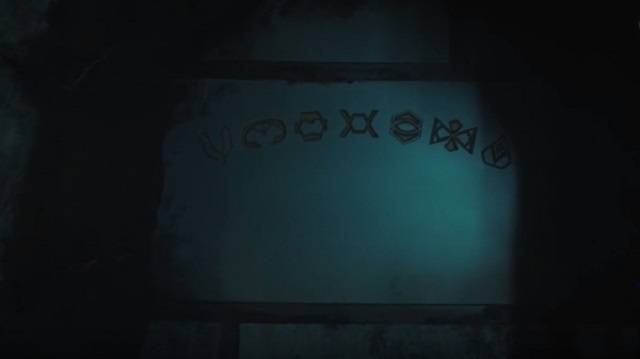 Probabilmente proprio questo suo gesto rappresenta la scintilla scatenante della crisi, dato che coincide perfettamente con lo scocco della mezzanotte. Mi viene anche da pensare che questo sia stato un espediente per togliere di mezzo il personaggio di Nash durante il crossover dato che Tom Cavanagh dovrà interpretare un altro personaggio in questi 5 episodi. Ma non è ancora detto. Quello che ci preme maggiormente sapere è: cosa rappresentano quegli strani simboli? Saranno fondamentali durante il crossover? O sono l'inizio di una nuova storyline che vedremo in futuro?
Queste e migliaia di altre domande ci tengono con il fiato sospeso. Non ci resta che aspettare ancora un altro po', ma nel mentre potete distrarvi con i vari teaser e trailer usciti in questo periodo.
Noi con le recensioni dei singoli episodi e con le le conseguenze di questa crisi sull'intero Arrowverse ci diamo appuntamento dopo la pausa invernale.
Un saluto, ci vediamo sempre qui, sempre con The Flash!