Attenzione: evitate la lettura se non volete imbattervi in spoiler su The Expanse
A partire dalla sigla, già è una magia. Una musica misteriosa, solenne, con un qualcosa di epico. E i pianeti immensi con le rotte delle astronavi. Le città che sorgono dal nulla dove prima c'era il deserto, il paesaggio che cambia nei secoli con lo sciogliersi delle calotte polari terrestri. Poi un uomo alla deriva nel nulla. The Expanse (qui un focus) non è ancora iniziata e già è potente come può capitare a poche Serie Tv. Da qui in avanti, occhio agli spoiler.
Fin dalla prima stagione si comprende la matrice indubbiamente letteraria della storia. Capisci di avere a che fare con un'ambientazione estremamente complessa, dove popoli sparsi per il Sistema Solare hanno dei propri simboli, lingue e modi di dire, gesti. Capisci che i Beltalowda sono i Centuriani, o meglio il termine con cui si riferiscono a se stessi. E che hanno parole tutte loro per salutarsi, per mandarsi a quel paese e per definire gli Interni. Che, appunto, sono gli abitanti dei pianeti interni alla fascia di asteroidi, gli Inyalowda, ossia i terrestri e i marziani. Terra e Marte come due superpotenze in lotta per il dominio del sistema, mentre i Cinturiani – che vivono nelle colonie sugli asteroidi – sono gli scarti di questo universo narrativo.
Sono anche più deboli fisicamente, perché essendo nati a gravità 0 non possono vivere su Terra o Marte altrimenti i loro corpi rimarrebbero schiacciati.
Ma hanno una forte identità, una cultura estrema, fatta per gente abituata a lottare per la sopravvivenza. Deboli eppure forti.
L'ambientazione la fa da padrone quasi subito, e solo per quanto è ben strutturata è inspiegabile come faccia a non catturare un pubblico ben più ampio. Ma poi vengono presentati i personaggi ed è la prima volta dopo molto tempo che sono tutti interessanti, contraddittori, ben calati nella realtà del loro universo. James Holden e Joe Miller spiccano su tutti. Il primo è un terrestre che ha deciso di migrare per vivere su un rompighiaccio ai confini del sistema solare, mentre il secondo è il detective incaricato di ritrovare Julie Mao, figlia del miliardario terrestre Jules-Pierre Mao, che si è unita all'APE, un'associazione terroristica cinturiana.
La storia di James Holden racconta di un uomo senza più nessuna patria, che diventa capitano di una nave non registrata rubata ai marziani e che battezza Rocinante. La nave si fa ben presto una fama tutta particolare. Gli eroi della Rocinante, dove c'è una crisi o un sopruso loro intervengono. Alcuni episodi e battaglie sono veramente da brividi. Come la battaglia finale della seconda stagione, dove l'astronave Sonnambulist, piena di profughi in fuga, viene agganciata dalle navi da guerra marziane che minacciano di farla saltare. Interviene proprio la Rocinante che fa saltare i siluri sparati contro la Sonnabulist. Poi Holden aggancia con le batterie di missili tutta la flotta marziana e lancia un messaggio di sfida:
"Questa è la nave da guerra Rocinante. Conoscete meglio di chiunque le nostre capacità. Stiamo scortando una nave di rifugiati fuori dalla vostra zona operativa. Qualunque nave apra il fuoco su di noi sentirà tutto il meglio dell'arsenale marziano su per il culo. Moriremo tutti insieme. Questo è il nostro unico e ultimo avvertimento. State alla larga."
E l'intera flotta marziana, di fronte a una singola nave, si ritira.
Miller invece ha tutta un'altra linea narrativa. Un centuriano, un poliziotto e anche un uomo che non ha niente da perdere. Che rimane ossessionato da questa ragazza, Julie Mao, che anche se figlia di terrestri, anzi di miliardari terrestri, ha deciso di unirsi agli ultimi della catena alimentare per combattere assieme a loro.
"Siamo i più forti di tutti gli abitanti del sistema. Ognuno di voi lo sa da sempre. Ne avete certezza, fin dalla nascita. La nostra è una vita dura."
Miller pur di ritrovare Julie, di cui diventa ossessionato, sceglie di perdere il suo lavoro, la sua casa, tutti i suoi amici e di andare contro un complotto che coinvolge superpotenze. Ma quando la ritrova – finalmente – e ha modo di parlarle, Julie è diventata parte di un microrganismo alieno che sta per far schiantare l'asteroide Eros sulla terra.
I due si uniscono nel momento della morte.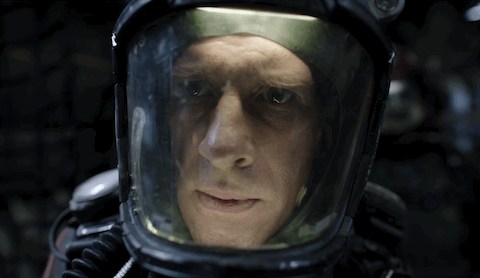 La parte forse più epica e potente della Serie, oltre che quel che riguarda i protagonisti, è proprio la lotta dei Cinturiani per il riconoscimento della propria dignità in quanto popolo. Sono i figli dei figli degli operai mandati a estrarre minerali dagli asteroidi, che non potranno mai vedere la Terra a causa della loro incapacità di sostenere la gravità. Ma poi, proprio grazie alle gesta di Holden, riescono ad avere la prima nave da guerra e a puntarla verso un Wormhole, il primo mai comparso, su cui ovviamente Terra e Marte avanzano diritti. Ma le parole del Capitano Camina sull'unica nave da guerra cinturiana, in realtà un'arca dei mormoni riciclata, sono da brividi:
"Oye, beltalowda. Ascoltate. Sono il vostro capitano e questa è la vostra nave. Questo è il vostro momento. Forse pensate di essere spaventati, ma non lo siete. Ciò che sentite non è paura. Questa è la vostra astuzia. Il vostro potere. Noi siamo cinturiani. Niente nel vuoto ci è estraneo. Dovunque andiamo, siamo a casa nostra. Stavolta non è diverso! Nessuno ne ha più diritto di noi! Né è più preparato di noi! Inyalowda vanno nell'anello e dicono che appartiene a loro. Ma un cinturiano lo ha aperto. Noi siamo la Cintura! Noi siamo forti! Siamo astuti! E non abbiamo paura! Questo momento di appartiene! Fo Beltalowda!"
Una Serie potente, che viene sottovalutata perché poco in vista. Ma vale la pena parlarne, perché è veramente un piccolo capolavoro.