# #
Eccoci di nuovo a parlare di The End of the F***ing World 2, uscita lo scorso 5 novembre su Netflix. Lo scetticismo verso questi nuovi 8 episodi era molto, si temeva seriamente che tutto il lavoro e la costruzione minuziosa dei personaggi e della trama della prima stagione potessero essere vanificati e banalizzati terribilmente.
# #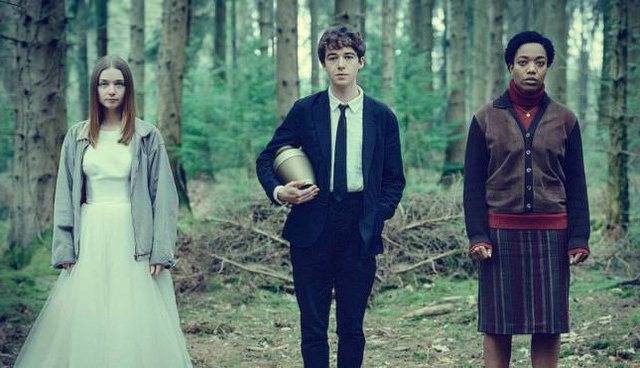 Innanzitutto viene introdotta Bonnie. Questa ragazza porta con sé un bagaglio di sofferenze, mancanze affettive e cicatrici psicologiche profonde e – anche se impersona il villain della stagione – è quasi impossibile odiarla proprio perché anch'essa è una vittima della società e della famiglia nella quale è cresciuta.
Vediamo anche un miglioramento finale in Alyssa e James, due ragazzi anche loro estremamente complessi e sopra le righe che hanno sempre avuto difficoltà a rapportarsi con gli altri e con loro stessi.
# #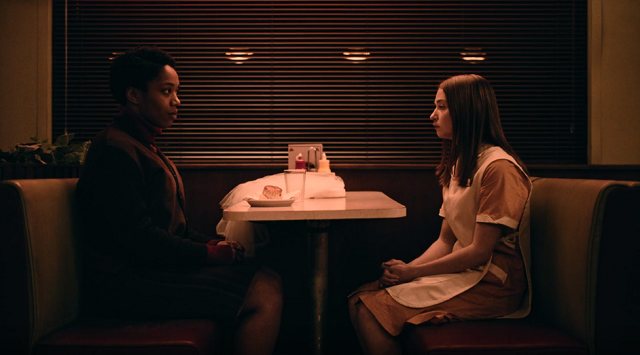 La stagione aggiunge poco riguardo le loro personalità. Avevamo già capito molto di entrambi la scorsa stagione, ma comunque ci è utile per esplorare più a fondo le rispettive paure e difficoltà, soprattutto dopo i terribili eventi che li avevano coinvolti due anni prima: il tentato stupro di Alyssa, l'omicidio del professore per legittima difesa, il colpo di pistola che ha quasi ucciso James… Insomma, situazioni difficili e traumatiche da cancellare, che lasciano cicatrici profonde nel subconscio delle vittime.
Per questo ciclo di episodi si è optato di nuovo per l'espediente del viaggio apparentemente senza una meta fisica. Ovviamente questo vagare apparentemente senza scopo rivela nascondere un obiettivo ben preciso: si tratta di un viaggio interiore, un viaggio di guarigione e accettazione del proprio sentire.
E tutto questo lo ritroviamo nel settimo episodio di The End of the F***ing World 2, che ci porta a comprendere a pieno tutti e tre i ragazzi. Lo scambio di battute finale è in grado di rivelarci tutte le paure, i problemi e i traumi che gravano sulle anime di Alyssa, James e Bonnie. I tre si guardano dentro e ne parlano ad alta voce, prendono finalmente in considerazione i loro stessi sentimenti, fino a quel momenti nascosti in bella vista e non presi veramente sul serio.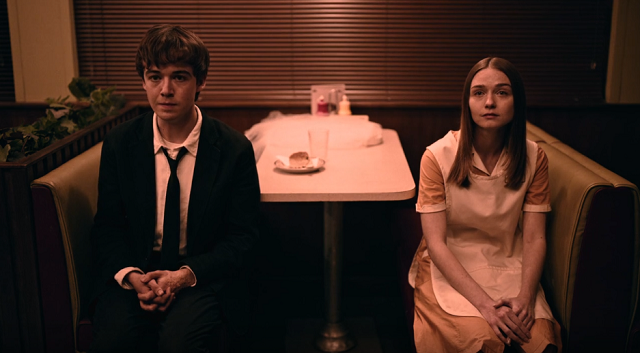 Ci troviamo alla resa dei conti. Bonnie è riuscita a rimanere sola con Alyssa ed è pronta a mettere fine ai suoi tormenti: vuole ucciderla e dopo di lei andrà dritta da James. Non sa che lui aveva scoperto il suo piano e si era precipitato alla tavola calda in soccorso della ragazza.
La tensione è molto alta, tutti e tre riescono benissimo a trasmettercela anche senza l'uso delle parole, con i gesti e le espressioni. James viene scoperto ed entrambi vengono messi a sedere, uno di fianco all'altra; davanti c'è Bonnie, in piedi, che li scruta: vuole sapere come hanno ucciso l'uomo della sua vita, quel professore che affermava di amarla, ma che in realtà la usava, abusava di lei e di molte altre ragazze, compresa Alyssa.
– È importante che ognuno abbia il suo castigo.

– E non lo abbiamo avuto? Sono ancora in quella casa, ancora in quella camera. Non ne esco. Avrò fatto una cosa che non va fatta, ma questo non lo meritavo.
I ragazzi provano a spiegare che si è trattato di legittima difesa: lui non era una brava persona, loro si sono trovati lì per caso. Bonnie comincia a vacillare, flash confusi, ricordi sbiaditi le passano davanti: forse è vero.
Questa scena tra loro tre è di grandissimo impatto, Alyssa viene assalita dal peso dei ricordi. Le torna in mente tutto: il professore, come l'ha afferrata quella sera, il suo volto, la casa, il sangue che tutto a un tratto incomincia a sgorgare caldo e disgustoso, il silenzio e lo sporco.
Pensa di essere pronta a morire, magari così sarebbe tutto più facile.
James finalmente capisce perché per tutto questo tempo Alyssa è stata strana con lui, più di come ricordava. Capisce che a soffrire non è stata solo lei: la ferita del proiettile alla fine si è rimarginata, quella nell'anima di Alyssa è ancora aperta.
Il suo compito sarà aiutarla e sostenerla. Aspettarla.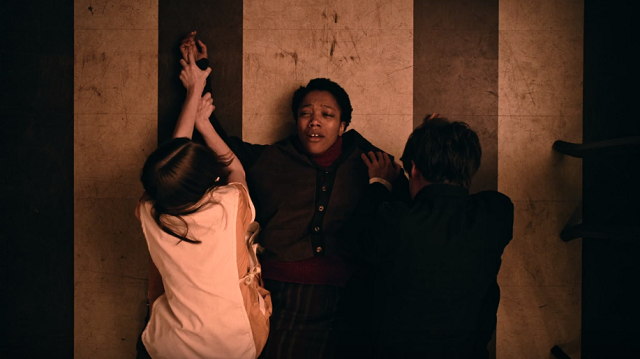 – Cosa faccio con tutto questo male?

– Non lo so.
Bonnie, alla fine, è quella che ha più da digerire: ha un macigno sul petto che, invece di alleggerirsi, nel giro di pochi minuti diventerà sempre più pesante. Immagina davvero di aver ucciso i ragazzi, ma capisce che tutto ciò permetterà solo di fermare le voci in quel momento. Poi sarà travolta da un silenzio così soffocante che non le darà comunque soddisfazione e tanto meno pace; sarà ancora una volta sola.
Ascoltando Alyssa e James si rende conto della solitudine: anche quell'uomo non l'amava davvero. La donna che ha ucciso per lui, il tempo passato in carcere, le bugie che ha dovuto dire, sono stati solo tempo sprecato, solo altro dolore che si aggiunge a quello che la ragazza prova da tutta la vita. Ecco perché poi decide di volersi uccidere, la sua vita non ha mai avuto significato, lei non merita di vivere.
Una scena di grandissimo impatto: il volto di Bonnie che prende quella terribile decisione e James e Alyssa – fino a poco prima terrorizzati dalla ragazza – che si gettano su di lei, non esitano per un attimo, cercano di salvarla senza pensarci due volte. Hanno per la prima volta un gesto di riguardo nei suoi confronti: la sua vita in quel momento ha contato qualcosa per qualcuno.
Una puntata ricca di tutto, di dolore e di tragedia, ma allo stesso tempo di rivalsa, consapevolezza e amore. Potevamo sicuramente parlare dell'ultimo episodio, nel quale finalmente i due protagonisti riescono a puntare verso la stessa direzione, si prendono per mano e, insieme, accettano le rispettive debolezze e fragilità. Una puntata importante che dà una conclusione al ciclo narrativo di entrambi, ma abbiamo scelto di parlare del settimo episodio perché lo ritenevamo di gran lunga più significativo e profondo per i protagonisti indiscussi di questa travagliata stagione.