Le note di I'm a dreamer di Josephine Foster accompagnano il finale di The End of the F***ing World 2×07.
Un finale che si consuma in un café desolato di una landa altrettanto desolata del Regno Unito, nel silenzio della notte e dietro le luci fioche del neon.
I'm a dreamer and I dream I lot
I go upstairs and I ease my cares
Sono un sognatore e sogno tanto, vado di sopra e allevio le mie preoccupazioni. Ognuno è assalito dalle proprie ansie in The End of the F***ing World. Alyssa, che ha cercato nel matrimonio un diversivo. James, che ha perso tutto. E Bonnie, che con la vendetta vorrebbe mettere un freno a tutto il suo dolore.
La penultima puntata riparte dalla suspense con cui si era chiuso il sesto episodio: in giro c'è un assassino.
Lo conferma il poliziotto che apre la scena e che lascia trapelare i dettagli di un omicidio che si è consumato in un motel poco distante.
Lo sa benissimo James, che prova ad allertare le forze dell'ordine e tenta di strappare Alyssa al tragico destino che la aspetta.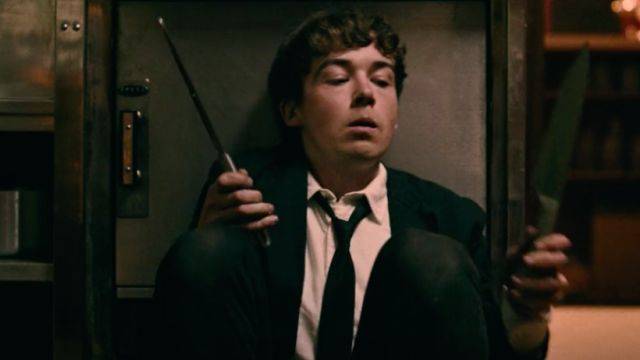 L'assassino arriva nelle fattezze di una ragazza problematica e strana, con lo sguardo inquietante e l'espressione indecifrabile. Bonnie varca la soglia del café con la pistola nascosta e una ferita aperta nella schiena – che poi è la metafora più calzante di un'altra ferita, di natura diversa, che non vuole in alcun modo rimarginarsi.
Osserva Alyssa senza lasciar trasparire nulla e le riconsegna il velo da sposa. Ci sono solo loro due nel silenzio calmo della notte. Loro due, divise da quel velo che è simbolo di un amore che, per Bonnie, è svanito per sempre. Strappatole via in un frammento di violenza.
Le due ragazze si siedono una di fronte all'altra, per la prima volta. Bonnie cala la maschera, rivela le proprie intenzioni, tira fuori la pistola.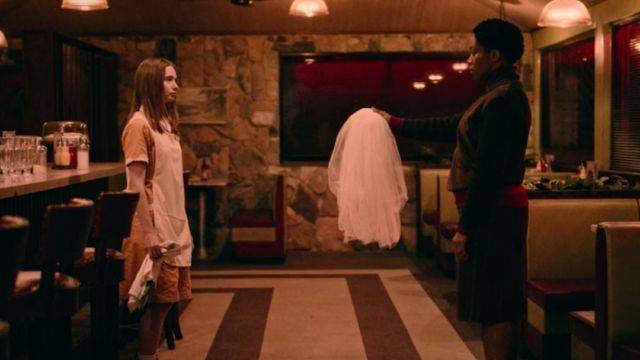 Alyssa viene assalita dal peso dei ricordi. Le torna in mente tutto: la casa, il volto minaccioso del professore, il suo sguardo sporco, l'odore dei suoi vestiti sudici. Poi il sangue, James, il corpo rimasto senza vita a terra.
Alyssa è rimasta chiusa in quella casa per tutto questo tempo. Non ne è mai uscita del tutto e adesso si prepara a guardare in faccia la morte con la solita, disarmante rassegnazione.
La stessa che le si legge in volto quando il poliziotto rimanda al mittente la richiesta di aiuto.
Nessuno può aiutarla, eccetto James.
The End of the F***ing World è, dopotutto, la storia della loro tragedia. Loro, prima che degli altri. Di due anime perse e malconce alle prese con un mondo troppo usurante.
E, come ogni buona tragedia che si rispetti, è nel sangue che va ritagliato l'epilogo.
O almeno così dovrebbe essere, se non fosse che Jonathan Entwistle (nel 2020 arriverà il suo ultimo lavoro) ci prende un po' in giro e ci regala un finale alternativo.
La scena in cui Bonnie spara a James e Alyssa è agghiacciante. Due colpi di pistola e poi il silenzio, il sangue che scivola dalle tendine e niente più.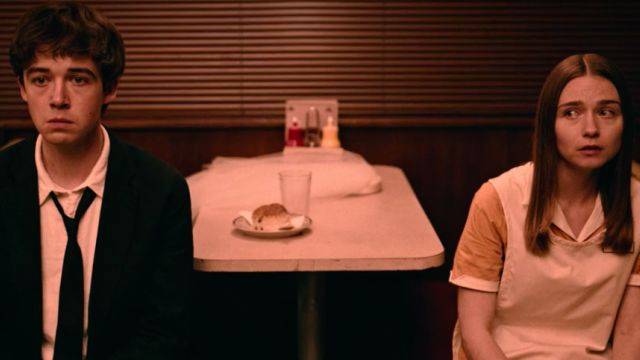 È strano sapere che stai per morire. Ti senti un vecchio che sa tutto e non te ne frega un c***o di niente.
E invece Bonnie è troppo stanca per farlo davvero. La verità fa male e la vendetta non potrebbe placare il dolore. Bonnie non sa che farsene di tutto il male che si porta dentro. Così la tragedia di James e Alyssa diventa anche la sua tragedia, quella di una donna ferita, spossata, stremata.
Il problema di quelli che soffrono di mancanza di amore è che non lo sanno riconoscere, quindi è più facile che vengano ingannati e vedano quello che non c'è.
Ma, in realtà, tutti quanti mentiamo a noi stessi. E così ci avviamo verso l'ultima puntata di The End of the F***ing World 2.