La serie The End of the F***ing World , ispirata alla graphic novel di Charles Forman, ha avuto il suo esordio su Netflix nel 2017. Fin da subito, ha ricevuto parecchie reazioni contrastanti: chi la definiva noiosa, poco originale e molto esagerata e chi d'altra parte sosteneva che fosse proprio l'originalità il punto di forza di questa serie, ricca di rappresentazioni di disagio giovanile e famiglie disfunzionali, il tutto retto da una trama che bilancia la pesantezza dei contenuti con momenti di comicità. Allo stesso modo, quando è stata annunciata la seconda stagione, il pubblico si è spaccato tra gli entusiasti, curiosi su cosa fosse successo ai due ragazzi (in particolare James) e gli scettici, che prevedevano una gran perdita di tempo. Ora che è uscita la seconda stagione, la maggior parte dei feedback sono stati molto positivi.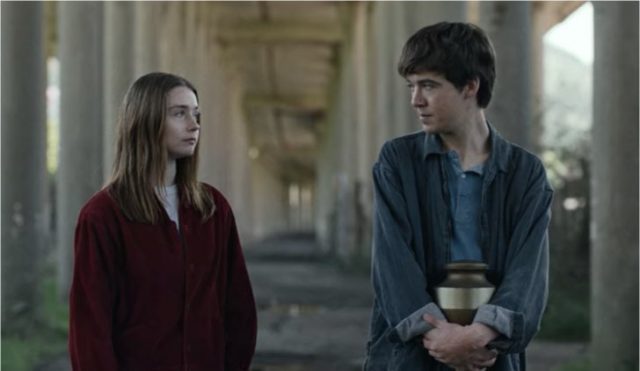 Ma siamo certi che sia andata così bene?
Partiamo dalla trama: avevamo lasciato James e Alyssa sulla spiaggia. Il ragazzo riesce a sopravvivere alle ferite e viene ricoverato in ospedale ma la madre di Alyssa, con la scusa di sincerarsi sul suo stato di salute, va a fargli visita e lo costringe a scrivere una lettera nella quale James, contro la sua volontà, dichiarerà di voler interrompere i rapporti con la figlia. Quando uscirà dall'ospedale, il giovane dovrà affrontare un altro lutto: quello del padre. Questo porterà James a vivere in macchina, rifiutandosi di tornare a casa. Nel frattempo, Alyssa si trasferisce dalla zia e lavora nella sua tavola calda. Ancora molto scossa dalle vicissitudini della prima stagione, la ragazza conoscerà Todd e deciderà di sposarsi con lui.
Ma passiamo al "collante" della seconda stagione, ovvero Bonnie. Nel primo episodio infatti, il nuovo personaggio racconterà la sua storia con lo stesso modus operandi che si vede nella prima stagione per i due protagonisti. Anche Bonnie viene da una famiglia disfunzionale: un padre assente e una madre così ossessionata dal raggiungimento del successo della figlia che la educherà a suon di castighi i quali spesso si riveleranno vere e proprie torture psicologiche e fisiche. L'educazione impartita su Bonnie la porterà a vivere la realtà e i rapporti in un modo totalmente erroneo, tanto che si innamorerà di Clive, l'uomo che ha quasi violentato Alyssa e infine ucciso per mano di James per salvare l'amata.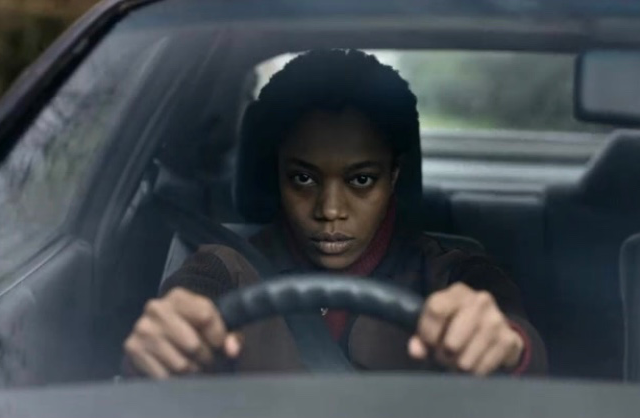 Nel primo episodio, riusciamo a vedere uno scorcio della vita di Clive: un uomo approfittatore (in questo caso di Bonnie, la quale non capirà le sue reali intenzioni) ed estremamente pericoloso. Un giorno, Bonnie vedrà un'altra donna in casa di Clive e non si renderà conto che in realtà ha subito violenze: la sua distorsione della realtà la spingerà a vedere Clive come un uomo innocente e la donna che è stata a casa sua, non sarà vista come una vittima ma come qualcuno che minaccia la sua relazione e la reputazione dell'amato. Bonnie chiederà spiegazioni a Clive ma questo le risponderà che la ragazza si è approfittata di lui e che dirà cose false sul suo conto. La nuova protagonista di The End of the F***ing World 2, non potendo accettare una cosa simile, per proteggere l'amato ucciderà la ragazza che altro non è che una vittima e in questo caso per due volte.
Bonnie verrà incarcerata ed è proprio in prigione che apprenderà la notizia della morte di Clive. La donna avrà un crollo mentale e progetterà di uccidere James e Alyssa, attirando i due in una trappola che li porterà a compiere un viaggio con un'assassina. Tutta la stagione verrà costruita su questo filo conduttore ed è proprio questo che l'ha rovinata sotto molteplici aspetti. Analizziamoli uno a uno.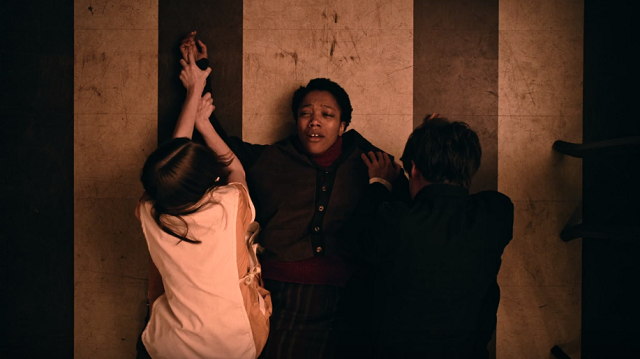 C'è la costante sensazione di assistere ad un remake della prima stagione
Bonnie ricrea le stesse azioni di James, rivestendo i suoi panni. Nella prima stagione il ragazzo compie un viaggio con Alyssa ma con l'intenzione di ucciderla e saranno tante le occasioni perse del suo intento. Alla fine, uccide Clive per salvarla e capisce in quel momento che non è sociopatico, non ha davvero intenzioni omicide. La sua era rabbia repressa, frutto di un passato tormentato segnato dal suicidio della madre. Allo stesso modo, Bonnie intraprende un viaggio con i ragazzi con il fine di ucciderli e saranno diverse le occasioni perse, molti momenti di scontata goffaggine nel maneggiare armi e nel progettare il delitto. Ci ritroveremo più volte a pensare che non ha davvero intenzione di ucciderli. Nonostante abbia già commesso il crimine volontariamente per salvare Clive, capirà attraverso un omicidio involontario l'orrore del suo atto e la sconvolgerà a tal punto da farla crollare.
Bonnie è solo un collante del trauma dei ragazzi
L'espediente di inserire Bonnie è solo un modo per ricordare ai due ragazzi il trauma che li accomuna, ovvero il tentato stupro da parte di Clive e il conseguente omicidio. James e Alyssa (specialmente quest'ultima) risentono ancora dell'accaduto: questo li allontana in un primo momento ma secondariamente li unisce, aumentando la complicità nel loro rapporto. Bonnie non è altro che un mezzo, un modo per far continuare la storia, un personaggio che poteva essere omesso in quanto ci sono già i presupposti per poter far affrontare ai due protagonisti le questioni irrisolte e il trauma che li unisce.
È una vera e propria occasione persa
C'era moltissima carne al fuoco: lo stress post traumatico di Alyssa, lo stato mentale di entrambi ragazzi, il legame tra di loro e un possibile riscatto da parte di tutti e due che si vedrà solo in parte nell'ultimo episodio nei panni di Alyssa, quando ammetterà di ricambiare l'amore per James e riconoscerà di aver bisogno di un aiuto psicologico. Sono tutti elementi molto importanti, degni di essere rappresentati in questa serie con quei toni tragicomici che la caratterizzano. Invece assistiamo a uno snaturamento della serie stessa. Infatti, il tema centrale era la rappresentazione dei disagi familiari e psichici con momenti bilanciati da tragicità e leggerezza. In questa stagione c'è più pesantezza in alcuni momenti da parte di James e difficoltà più evidenti da parte di Alyssa ma, nonostante l'intensità, sono davvero pochi in confronto allo spirito della serie. Sono totalmente persi e sfumati in una trama inesistente, perché è proprio questo il problema: tutta la trama.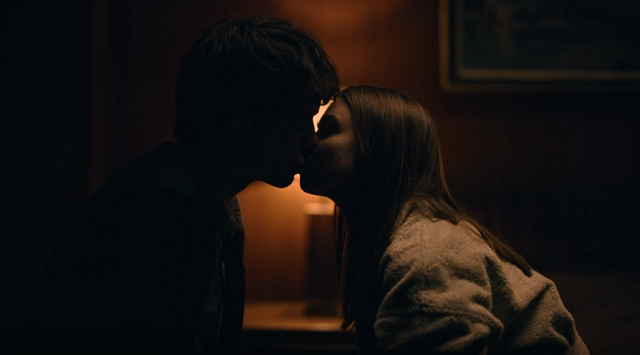 Avrebbero dovuto fare una seconda stagione?
C'erano un sacco di elementi molto importanti e presupposti interessanti. Non è solo una serie adolescenziale: fin dall'inizio abbiamo assistito a dei personaggi che incarnano dei disagi psichici. In questa stagione, avrebbero potuto giocare bene le carte dando una nota più dark alla serie, diminuendo i momenti di leggerezza con quelli più drammatici. Poche serie rappresentano davvero in questo modo dei temi così importanti e The End of the F***ing World poteva essere quella giusta per parlare delle problematiche che si nascondono dietro ad un'adolescenza difficile. Eppure, non l'intento di far emergere la serie è fallito: la seconda stagione è caduta nell'errore di ripercorrere gli stessi modus operandi della prima, senza apportare nulla di nuovo.