The Defenders, Serie Tv targata Netflix di freschissima uscita, conferma il trend positivo del network in materia di Serie Tv a tema supereroi, pur con la battuta d'arresto di Iron Fist, bocciato dal pubblico. Pur ponendosi come un racconto collettivo che unisce i precedenti prodotti Daredevil, Jessica Jones, Luke Cage e Iron Fist, è qualcosa di più di una reunion a puro scopo fanservice, e risulta competitiva e di inaudita freschezza narrativa nonostante la recente saturazione del panorama delle Serie Tv riguardo i prodotti dedicati specificamente ai supereroi.
Questo pregio lo dobbiamo principalmente alle individualità dei quattro, diversissimi tra loro e non sempre in sintonia: la scontrosa Jessica Jones, dal passato turbolento anche per quanto riguarda il suo rapporto con il gigante buono Luke Cage, che appena uscito di galera vuole rimboccarsi le maniche per il suo quartiere, l'avvocato cieco dalla doppia vita Matt Murdock/Daredevil, il miliardario zen Danny Rand/Iron Fist. Personalità agli antipodi ma meravigliosamente tratteggiate, pur con i necessari cliché propri dell'universo Marvel e di quello supereroistico in genere: da un grande potere derivano grandi responsabilità, supereroi con superproblemi, il passato che torna a chiedere il conto, l'organizzazione di stampo massone spietata e senza scrupoli.
La minaccia che si staglia sulla città di New York, costringendo i quattro ad unirsi, loro malgrado, per un bene superiore, non viene rivelata interamente subito, e questo è un pregio della Serie: centellinare le informazioni, in modo da costruire un quadro generale che si evolve e si complica di pari passo con il crescere dell'azione. In The Defenders risulta centrale, ai fini della risoluzione della minaccia comune, il rapporto dei vari personaggi con il loro passato, e come questo influenza il loro presente e la loro momentanea collaborazione.
Non si potrebbero immaginare due eroi più diversi di Iron Fist e Luke Cage: eppure riusciranno ad andare d'accordo e a formare un'efficace coppia d'azione, una volta che avranno sfogato l'uno con l'altro il loro passato e i loro nodi irrisolti, arrivando ad un riconoscimento e un'accettazione che spiazza loro per primi, ma emoziona noi. Così come è bello vedere mettere da parte il passato doloroso che ha diviso le strade di Jessica e Luke, che alla fine rimangono amici, soprattutto quando tra loro c'è un bicchiere pieno.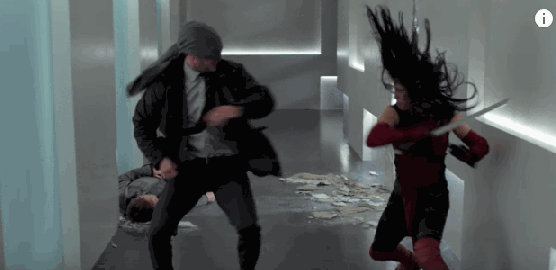 Un passato che riemerge dalla tomba per tormentare e riaprire vecchie ferite: quello di Daredevil, innamorato della defunta Elektra, che non riesce ad accettare la sua versione resuscitata, ai suoi "occhi" così oscura e diversa dalla donna che aveva amato. E forse non ci riesce neanche lei, perché non risulta chiaro fino in fondo il livello di autocoscienza che Elektra ha di sé, nella sua nuova veste di Black Sky; forse la sua nuova vita ha in qualche modo liberato e legittimato una tendenza al male che albergava già nel suo Io passato? O forse Elektra è solo confusa, indecisa tra la sua nuova pulsione all'oscurità e i sentimenti mai spenti del tutto per il Diavolo di Hell's Kitchen?
Il giovane miliardario esperto di arti marziali, Iron Fist, è forse il personaggio più debole della Serie, seppur centrale per la risoluzione della trama. In parte dovuto alle stesse carenze che avevano portato al declino della Serie omonima, in parte forse dovuto ad una scelta consapevole degli sceneggiatori, che preferiscono delineare un personaggio per certi versi evolutivamente "indietro" rispetto agli altri, dando così un aspetto più realistico a una squadra altrimenti formata da elementi già interamente formatisi sotto il profilo dell'eroe.
Una menzione va alla sempre superlativa Sigourney Weaver, che impersona la leader della Mano Alexandra con grande classe e misurato carisma; una donna d'affari raffinata ed elegante, dal carattere stranamente equilibrato per essere un personaggio negativo, ma che sa quello che vuole ed è disposta a tutto per ottenerlo. Anche a disturbare dal sonno eterno Elektra per trasformarla in un'arma, sottovalutando però le sue potenzialità: sarà proprio questo gesto quasi materno nei confronti di Black Sky a determinare la sua rovina.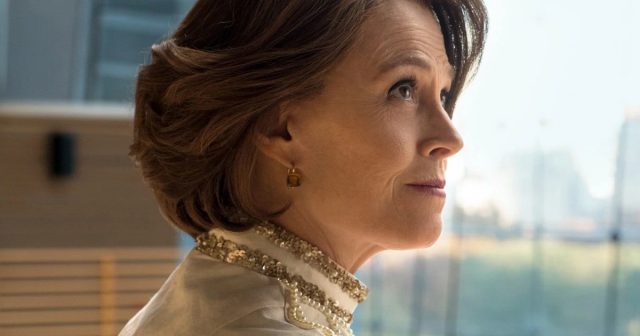 L'effetto nostalgia è un altro dei punti forti di The Defenders: è tutto come lo avevamo lasciato, ogni personaggio è esattamente come ce lo ricordavamo, e il meccanismo psicologico di confortante abitudine che si mette in moto ci porta ad accettare il cambiamento che sta per abbattersi sui nostri eroi con quel senso di apprensione positiva che ci fa amare le Serie Tv di genere comic.
Non è necessario aver visto le Serie Tv omonime per gustarsi a pieno The Defenders: una scrittura efficace dei personaggi ci consente di inquadrare caratteri e situazioni anche mai viste dandoci la sensazione di stare rivedendo un vecchio amico. Sensazione che provano anche gli stessi protagonisti, quando finalmente li vediamo insieme: e nonostante le differenze e la diffidenza che provano a lavorare insieme (per non parlare del sacrosanto individualismo del supereroe), diventano un team più o meno affiatato (ed è quando lo sono di meno, che c'è l'intrattenimento vero e proprio).
Quando in ballo c'è il destino della tua città, non puoi sceglierti i colleghi di lavoro, se sei un supereroe: ma questo non vuol dire che i compagni che il destino ti ha affidato non siano quelli giusti.