Una stagione, otto episodi, quattro supereroi: dopo Luke Cage, Daredevil e Jessica Jones, chiudiamo la nostra rubrica sulle pagelle dei Defenders con Iron Fist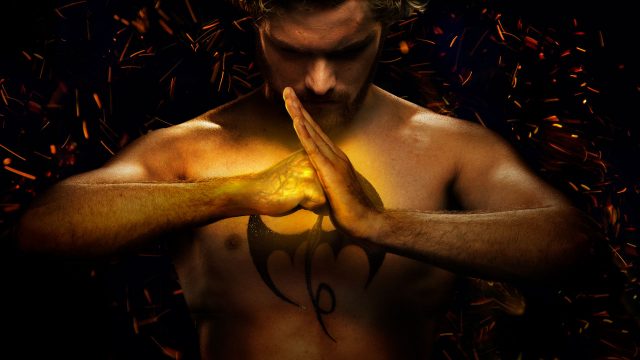 This city is at stake. Me and you. Luke Cage and the Iron Fist we belong out there. Together, on the front lines. — Danny Rand
Un nuovo inizio nella fine. Partiamo dall'epilogo di The Defenders: Danny Rand in versione sportiva sul tetto di un grattacielo di New York. La guerra con la Mano è terminata — o almeno così pare — e ora Iron Fist si prepara per una nuova nuova pagina della sua storia. Sembra dunque essere giunta una svolta nella carriera da vigilante di colui che si proclama
the Immortal Weapon, the Guardian of the Gate, K'un-Lun's Protector, Destroyer of the Hand.
Dunque tutto bene quel che finisce bene? Non proprio, perché capire come siamo arrivati a questo punto ci conduce verso un'analisi per certi tratti (giustamente) ingenerosa nei confronti del personaggio interpretato da Finn Jones.
NUOVE AVVENTURE, VECCHI PROBLEMI
From the beginning where we see Danny in Iron Fist to where he ends up in The Defenders, he has made that complete origin arc. He has shed his immature self. The idea is, in The Defenders, he has in a sense become the Iron Fist.
Dalle parole dell'attore che presta il volto alla versione seriale di Pugno d'acciaio, già era stato preannunciato che avremmo assistito alla chiusura sulle origini di questo personaggio e a un suo sbocciare come eroe. Peccato che nel corso degli 8 episodi che compongono The Defenders ci s'imbatta troppo spesso nel solito "vecchio" Danny (qui un'analisi del personaggio, comparato agli altri protagonisti degli show Marvel Netflix).
Impulsivo. Volubile. Impaziente. Ostinatamente lame. Un supereroe in erba se paragonato agli altri componenti del team.
Fattori da non sottovalutare quando ci si ritrova a scontrarsi con un'organizzazione criminale che conta fra i suoi leader personaggi immortali e altamente letali.
Eppure l'avvio era stato dei più promettenti, con Danny e Colleen sulle tracce del nemico dopo il viaggio verso K'un-Lun nel finale dello show standalone. Immediatamente ci rendiamo però conto di come il rampollo di casa Rand, per quanto dedito alla causa, sia ancora un individuo emotivo, incapace di razionalizzare e di non lasciarsi condizionare dai sentimenti.
L'incontro con Luke Cage racchiude il turning point che conduce sul percorso che porterà alla formazione dell'atteso team-up.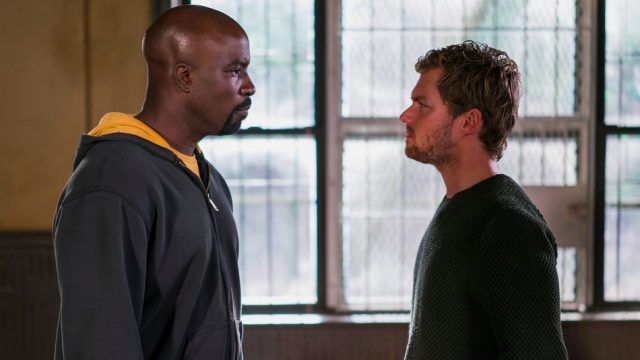 Eterogeneo, frammentato, instabile. I Defenders sono più una necessità che il frutto di una scelta liberalmente compiuta.
Che piacciano o meno, sono semplicemente una squadra male assortita sul piano umano, ma che pare completarsi fisiologicamente quando si tratta di scendere in campo e menare le mani. Insomma, è il classico caso in cui l'unica opportunità di successo viene a coincidere le buone intenzioni.
L'IMPORTANZA DI CHIAMARSI IRON FIST
La scrittura di The Defenders è costruita sull'Iron Fist, riservandogli un ruolo pressoché centrale. Logico come l'indagine sul personaggio ci consegni di rimessa un'analisi speculare circa l'andamento della Serie Tv.
LO SCRIPT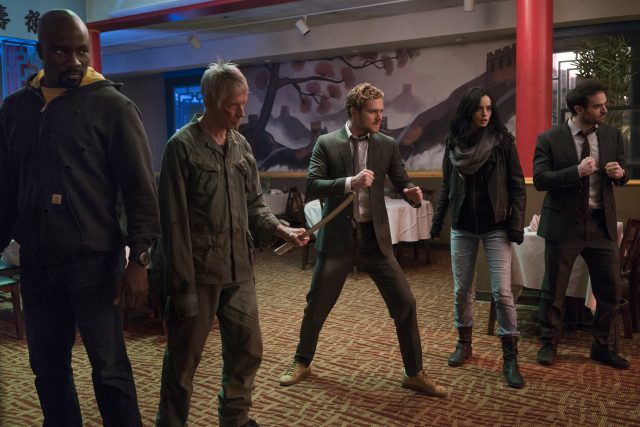 La storia si nutre di lui. La rincorsa alla Mano e il desiderio di sconfiggere il nemico attingendo a ogni mezzo a suo disposizione, persino la Rand Enterprises. La volontà di trovare degli alleati, impedire ad Alexandra (di cui abbiamo già parlato in un precedente focus) e agli altri traditori di rimettere piede a K'un-Lun, il rapimento, la scoperta delle ossa del drago Shou-Lao. Ognuno punto focale della scrittura e tutti riconducibili a Iron Fist.
Significa che Danny Rand è l'autentico protagonista di The Defenders?
Non esageriamo. Questa costruzione sbilanciata, infantile a suo modo, espressione di un carisma ancora acerbo, impedisce al personaggio di conquistare di diritto la totalità del palcoscenico. È pur vero che Iron Fist si rivela necessario nello sviluppo di elementi cardine così come per alcuni momenti topici dello show, ma nonostante tutto ciò il nostro supereroe non decolla, non convince, ingabbiato nella cronica incapacità di compiere la scelta giusta.
LA GUERRA PER NEW YORK
La Mano. Villain designato. Nemesi naturale di ogni Iron Fist. Una forza dominante nel mondo Marvel, dotata di uno spessore unico per fascino, potere e violenza. In The Defenders, come già notato negli altri show, la Mano appare ridimensionata o per meglio dire nerfata: inutile sottolineare che non convince appieno lo spettatore, sicuramente non piace ai puristi del settore.
Che questo Iron Fist sia ancora in fase di work in progress lo si denota dalle difficoltà incontrate nell'affrontare il suo nemico giurato. La stessa Colleen Wing, "declassata" per l'occasione al ruolo di spalla, pare troppo condizionata, ben lontana dall'essere la Son of the Dragon apprezzata in passato.
Difficoltà di giudizio, insofferenza e una gran dose di nervosismo.
Uno scontro che lo farà crollare in una posizione di debolezza tale, da mettere in pericolo se stesso, i suoi compagni e la città di New York. Da soluzione a parte del problema, viste le preoccupazioni consegnate al resto della squadra. Ecco spiegato perché, alla fine dei giochi, Danny deve dire un sentito grazie ai suoi compagni.
WE MAKE QUITE A TEAM
Iron Fist dovrebbe e potrebbe essere il collante del team. Un collante che risulterà invece fin troppo instabile.
Quella leadership che la narrazione e la lore gli imporrebbero, si traduce in una chimera che evidenzia tutti i difetti del Danny Rand attuale: palesemente immaturo sia come uomo che come eroe. È inevitabile che non lo si riconosca come una possibile guida, benché la sua storia certifichi che nessuno meglio di lui sarebbe in grado di condurli in questa battaglia.
La quasi totale assenza di carisma è la bilancia su cui misurare i rapporti tra Danny e gli altri Difensori.
A tale proposito vale la pena soffermarsi su due relazioni particolarmente indicative. La prima è quella con Luke Cage, forse uno dei legami più performanti di tutto lo show. Un dialogo sincero, umano, che produrrà quella speculazione necessaria — probabilmente decisiva — nel permettere a Danny di iniziare quel processo di maturazione basilare quanto imprescindibile.
L'altro invece è un parallelismo rimasto in potenza. Il confronto tra i due supereroi che più conoscono la pericolosità del nemico: Matt Murdock e Danny Rand. Questo rapporto non scende mai in profondità, limitandosi quale apice allo scontro di vedute intorno al tavolo del ristorante cinese nell'episodio quattro, dove Iron Fist e la sua ormai celebre inettitudine lo fanno apparire come una sorta d'incosciente. Caratteri opposti, sentieri distinti, un'ottima intesa nel combattimento in opposizione a una mai del tutto sbocciata complicità personale.
Forse il faccia a faccia più atteso, che purtroppo ha portato a un risultato che definire modesto è fargli un complimento.
Paradossalmente è l'arrivo di Stick a consegnarci dei concetti utili nel conferire una dimensione a questo Iron Fist.
"Why are you here, Stick?" — Matt Murdock
"Because this one, the immortal Iron Fist, living weapon and protector of the ancient city…is still a thundering dumbass." — Stick
Con il termine "dumbass", doppiato nella versione italiana in "imbecille", Stick ci fa capire quanto "piccolo" ancora sia Danny. L'ultimo dei Casti si rende conto che l'Iron Fist non è pronto ad assolvere il suo compito e rischia di rivelarsi un'arma a doppio taglio, tanto da concludere a un certo punto che la sua morte sia la soluzione migliore a evitare che la Mano s'impossessi del Fist.
Del resto quello che Stick chiama "kid" in alcuni frangenti si dimostra inaffidabile e poco lungimirante, riuscendo persino nell'impresa di mettersi contro i suoi stessi alleati, costringendoli a intervenire con le cattive pur di condurlo a più miti consigli.
La scelta di nasconderlo contro la sua volontà è liberamente interpretabile: scarsa fiducia, consapevolezza di non poter aver un dialogo costruttivo, mera scelta strategica.
Comunque la si legga, Danny non riesce a confrontarsi alla pari con le sue dirette controparti, nel solco di una maturità distante.
VOTO 5
Il ragazzo ha il potenziale, ma non si applica.
Più simpatico che decisivo, questo Iron Fist a tratti stucchevole è un lontanissimo parente del supereroe badass uscito dalle graphic novel a firma La Casa delle Idee. Nonostante una storia che lo vede davvero protagonista, Danny Rand continua a non darci certezze, soffocato dalle criticità già ampiamente dimostrate nella prima stagione di Iron Fist, malgrado un apprezzabile slancio di spirito che seppur presente non appare certo equilibrato.
Un leggero passo in avanti è stato sicuramente compiuto sul piano tecnico e del design, attraverso una maggiore caratterizzazione e una migliore resa delle scene di combattimento. Ma questo non basta a farci cambiare idea sul personaggio, a cui vorremo rivolgere, da veri Marvel's fan, le stesse parole uscite dalla bocca di Sowande:
You're the dumbest Iron Fist yet.
Scrollarsi di dosso lo spettro del passato, trovare una nuova dimensione come vigilante — magari con l'aggiunta di una suit — e soprattutto crescere un po' non sarebbero cattive idee. Speriamo che il finale di The Defenders sia il preludio a un promettente nuovo inizio, perché capiamo che usare il Fist consumi ki, ma più meditazione e meno cucina cinese forse farebbero al caso di Danny Rand.