Jessica Jones mostra in The Defenders tutte le caratteristiche che avevamo notato nell'omonima serie a lei dedicata: è asociale, è alcolizzata ma prova empatia per le giuste cause, si sente stimolata nel giusto modo per fare giustizia. Tutto questo sarebbe ordinario (persino per una come lei) se dovesse affrontare i problemi da sola; nella sua nuova avventura, tuttavia, non è affatto così; il nemico in questo caso, La Mano, è troppo grande e pericoloso per essere affrontato in solitudine, quindi si rende necessaria la collaborazione (da Jessica evidentemente non gradita) di altri eroi coinvolti in questa lotta per la sopravvivenza di New York: Daredevil, Luke Cage e Iron Fist. Vediamo perciò come si è comportata Jessica Jones.
Soffermiamoci innanzitutto sui presupposti delle azioni della nostra eroina. Jessica Jones ha ucciso il suo nemico, Kilgrave, ed è ritornata nell'ombra, situazione per lei più congeniale. Come è evidente anche dal finale della stagione a lei dedicata, Jessica non è interessata a fare l'eroina, almeno per ora: la questione Kilgrave, infatti, aveva fondamenti personali principalmente. Il Diavolo di Hell's Kitchen difende la sua città per una ragione; Luke Cage ha difeso Harlem per una ragione; Iron Fist (chi più di lui) esiste solo perchè la sua esistenza presuppone uno scopo. Ma Jessica? Per lei potrebbe essere applicata la frase che Peter Parker dice a Tony Stark in Captain America – Civil War:
"Quando puoi fare le cose che faccio io, ma non le fai, e poi succedono cose brutte…queste cose succedono per colpa tua"
Una rilettura dell'altra celebre frase dell'universo di Spiderman "Da grandi poteri derivano grandi responsabilità", che però non ne fa perdere il senso. Da questo punto di vista, potremmo dire che quello di Jessica sia a tutti gli effetti un percorso. The Defenders, dunque, rappresenta il primo passo verso la maturità di Jessica, che inizia a comprendere la grandezza e le dinamiche di ciò che è costretta a fronteggiare proprio nel momento in cui incontra casualmente gli altri tre eroi.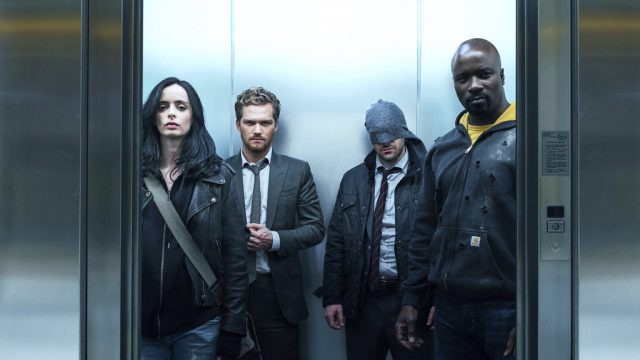 Questo incontro mette in evidenza una caratteristica importante per la godibilità del personaggio: il sarcasmo.
Siamo certi, infatti, che molte scene non sarebbero state le stesse se Jessica Jones non fosse stata lì ad insultare, prendere in giro e in generale commentare i suoi avversari ma, soprattutto (ed è questo il divertimento), i suoi alleati.
Il ruolo del caso non è dunque da sottovalutare: Jessica sta seguendo una pista dietro la quale si cela la Mano, e il suo mestiere di investigatrice privata la porterà dritta da Matt Murdock con cui, di fatto, crea l'empatia più intensa (escludendo Luke Cage con cui già si conosceva e con cui condivide un passato che è meglio per entrambi non ripercorrere).
Il motivo per cui Jessica e Matt funzionano è legato all'ossimoro che la scorrettezza e la volgarità della prima unite all'eleganza e alla compostezza comportamentale del secondo comportano. Ed è il sacrificio di Matt che permette a Jessica di capire l'importanza di ciò che fanno le persone speciali come loro: si occupano e difendono coloro che non possono farlo da soli. Riguardo ciò, l'unico che non ha dovuto capirlo perchè lo sapeva già è Iron Fist, motivo per cui è a lui che Daredevil passa il testimone.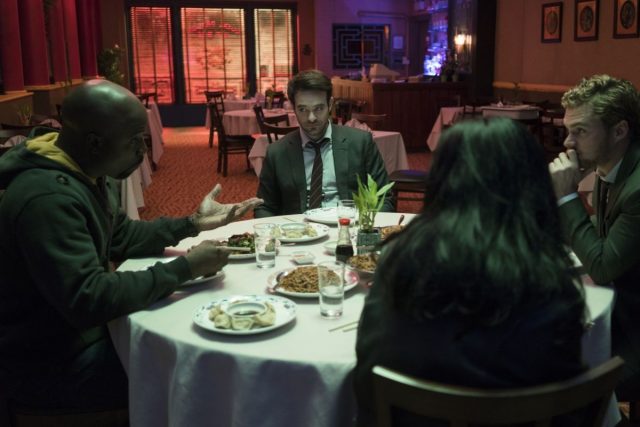 Ecco perchè Jessica è spaesata: finalmente inizia a capire cosa significa portare il fardello di quei poteri. Lei e Luke Cage in questo senso formano una coppia di smarriti che ha l'opportunità di comprendere più a fondo le ragioni della propria esistenza. Il suo essere spaesata, tuttavia, convince più di ogni altra performance dei suoi colleghi: la seconda stagione di Jessica Jones dovrà per questo avere un timbro e un'impostazione in continuità con la Jessica dell'ultimo episodio di The Defenders.
Infine, una nota tecnica; gli occhi più attenti avranno notato che il colore dell'eroina alcolizzata è l'azzurro, in questo gioco di colori identificativi di ogni personaggio. Questi passaggi, tuttavia, non sempre funzionano; infatti, attribuire l'azzurro e le sue sfumature alle scene con Jessica crea a volte un contrasto talmente forte con, ad esempio, le scene con Luke Cage (giallo ocra), che quando i due personaggi si susseguono sembra di assistere ad uno show che si svolge in momenti diversi: autunno con Jessica, estate con Luke. Visivamente, un peccato.
Voto: 7.