Agli americani, è risaputo, piace fare le cose in grande, ancora meglio in tema di distruzione e scenari poco piacevoli. Parliamo di acque dove sanno nuotare bene riuscendo spesso a far emergere prodotti di grande livello e struttura narrativa. Non è il caso di The 100 di Jason Rothenberg e la sua idea tratta dall'omonimo romanzo, per un pubblico teen/adult che, invece di galoppare, arranca zoppicando.
La trama è molto semplice: The 100 è ambientato in un futuro distopico, post/apocalittico, nel quale una grande guerra nucleare annienterà gli esseri umani. I sopravvissuti di ogni nazione andranno a vivere su un'astronave satellite per i successivi duecento anni. Periodo in cui l'effetto delle radiazioni dovrebbe terminare consentendo il ritorno sul pianeta. Il periodo preso in considerazione avviene dopo 97 anni dallo scoppio della guerra. L'astronave madre nella quale gli esseri umani vivono viene chiamata "Arca".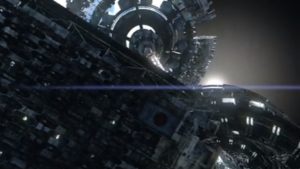 L'Arca è gestita sulla base di un rigido sistema autoritario, nel quale il cancelliere, insieme ai suoi cinque consiglieri, governa e garantisce l'ordine pubblico. Per poter stabilire le giuste condizioni di vita sulla terra (sebbene non siano passati ancora duecento anni) devastata dalle radiazioni, il cancelliere decide di inviare sul nostro pianeta cento ragazzi prelevati dalle prigioni per aver commesso crimini e quindi, nel caso in cui accadesse qualcosa, sacrificabili come le peggior cavie da laboratorio.
L'operazione viene effettuata già dai primi minuti del pilot di The 100, con un'immotivata leggerezza a tratti inquietante, catapultando lo spettatore immediatamente nel cuore della storia. Inizia così un altro tipo di ritratto sociale; mentre nell'Arca ci hanno fatto assaggiare l'organizzazione distopica di questo governo degno del peggior Hitler del futuro, sulla terra vediamo i nostri ragazzi immersi in una condizione dominata dal caos. Senza delle regole, senza un leader e soprattutto lasciati a se stessi in un mondo a loro estraneo e per giunta potenzialmente pericoloso, i ragazzi instaurano un tipo di società anarchica nella quale si respira un clima di effimera e solo apparente libertà. Abbiamo un classico spaccato della scoperta di un sistema politico e sociale fortemente influenzato dalle regole di sopravvivenza e cooperazione sociale. Difatti, i problemi non tardano ad arrivare.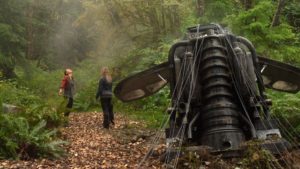 Vediamo emergere tutti gli aspetti istintivi dell'essere umano i quali mettono in risalto il vero pericolo per la loro vita sulla terra, se stessi. La paura, il desiderio di prevaricazione sul prossimo, i rancori e i desideri di vendetta e rivalsa nei confronti di un mondo, quello dell'Arca, che li ha solo usati e sfruttati, sono solo alcuni degli aspetti invalidanti per i ragazzi che, in questo caso, rappresentano una metafora sulla crescita.
In questo contesto di relazioni sociali, l'indole umana prevale come sempre cambiando di continuo le carte in tavola e l'organizzazione del gruppo, riproponendo, anche se in maniera molto elementare e approssimativa, l'evoluzione di ogni civiltà nella quale ognuno ottiene un ruolo ben preciso: il più forte sovrasta il più debole, colui che ha competenze in qualche campo specifico, sarà utile per il gruppo sempre per quella competenza, il più carismatico e dalla forte personalità guiderà il resto del gruppo nei panni di un presunto leader nella forma di un tacito accordo che si consoliderà sempre più stabilmente nel corso degli episodi.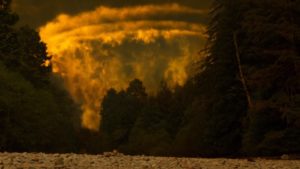 Tutto molto bello, se non fosse che accade in maniera estremamente veloce già dalla prima puntata. Spesso in modo per giunta lineare e scontato. Lo spettatore non si sente realmente coinvolto nei fatti. I quali accadono senza una reale struttura solida alle spalle. The 100 sono quindi gli anni passati dalla guerra nucleare. Sono il numero di ragazzi mandati a morire, ma sopratutto, "cento" sono le ore che ho perso per guardare tale Serie.
Vorrei chiarire da subito le mie forti parole sottolineando il valore d'intrattenimento di tale prodotto se contestualizzato al suo pubblico. Un pubblico senza pretese che non ama le trame forti e le profonde caratterizzazioni dei personaggi. Per chiarire meglio il mio punto di vista, sarò schematico, sono due le cose che non sono riuscito assolutamente a digerire, ma estremamente importanti: i personaggi e le situazioni.
In The 100 sono pochi, anzi pochissimi i personaggi davvero importanti, si contano sulle dita di una mano. Il resto sono macchiette nella storia che se compaiono o meno, a noi e alla trama non fa alcuna differenza. Molti di loro non ottengono rilevanti evoluzioni ma subiscono passivamente gli eventi della trama, a tratti sembrano rappresentare più un elemento collante che caratterizzante. I ragazzi interpreti, seppur bravi per la loro giovane età ed embrionale carriera, non riescono del tutto a farci provare empatia. Rischiando pericolosamente di finire nel terribile e oscuro pozzo del dimenticatoio.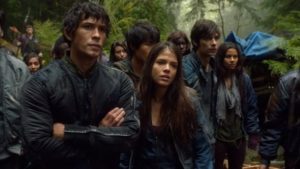 In questa Serie i fatti accadono con una semplicità disarmante, e non solo le azioni fisiche ma anche e soprattutto quelle emotive e sentimentali. I rapporti tra i personaggi, il più delle volte, non hanno delle reali motivazioni per esistere e sono fini a se stesse. Per esempio la cattiveria gratuita di alcuni personaggi. Oppure il cambio di opinioni repentino verso qualcosa o qualcuno, spesso anche influenzato da una singola situazione causale che si viene a creare. Il tutto è gestito in modo un po' approssimativo e con poca ricercatezza nei confronti della trama, dove gli stessi villain, altri esseri umani superstiti, non hanno un ruolo ben chiaro fino alla fine della stagione.
In conclusione The 100, si presenta come un prodotto dalle forti potenzialità, con buoni effetti speciali e sonoro ma che rimane intrappolato nei clichè del "già visto" senza dare un concreto contributo innovativo per un genere che ne avrebbe fortemente bisogno. Nonostante questo, rimane una serie godibile per passare il tempo e la curiosità di seguire la trama. Sopratutto da un pubblico molto giovane, il quale può rivedersi nelle sensazioni dei protagonisti.