# #
**Attenzione! Vista la tendenza di Supernatural a uccidere e resuscitare personaggi come se non ci fosse un domani, procedete cautamente nella lettura perché potreste incappare in qualche spoiler della dodicesima stagione!**
# #
Sono sicura di non esagerare se dico che tutti i fan di Supernatural hanno un rapporto speciale con la canzone che dà il titolo a questo articolo. Carry On Wayward Son dei Kansas è LA canzone rappresentativa di una delle Serie Tv più longeve degli ultimi anni. Il coro iniziale apre la sezione "The Road So Far" dell'episodio conclusivo di ogni stagione di Supernatural (a eccezione della prima, dove appare nel penultimo episodio Una città da salvare).
# #
Carry on my wayward son,
For there'll be peace when you are done;
Lay your weary head to rest,
Don't you cry no more.
Queste parole rappresentano il momento in cui si tirano le somme di tutta la stagione; dove assistiamo ai momenti più intensi vissuti da Sam e Dean e riviviamo molte morti di mostri e, a volte, di amici.
Appena si ascoltano le prime note, poi, inizia il bello. Al ritmo concitato della canzone, corrispondono scene di agguati, di vampiri decapitati, angeli pugnalati e chi più ne ha più ne metta. Appena poi appare la scritta "The Road So Far", ogni volta diversa in base alla fantasia del logo di quella determinata stagione, inizia il vero e proprio riepilogo.
È difficile condensare in soli due minuti tutti i momenti salienti di ben 21 episodi per stagione. Solitamente, però, la Serie ci riesce molto bene, alternando momenti di azione e "caccia" a momenti più emozionanti e intimi. Assistere prima dell'ultimo episodio – carichi di ansia e aspettative – a tutte le conquiste ottenute da Sam e Dean nel corso delle puntate, come l'uccisione di Abbadon nella nona stagione o il ritorno in vita di Mary nella dodicesima, sicuramente fornisce lo spirito adatto per iniziare la visione del season finale col piede giusto. Sfortunatamente, insieme ai momenti belli, questi recap sono anche ricchi di sofferenza e tradimenti. In quasi tutti questi montaggi cinematografici vediamo Dean piangere, spesso a causa della morte di una persona amata: Charlie, Bobby, Kevin e soprattutto quella di Sam, della seconda stagione.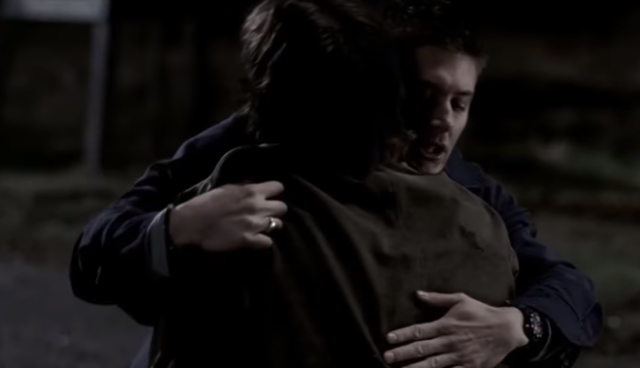 Che dire poi di tutti i tradimenti, seppur in buona fede, di Castiel? Lo vediamo accordarsi con Crowley nella quinta stagione, fuggire con la tavoletta sugli angeli nell'ottava e liberare Lucifero nell'undicesima (tutto ciò all'oscuro dei Winchester). Sam e Dean, poi, si sono voltati le spalle più volte nel corso delle numerose stagioni. Indimenticabile l'avvicinamento di Sam al lato oscuro, spinto dal demone Ruby nella quarta stagione; oppure la scelta di Dean di rinunciare a salvare Sam dalla gabbia di Lucifero, all'inizio della sesta.
Ogni volta che parte la canzone dei Kansas in Supernatural, quindi, le emozioni e i brividi sono assicurati.
Questo accade anche in un'altra occasione, in cui – a sorpresa – ritroviamo il famoso brano. In Fan Fiction, 200esimo episodio della Serie nato come lettera d'amore ai fan, assistiamo alla messa in scena, stile musical, dei romanzi di "Carver Edlund". Questi, scritti in realtà da Chuck, come tutti ricorderete, raccontano le avventure dei due cacciatori. I fratelli, questa volta, si trovano loro malgrado ad assistere alla spettacolarizzazione della loro vita da parte di una scolaresca tutta al femminile.
Oltre a bellissime canzoni originali (iconica è A Single Man Tear, dedicata a quel tenerone di Dean), non poteva mancare la trasposizione di Carry On Wayward Son. L'esecuzione è stata eccezionale, secondo me, e il coro di voci femminili ha valorizzato il brano in maniere spettacolare. Quante emozioni grazie a questa cover.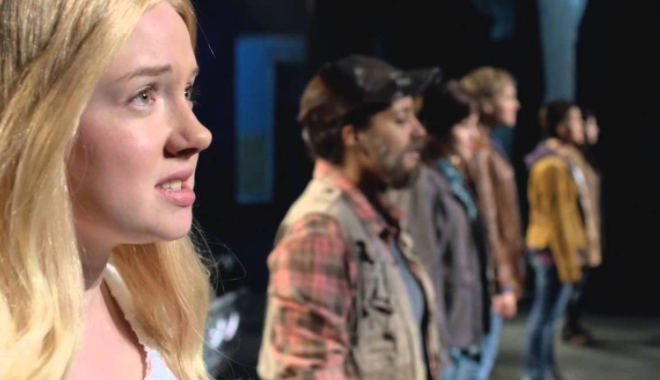 Questa canzone è talmente cara ai fan, da essere immaginata spesso come colonna sonora di diverse teorie sui possibili finali definitivi di Supernatural.
I fan immaginano che Supernatural potrebbe finire con la morte dei due protagonisti, e in particolare con una panoramica sui loro corpi accompagnata dalle famose note. O anche, con Dean e Sam alla volta di una nuova missione, con chiusura dell'episodio su Baby, la Chevrolet Impala del '67 di famiglia, mentre i due ascoltano in radio il successo dei Kansas. Altri, forse i più ottimisti, sperano in una chiusura della Serie in Paradiso. Lì, i due fratelli potrebbero essere riuniti ai genitori, a Bobby, Ellen, Charlie e a tutti i loro cari. Ovviamente, la scena idilliaca sarebbe accompagnata dalle parole: don't you cry no more.
Nonostante non si parli ancora di chiusura definitiva di Supernatural, anzi il prossimo autunno vedremo il primo spin off, Wayward Sisters, testimone dell'apprezzamento per la Serie, pensare a una conclusione mi rende un po' triste. Tra una decina di episodi si concluderà anche questa stagione e questo mi fa fremere dall'attesa: ancora tante cose devono risolversi. Non vedo l'ora di scoprire, nelle puntate delle prossime settimane, cosa avverrà di importanza tale da finire nel tredicesimo "The Road So Far".
Nell'attesa, vi lascio con questo bel montaggio fanmade di tutte le ricapitolazioni di Supernatural, dal 2005 al 2016!