Tony Shalhoub, storico e mitico interprete dell'eccentrico investigatore Monk, dopo aver interpretato senatore repubblicano Raymond "Red" Wheatus alle prese con una invasione aliena nella serie TV BrainDead, deruttata lo scorso 13 giugno, non si ferma.
Pare, tuttavia, che BrainDead, prodotta da CBS e di forte stampo politico -sono infatti presenti nella trama gli sviluppi delle elezioni presidenziali con protagonisti Clinton e Trump, proprio come accadrà nella nuova stagione di New Girl– non vivrà un seconda stagione e così Tony Shalhoub si è buttato anima e corpo nel nuovo progetto di Amazon.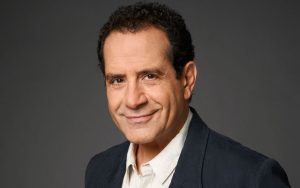 L'attore interpreterà, secondo le ultime indiscrezioni, uno dei ruoli principali in questo nuovo show chiamato The Marvelous Mrs. Maisel, nato da un'idea della brillante ideatrice di Gilmore Girls, Amy Sherman-Palladino.
La vicenda sarà ambientata nei lontani anni '50 e vedrà come protagonista Miriam "Midge" Maisel, interpretata da Rachel brosnahan (già apparsa in House of Cards), una donna di origine ebrea, forte, dinamica, solare e che conduce la sua esistenza perfetta con il marito e i due figli a New York City.
La donna può vantare una famiglia invidiabile e un posto di lavoro eccellente nell'azienda del padre, tuttavia sente che la sua vita non è completa e, infatti, nasconde un sogno nel cassetto: diventare la prima comica stand-un della storia.
Naturalmente, continua a tenere questo desiderio per sè finché un giorno è costretta a mettere tutto in discussione, accade infatti che il marito l'abbandoni per un'altra donna. Midge, colta di sorpresa, deciderà di prendere la palla al balzo e inseguire il suo sogno.
Secondo TvLine, Shalhoub vestirà i panni di Abe Weissman, la guida spirituale di Midge, molto più interessato a leggere e commentare i libri che tanto adora, piuttosto che dedicarsi alle relazioni sociali.
Dopo Monk, questo sembra un ruolo molto promettente per Tony Shalhoub e noi non vediamo l'ora di assistere al suo debutto!