Richard Madden, amato sia sul piccolo che sul grande schermo (ha infatti interpretato il fortunato ruolo di Robb Stark nella pluripremiata serie Game of Thrones, e il principe azzurro Kit, nel recentissimo adattamento firmato Disney della famosa fiaba di Cenerentola) ha tra le mani un nuovo progetto.
TV line ha da poco appreso che l'attore scozzese ha firmato il contratto per essere il protagonista della nuova serie TV firmata Amazon, intitolata Strange New Things. Lo show è interamente basato sull'omonimo libro, The book of strange New Things, firmato Michael Faber e pubblicato nel 2014.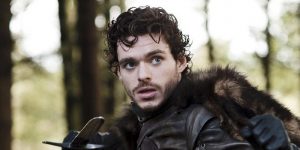 Amazon ha in mente una serie evento costituita da più o meno una decina di episodi e il tutto sarà incentrato su un giovane e appassionato pastore, interpretato appunto da Richard Madden, che lascia la moglie e la sua casa per predicare alle popolazioni native del misterioso pianeta di Oasis. Egli, tuttavia, sarà presto costretto a scegliere tra tornare sul paese natale per salvare la compagna vittima di catastrofi naturali e rivoluzioni politiche, o continuare la sua missione. La trama è ricca di passione, caratterizzata da tratti fantascientifici e Deadline non ha esitato a descrivere il progetto come:
"una storia d'amore struggente tra un marito e una moglie che hanno l'universo a dividerli."
Definendolo una sorta di "Heart Of Darkness nello spazio."
La serie sarà diretta da Kevin MacDonald (The last King of scotland) e sceneggiata da Matt Charman (il ponte delle spie), che sarà anche produttore esecutivo con Lila Rawlings (Left Bank Productions) e Andy Harries (strike Black).
E se non riuscite proprio ad aspettare il 2017 per vedere il debutto spaziale di Richard Madden, lo potrete vedere alle prese con gli intrighi della corte medicea nel periodo d'oro di Firenze nella nuova produzione Rai intitolata I Medici: Masters of Florence, in onda su Rai 2 a partire dal 24 ottobre.