Non si fa che parlare del grande ritorno di Rupert Grint, che, tolti i vestiti del maghetto Ronald Weasley, il migliore amico di Harry Potter, protagonista dell'omonima e fortunata saga nata dalla penna di J. K. Rowling, sarà l'attore principale, nonché produttore esecutivo, in Snatch. Questa nuova serie, prodotta da Crackle, il network che distribuisce materiale in streaming della Sony, sarà basata sul film cult del duemila dallo stesso titolo e che presentava nel cast nientemeno che Brad Pitt e Jason Statham.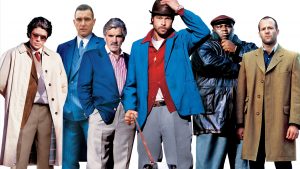 Lo show, oltre che Ruper Grint, vedrà come interpreti anche Dougray Scott come presenza regolare e Ed Westwick, che abbiamo già avuto il piacere di vedere in Gossip Girl e sarà una guest star in più episodi.
Dulcis in fundo, il regista sarà Nick Renton, che abbiamo apprezzato in The Musketeers.
Lo show era già stato originariamente annunciato durante gli upfront di Crackle e, a quanto detto, seguirà le linee e lo spirito del film da cui è tratto e la trama è presto detta; un gruppo di ventenni, pieni di energia casualmente in un camion di lingotti d'oro rubati e da qual momento si apre davanti a loro il tunnel della criminalità che li trascina velocemente nei bassifondi di Londra.
Da ragazzi innocenti, si trovano improvvisamente ad aver a che fare con nemici del posto, mafiosi, poliziotti corrotti e altra gente poco raccomandabile…
Il nostro Rupert Grint vestirà i panni di un amabile truffatore, Charlie Cavendish, mentre Scott sarà Vic Hill, un criminale molto poco pentito, deciso a non abbandonare i suoi traffici nemmeno dalla prigione, per ultimo, conosceremo Westwick come Sonny Castillo, eccentrico proprietario di un nightclub.
La premiere della prima stagione, suddivisa in dieci episodi, è attesa per il 2017 e le riprese inizieranno tra poco giorni a Manchester, in Inghilterra, nel frattempo Crackle divulgherà startup e The Art of More.
Per i fan accaniti di Rupert Grint lo potranno apprezzare prima dell'anno prossimo a Broadway in It's Only a Play con Matthew Brodericke e Nathan Lane. Inoltre reciterà con Nick Frostl e Don Johnson in Sick Note, l'imminente serie di sei puntate di Sky Atlantic.
Snatch nel 2017? Noi ci siamo, e voi?