La DC si è fatta portabandiera del fenomeno comics in TV che ha travolto la nostra immaginazione nel recente periodo.
Con Smallville riuscì nell'impresa di dare giustizia ad un personaggio, Clark Kent, che nonostante le numerose trasposizioni cinematografiche non aveva mai convinto i fan dell'uomo d'acciaio. Pur discostandosi molto dalla versione cartacea del figlio di Kripton, la serie Smallville riuscì a durare per 9 stagioni facendo sognare i fan di tutto il mondo per quasi un decennio. Con l'avanzare degli episodi, inoltre, vennero introdotti numerosi personaggi semi-sconosciuti ma di importanza vitale nell'universo DC, che oggi conosciamo come le nostre tasche. C'erano veramente tutti: Freccia Verde, Flash, Aquaman, Martian Manhunter, Black Canary, Booster Gold fino ad arrivare ai villain più temibili come Doomsday, Lex Luthor e Brainac. Come già detto i tempi erano diversi ai fan bastava vedere un uomo di nome Oliver e vestito di verde per dare il proprio assenso. Oggi siamo diventati molto più esigenti e quindi si richiede maggiore attenzione alla versione cartacea se si vuole trasporre un fumetto. Ne consegue che la DC, sulla scia del successo di Smallville, decise di monopolizzare il fumetto in formato 16:9 cominciando a sfornare serie TV come se non ci fosse un domani. Sfiorata la perfezione con Arrow sono arrivate Flash, Gotham, Supergirl e il più recente Legends of tomorrow. Ma si sa, un VERO fan ha sempre fame e non si accontenta mai, ecco quindi le 5 serie DC che vorrei io. Prima però una piccola precisazione: cercherò di prendere in esame tematiche e personaggi che non siano già stati visti e rivisti o sfruttati eccessivamente al cinema.
1) BATMAN OF THE FUTURE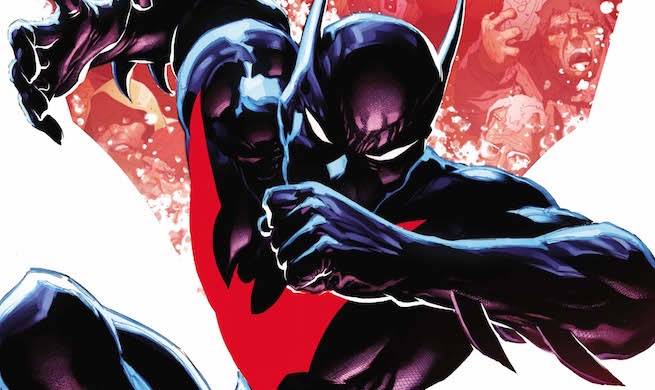 Creare una serie TV con protagonista il cavaliere oscuro sarebbe un impresa non da niente, poi come detto non prenderò in esame personaggi già notevolmente sfruttati:  sappiamo già che il pipistrello di Gotham sta per tornare al cinema. D'altronde come si dice? "Fatta la legge, trovato l'inganno!". Da vero fan dovrei trovare una soluzione o un escamotage. Il ragionamento è semplice: nell'universo DC esistono numerosissime versioni di Batman. Una tra le più amate è quella apparsa sul piccolo schermo svariato tempo fa. Chi non ricorda la fortunata serie animata "Batman of The future"? La serie ci mostrava un vecchio e stanco Bruce Wayne che ha appeso il mantello al chiodo. Al sopraggiungere di nuove minacce, e in seguito all'impossibilità di rivestire di nuovo i panni del cavaliere oscuro, il rampollo della famiglia Wayne decise di rinnovare completamente il design della sua creatura e di passare il mantello ad un giovane scapestrato che, per l'appunto, dovette iniziare a combattere la criminalità di Gotham. Improbabili nemici, vecchie e nuove conoscenze di Bruce Wayne, discendenti di antichi rivali; questa serie mi elettrizzava. Gli episodi erano coloratissimi e pieni di riferimenti alla serie animata originale. In genere questo genere di Reboot (chiamiamolo così) vengono bistrattati dai fan ma quella serie riuscì ad appassionare anche i più scettici. Forse perchè non intaccava l'universo originale. Io direi che gli ingredienti per un ottima serie TV ci sono tutti. Voi che dite? Pronti ad una nuova frontiera del Batman?