Amanti della Disney, grandi e piccini, questa è una grande notizia per voi. Un progetto straordinario e al limite di ogni immaginazione si trova, in questi momenti, nelle mani di ABC. Una posta misteriosa, di cui sappiamo veramente poco, è stata avanzata da Michele Fazekas e Tara Butters, nomi noti al grande pubblico per essere gli showrunner di Agent Carter.
Ma di che si tratta esattamente?
Questa nuova sfida, che pare sia stata accettata sia dalla ABC che dalla Disney, è conosciuta con il nome in codice "Hyperion" e riguarderebbe, udite udite, DisneyLand.
Proprio così, come ha recentemente riportato DeadLine, il progetto sarebbe basato:
"Sulla mitologia dei parchi a tema Disney"
Nonostante si sappia ancora davvero poco a riguardo, una certezza è che a fianco dei due showrunner prima citati lavorerà in veste di produttore Jason Reed, già apprezzato in Teenage Mutant Ninja Turtles.
Ma adesso veniamo ai fatti.
Quale sarà esattamente l'argomento di questo nuovo e misterioso show?
Be' noi abbiamo alcune teorie…
Poterebbe parlare, innanzitutto, della lotta portata avanti dal mitico fondatore, Walt Disney, e degli altri Imagineers, per la creazione di Disneyland, un parco a tema fuori dal comune e che, certamente, ha alimentato i sogni di milioni di bambini in tutto il mondo.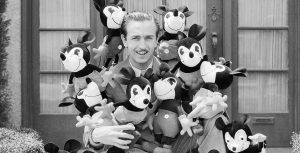 Una seconda ipotesi riguarderebbe lo sviluppo di un progetto cinematografico simile a The Magic Kingdom, portato avanti per anni da Jon Favreu, per poi dedicarsi invece a due remake di altrettanta importanza, quello de Il Libro della Giunga e Il Re Leone.
In particolare, The Magic Kingdom, trattava una storia simile a quella di Una Notte Al Museo, dove, come nel famosissimo film con Ben Stiller e Robin Williams, alla chiusura dei cancelli del parco a tema, i personaggi e i luoghi all'interno prendevano vita.
Queste sono senza ombra di dubbio teorie interessanti, ma per conoscere la verità non ci resta che aspettare!