Il più grave delitto è la non conoscenza. Questo articolo avrà come obiettivo quello di porre in auge venti serie drammatiche famose e non, che possono in alcun modo essere tralasciate o sottovalutate. Quei sublimi capolavori drammatici del piccolo schermo da vedere "almeno" una volta nella vita, accomunati non solo dal successo, ma anche dal principio assoluto della qualità indiscutibile.
Quelle serie drammatiche che tutti dovrebbero vedere.
Dalla storia del professor Walt White che poi diventerà Heisenberg (BReaking BAd), alle vicende di italoamericani mafiosi trapiantati nel New Jersey (I Soprano), passando per gli eccessi ed il gusto estetico dei pubblicitari di Madison Square (Mad Men). Senza dimenticare i becchini più famosi (anzi, gli unici) della storia delle serie drammatiche (Six Feet Under), incontrando i bikers della sanguinaria e criminale Charming (Sons of Anarchy). In questo viaggio panoramico dell'universo seriale di qualità assoluta, non mancheranno i drammi familiari costruiti alla perfezione (Bloodline) ed i serial killer incatenati da un codice etico (Dexter).
1) The Sopranos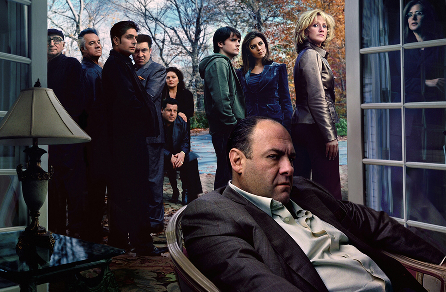 Il clan malavitoso capeggiato da Tony Soprano (un eterno James Gandolfini), deve destreggiarsi tra le insidie dei federali dell' Fbi, deve regolare la spartizione del malaffare di gran parte del New Jersey e deve sempre fare in modo di accontentare economicamente ogni affiliato. Ma la serie-tv che ha reso importante e prestigioso il marchio Hbo, è andata addirittura oltre. Lo show sugli italoamericani mafiosi del New Jersey ha messo in evidenza il lato umano, tragico e in certi casi addirittura ironico, di coloro che sono impegnati a trarre beneficio dall'illegale. Nella serie c'è il contraddittorio costume italiano, l'indagine psicologica di una mente criminale sdraiata sul lettino di una psicologa, l'idea megalomane e vuota di arricchirsi, per poi sperperare in gran parte. I Soprano sono tra le migliori cinque serie drammatiche di tutti i tempi, ed in tal caso l'imprevedibile soggettività, tipica di ogni autore, viene consolidata dalle classifiche ufficiali più prestigiose e dai premi più autorevoli ( ImdB 9,2\10, Numero uno secondo il "Writer's Guild of America", 82 premi ufficiali tra Emmy, Golden Globe ecc ecc.)
Risultati bolscevichi, apprezzamenti internazionali ed una piccola (ma non certo importante) pecca : il limitato successo nei confini italici.
2) Sons of Anarchy
Una perla unica ed inarrivabile della serialità. SoA racconta la storia di un club di motociclisti dediti al traffico d'armi, con un intreccio drammatico di matrice shakespeariana. Una serie che ha squarciato il panorama seriale dell'ultimo decennio, collocandosi con BR. Bad tra le migliori di sempre. Il sentiero del dolore che i bikers dei Soa attraverseranno insieme, sarà ricco di insidie, tradimenti e spargimento di sangue. SoA si incentra sulla violenza del mondo criminale, sul desiderio\diritto di vendetta di Jax Teller-Amleto, sull'impossibilità di decidere gran parte della propria vita che è stata già scritta e segnata da una matriarca di nome Gemma Teller (golden globe 2011) e da un patrigno come Clay. Una delle serie drammatiche che ogni appassionato di telefilm dovrebbe, anzi, deve assolutamente vedere (il consiglio muta in obbligo); Sons of Anarchy è una serie così immensa che non può essere contenuta in mille articoli, figuriamoci in un semplice paragrafo come questo.