13) House of Cards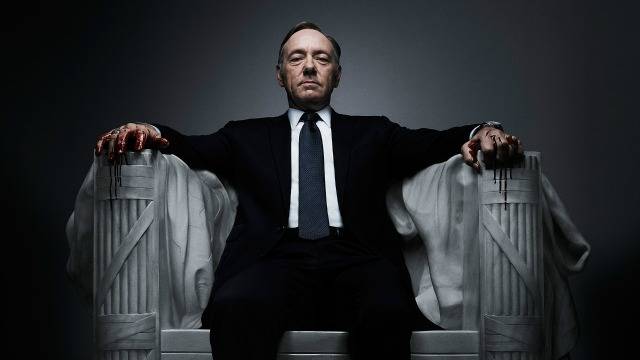 House of Cards è la storia della scalata al vertice del potere del suo magnetico e carismatico protagonista Frank Underwood, uno dei leader del partito democratico al congresso, che stagione dopo stagione aggiunge un prestigioso titolo al proprio curriculum. Da leader dei democratici, a vice-presidente degli States fino a divenire l'inquilino della White House, in sintesi, Frank diventa l'uomo più importante ed influente dell'intero globo. Il Presidente con larghissimi poteri decisionali, artefice e primo attore del destino di gran parte della scena politica mondiale.
La serie che indaga sullo sconfinato potenziale dell'uomo e sul sapore della vittoria, giusta o malata, che essa sia.
14) Doctor House
Il dottor Gregory House : eccentrico, intelligente da far paura, sarcastico, egocentrico, balzano, lucidamente folle. Un vero character con la 'C' maiuscola. Doctor House è indubbiamente uno (probabilmente, 'il primo') dei medical-drama più riusciti ed apprezzati di sempre, con il dottore più controverso ed amato della televisione. Otto stagioni, 177 episodi di ironia, malessere e di pura riflessione interiore.
Un masterpiece assoluto della sua categoria.
15) The Wire
Nessun antieroe, non c'è spazio per Jax Teller, Walt White, Frank Underwood, Dexter o Tony Soprano. The Wire parla dei veri eroi. La caccia dei poliziotti al crimine organizzato di Baltimora, tra pericolose gang di spacciatori e ricchi imprenditori che riciclano i proventi illeciti. La serie, classificabile anch'essa tra le serie drammatiche, è uno spaccato dell'America contraddittoria, quella che grida libertà e opportunità, l'America ricca di periferie difficili, vere e proprie roccaforti del crimine. Quel dipinto vivido di un' America stracolma di armi in ogni angolo di ogni strada di ogni quartiere. Una delle serie drammatiche che è stata ( e in molte classifiche, continua a stazionare) al primo posto di sempre, una serie che ha squarciato il filone seriale degli anni 2000 (in compagnia di "The Sopranos") , con le sue cinque stagioni e sessanta episodi totali.
Una Serie da vedere assolutamente, una legge sacra degli addicted