Ogni donna ha la sua migliore amica. Ogni donna sa dove correre quando c'è bisogno di una spalla su cui piangere. Ogni LEI ha una LEI. Basta uno sguardo per capirsi. Minimo sforzo, massimo risultato. Ma è bello pensare di esserci l'una per l'altra anche nei momenti di svago. Perché no, per vedere una serie TV.
Tendenzialmente le donne che guardano film o telefilm insieme sono un ricettacolo di commenti piccanti o di cattiverie inenarrabili. Figuratevi due migliori amiche insieme davanti alla puntata di una serie. E' un connubio ideale. Googlelando best friends gif vengono subito fuori Blair e Serena di Gossip Girl. Coincidenze? IO NON CREDO. Preparate pop corn, copertina e ormoni in circolo. Nel caso non aveste ancora una migliore amica, affrettatevi a cercarla nelle vicinanze immediate e buttatevi a capofitto a recuperare ciò che non avete ancora visto di questo elenco. Sono solo 10 suvvia, vale come punto vita sociale perchè non ve le sparerete da sole ma in dolcissima compagnia (belle scuse quelle dei telefilm-addicted).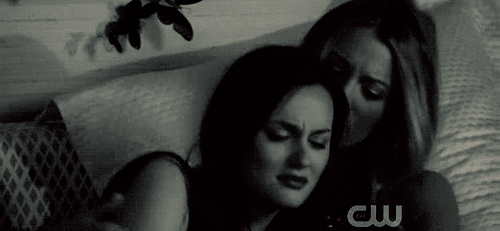 Eccovi dunque le 10 serie TV da vedere con la migliore amica:
1: SEX AND THE CITY: 4 donne: 4 amiche. Una città: New York. E tanto tanto tanto sesso. Carrie, Miranda, Charlotte e Samantha hanno fatto storia. Una rivoluzione degli anni '90. Sembra essere stato scritto apposta per essere visto con la propria migliore amica. Cosa chiedere di meglio? Nel caso le sei stagioni non vi fossero bastate potete buttarvi anche su i due film usciti al cinema e su una specie di spin-off trasmesso nel 2013. Chi più ne ha più ne metta insomma.