Attenzione: questo articolo contiene spoiler su Rick and Morty 4×05!
Il nostro viaggio volge purtroppo al termine. Dopo aver atteso con tanto pathos la quarta stagione della serie, la decisione degli autori di consegnarci solo cinque episodi potrebbe sembrare uno scherzetto crudele. Come sempre accade in Rick and Morty, però, la qualità riesce a superare la quantità e a fugare il senso di delusione che ci aveva attanagliati prima della messa in onda. Rick and Morty 4×05 non solo è un eccellente speciale natalizio, ma anche una parodia conclusiva esilarante e ben costruita, costellata di meravigliose citazioni cinematografiche.
Come dice Rick, nello spazio c'è letteralmente di tutto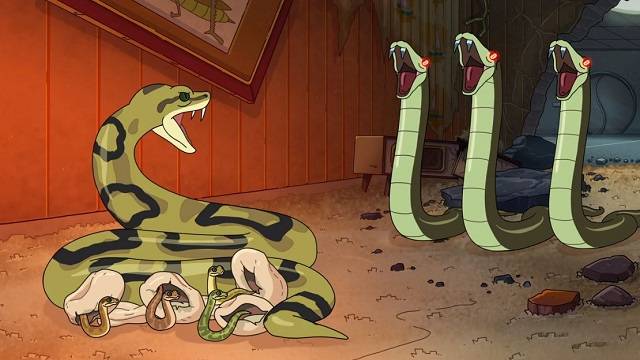 Nelle folli menti di Harmon e Roiland, persino una semplice gomma a terra può scatenare un effetto farfalla di proporzioni cosmiche. Il quinto episodio della quarta stagione si dirama in due direzioni: da un lato abbiamo l'accidentale disastro provocato dal senso di colpa di Morty, a causa del quale una civiltà di serpenti aliena decide di invadere e conquistare la Terra. La trama secondaria, invece, si concentra su Jerry e sul suo ennesimo tentativo di dimostrarsi un uomo forte e indipendente, in grado di superare le avversità senza ricorrere all'aiuto di Rick. Quest'ultimo, intanto, riprende in mano le redini della situazione cercando di risolvere i danni provocati dal nipote e riappropriandosi del suo status all'interno della famiglia.
Gli elementi comici non tardano a mancare e, poco dopo la scena della gomma bucata nello spazio, i due protagonisti si trovano a fronteggiare un serpente astronauta, un pianeta popolato da esseri sibilanti e innumerevoli peripezie a zonzo nel tempo, durante le quali incontreranno anche i Rick e Morty di un futuro molto, molto recente. Le battaglie e i momenti movimentati vengono interrotti da alcune sequenze più lente in cui possiamo assistere a degli scambi di battute in serpentese o al ballo di Summer sulle note del serpe-jazz. Nel complesso, il ritmo diventa così regolare e ben bilanciato (in opposizione a quello fin troppo rapido di Rick and Morty 4×03) da farci desiderare che questa puntata non finisca mai.
Rick and Morty 4×05 affronta il complesso tema dei viaggi nel tempo con grande maestria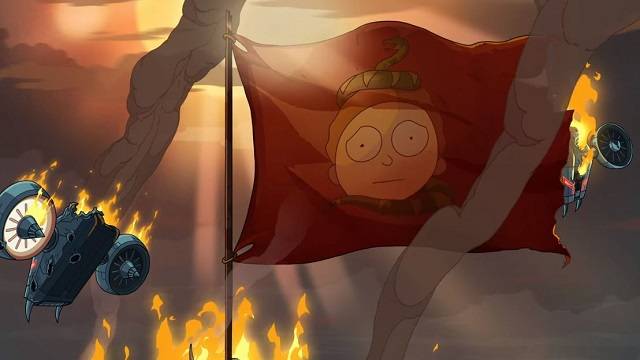 Rattlestar Ricklactica trae ispirazione da ben due colossi della cultura televisiva: Battlestar Galactica (come suggerisce il titolo) e Terminator. Nella trama principale dell'episodio, i creatori si destreggiano con abilità magistrale nell'ambito dei viaggi e delle interferenze spaziotemporali, costruendo una storia esagerata ma plausibile, in cui divertimento e azione si fondono per dare vita alla struttura narrativa più equilibrata della quarta stagione. Considerata la dichiarata avversione di Harmon e Roiland per l'argomento, è curioso il fatto che essi abbiano optato per un'avventura basata proprio sul viaggio nel tempo, ritenuto da entrambi intrinsecamente privo di senso. In ogni caso, il loro tentativo di stravolgere, ridicolizzare e abbattere uno dei pilastri fantascientifici si direbbe andato a buon fine.
I parallelismi tra l'evoluzione della specie umana sulla Terra e quella dei serpenti alieni sono innumerevoli, e conferiscono a tutta la vicenda un tono estremamente ilare: oltre a proporre una versione strisciante di personaggi storici come Neil Armstrong, Abraham Lincoln e Hitler.
Rick and Morty 4×05 crea una vera e propria civiltà affine alla nostra, con l'introduzione dello "Snake M.I.T." e della "matematica serpeggiante". Si accarezza qui l'idea che, a parità di condizioni, alcuni eventi siano destinati a ripetersi in ogni società affinché essa possa progredire. Oltre ai titoli già citati, Rattlestar Ricklactica sembrerebbe attingere anche ad altre caratteristiche del cinema fantascientifico, come possiamo notare nella sequenza in cui le serpi aliene tentano di comunicare in laboratorio con il loro corrispettivo terrestre. Lo studio del linguaggio ricorda vagamente il film Arrival di Denis Villeneuve, con la ricerca di un punto di incontro tra due mondi tanto diversi quanto simili.
Jerry e la magia del Natale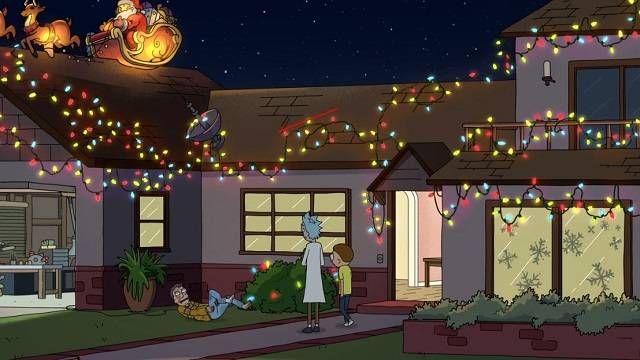 Ultimo ma non ultimo, il filone narrativo dedicato a Jerry riesce a superare le aspettative, dopo la vicenda piacevole ma un po' scialba di Rick and Morty 4×04. È proprio il padre del ragazzino a dare un tocco natalizio alla puntata, con il suo esasperante tentativo di addobbare casa Smith con luci e decorazioni. Il piccolo aiuto da parte di Rick si rivelerà, come sempre, un'arma a doppio taglio, e Jerry si ritroverà a fluttuare nel cielo un po' come il nostro povero serpente astronauta. In questo caso, le similitudini tra padre e figlio si fanno sentire più che mai: entrambi cercano di sistemare i propri errori in autonomia ed entrambi finiscono per combinare un pasticcio, il tutto solo per confermare la propria indipendenza rispetto alla figura di Rick. È affascinante notare come Rattlestar Ricklactica riesca a sovrapporre non solo la forma, ma anche il contenuto delle due trame.
In ogni caso, questa volta ci ritroviamo persino a tifare per Jerry, che con tutta la sua buona volontà cerca di cavarsi fuori dai guai con le sue sole forze (e senza far preoccupare Beth). Al termine della puntata, vedere la famiglia Smith che rientra nella casa addobbata per festeggiare il Natale ci fa sorridere, ma ora che abbiamo visto quali magnifiche storie i creatori di Rick and Morty hanno in serbo per noi, l'attesa per i prossimi episodi sarà ancora più difficile da sostenere!