Attenzione: questo articolo contiene spoiler su Rick and Morty 4×03!
Proprio come in Edge of Tomorty, il pilot della quarta stagione, Rick and Morty 4×03 prende in prestito alcuni elementi dall'universo cinematografico, e questa volta punta il dito verso Qualcuno volò sul nido del cuculo di Miloš Forman. In realtà, durante la puntata non riscontriamo molti parallelismi con la nota pellicola, se non l'evidente rielaborazione del titolo. One Crew Over the Crewcoo's Morty è un episodio riuscito quasi perfettamente, adornato da una trama folle, labirintica, a tratti paradossale e da una équipe di personaggi stravaganti e divertentissimi.
Se in Rick and Morty 4×03 le somiglianze con Qualcuno volò sul nido del cuculo sono davvero minime, possiamo invece riconoscere facilmente le caratteristiche degli Ocean's movie, rappresentanti per eccellenza del genere heist. La trama di questa tipologia di film si basa sull'esecuzione di un furto da parte di una squadra di criminali ben assortita. Azione e strategia si fondono per dare vita a un prodotto finale completo e intrigante, che richiede la totale attenzione dello spettatore. I creatori di Rick and Morty non solo prendono spietatamente in giro questo genere aggiungendo la loro solita vena di assurda comicità, ma lo rielaborano trascinandolo oltre i confini della logica.
In Rick and Morty 4×03 troviamo nonno e nipote di nuovo insieme, alle prese con una nuova e intrigante avventura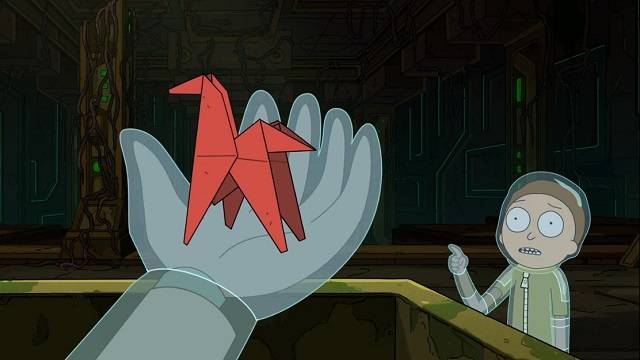 Fino alla scorsa puntata abbiamo seguito i due protagonisti della serie in story-line nettamente distinte, ma per la prima volta questa stagione ci propone una vicenda incentrata sulla nostra bizzarra coppia preferita. Le variegate ambientazioni di One Crew Over the Crewcoo's Morty ci permettono di viaggiare con la fantasia sin dai primi minuti dell'episodio, spaziando da antichi sepolcri a convegni del furto interplanetari. Il climax ascendente della puntata crea un'atmosfera di suspense tipica degli heist movie e scandisce in modo rapido e conciso i momenti essenziali di svolta.
L'esecuzione del crimine perfetto segue, passo dopo passo, le linee guida della saga di Ocean's Eleven, partendo dal reclutamento della squadra ideale (in questo caso piuttosto macchiettistica) sino all'ideazione di elaborati stratagemmi da parte di Rick e del suo rivale per trafugare il tanto ambito teschio di cristallo. La vicenda si evolve poi intorno al concetto di doppio gioco, da cui deriva un susseguirsi di eventi assurdi e anche piuttosto complicati da seguire. Ogni momento dell'episodio ha ruolo cruciale nella comprensione del quadro d'insieme, perciò non staccate gli occhi dallo schermo.
Rick Sanchez incontra un degno avversario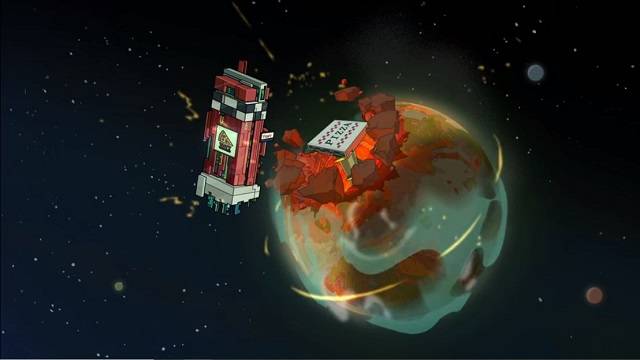 In One Crew Over the Crewcoo's Morty incontriamo la perfetta nemesi di Rick, creata dallo stesso scienziato nel tentativo di battere Miles Knightly, la sua vecchia conoscenza. È in effetti più che sensato che sia proprio Rick a programmare l'intelligenza artificiale in grado di competere con lui: Furto-Tron e Rand-o-Tron sono i due piccoli robot con abilità opposte, in grado di elaborare rispettivamente piani ben congegnati o assolutamente casuali. La confusione provocata dalle ultime invenzioni di Rick sfocia in una follia esilarante e in un colpo di scena finale davvero ben assestato.
Anche i numerosi personaggi secondari contribuiscono all'ilarità complessiva: dai membri della banda (tra cui possiamo individuare Efesto e un Dracula appassionato di monster truck) a una versione alternativa e animalesca di Elon Musk (Elon Tusk, per l'appunto), al ritorno in grande stile di Mr. Poopybutthole. La presenza di ogni singola guest star viene ottimizzata e valorizzata, aggiungendo personalità all'episodio. La rete sociale di Rick è dunque molto più fitta di quanto non si potrebbe pensare, ma ciò contribuisce solo ad accentuare i tratti misantropi ed egocentrici di quest'ultimo.
Lo spirito di intrattenimento della puntata non ruba spazio a momenti più introspettivi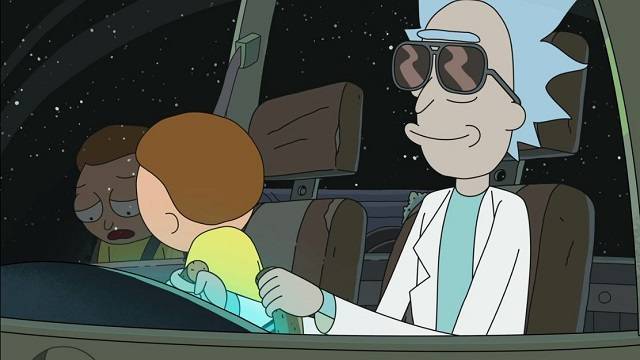 Come già detto, le scene divertenti sono sicuramente un punto forte di Rick and Morty 4×03, in misura persino maggiore rispetto alle scorse puntate. In ogni caso, ciò non priva l'episodio della sua profondità, né toglie spessore alla caratterizzazione dei personaggi. Sembra ormai chiaro come la quarta stagione intenda indagare sotto diversi aspetti la psiche di Rick, dall'isolamento emotivo alle manie di controllo. Gli indicatori della sua condizione sono molteplici: per tutta la puntata Rick cerca di imporre la propria superiorità (su Miles, sui robottini, sui membri della squadra), ma anche di condizionare le scelte altrui in modi estremamente subdoli, che rischiano di ritorcerglisi contro. Prima e ultima vittima del nonno è proprio Morty, inconsapevolmente spinto a sabotare i propri sogni per continuare a vagabondare da un'avventura all'altra, disilluso e demoralizzato.
One Crew Over the Crewcoo's Morty è un episodio complesso e curato nei minimi dettagli, che riesce a intrattenere, sprona al ragionamento e guarda con occhio attento ai risvolti psicologici dei suoi personaggi principali. Si direbbe che Harmon e Roiland abbiano trovato un equilibrio pressoché perfetto, e ci auguriamo che decidano di proseguire su questa pazza, assurda e meravigliosa strada.