Attenzione: questo articolo contiene spoiler su Rick and Morty 4×04!
Se in One Crew Over The Crewcoo's Morty, Roiland e Harmon sono riusciti a delineare una trama ricca, accurata e intelligente, nel quarto episodio dello show i due creatori si orientano verso una struttura narrativa totalmente diversa, anche se comunque godibilissima. Rick and Morty 4×04 omaggia il genere fantasy in modo audace e originale, senza discostarsi però dal carattere tipicamente grottesco e disturbante della serie.
Come sempre, un primo indizio chiave sulla puntata ci viene fornito dal titolo, Claw and Hoarder: Special Ricktim's Morty, preso in prestito da Law and Order: Special Victims Unit. In questo caso non ci sono né indagini né storie di abusi, benché la sessualità giochi un ruolo tanto importante quanto bizzarro in questa magica avventura costellata di draghi, stregoni e orge psichiche. Anche la storyline secondaria si rivela ben costruita ed esilarante, con Jerry e il suo nuovo amico a quattro zampe come protagonisti.
Rick and Morty 4×04 contrappone scienza e magia, trascinando lo stesso Rick fuori dal suo elemento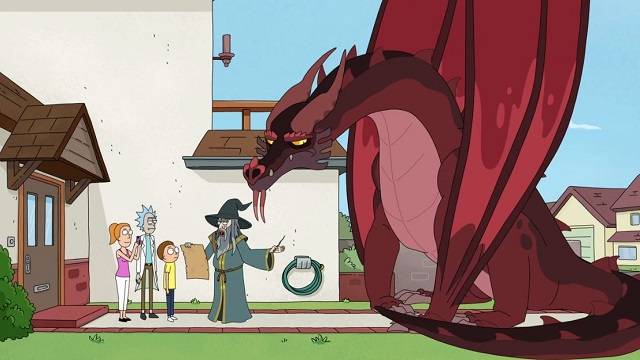 Questa quarta stagione sembra fare proprio di tutto per strappare Rick dalla sua comfort zone: razionalità e logica vengono messe da parte nell'istante in cui Morty chiede al nonno di procurargli un drago, scatenando una serie di eventi improbabili per il resto dell'episodio. In un contesto privo di basi scientifiche, Rick si trova spaesato, per non dire impreparato, mentre ancora una volta Morty riesce ad adattarsi alla situazione con i giusti strumenti e a ribaltare i ruoli, prevaricando la figura dello scienziato.
Lo sguardo degli autori si sposta temporaneamente dall'universo Sci-Fi a quello fantasy, seppur sotto forma di parodia. In particolare, è possibile constatare una certa somiglianza con la celebre Game of Thrones, rielaborata in chiave comica e privata della sua atmosfera epica. I draghi, che di norma sono creature austere e terrificanti, in Claw and Hoarder si trasformano in creature imbarazzanti, ridicole e ossessionate dal sesso, con un chiaro riferimento ai contenuti a sfondo erotico de Il Trono di Spade. Le orge psichiche tra i vari personaggi riescono a mettere a disagio senza in realtà mostrare nulla, creando un imbarazzo che si estende in modo efficace dai poveri e inermi protagonisti al pubblico a casa.
Gli animali "domestici" del quarto episodio sono davvero bizzarri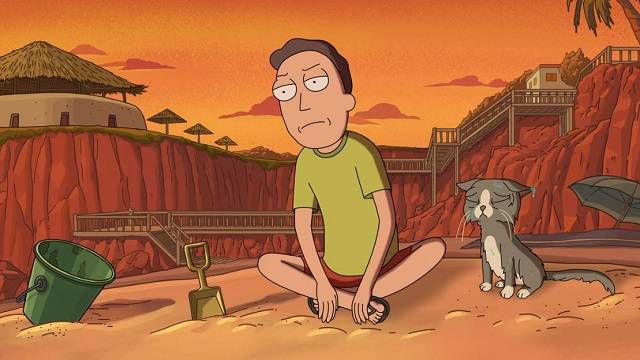 Mentre Morty cerca di ottenere il suo drago personale, nella storyline secondaria Jerry si ritrova alle prese con un gatto decisamente particolare che riesce a parlare senza muovere la bocca. Questa brillante (anche se non proprio originale) trovata insinua nello spettatore il dubbio che gli avvenimenti si svolgano solo nella testa dello stesso Jerry, poiché non vi è la prova materiale delle capacità comunicative del gatto. In ogni caso, l'episodio torna a fare un po' di luce sul padre di Morty, che si rivela come al solito un individuo patetico e mediocre, alla continua ricerca di qualcuno che gli dica come gestire la propria vita.
Di fatto, questa volta è proprio il gatto parlante a manipolare Jerry, convincendolo a svolgere una "piccola gita fuori porta" in Florida. L'animale, inizialmente, appare esattamente come dovrebbe essere: sornione, calcolatore ed egocentrico, ma durante il viaggio si iniziano a scorgere alcune similitudini tra i due personaggi, entrambi avvolti da un alone di solitudine, incomprensione e disagio esistenziale. Questa narrazione secondaria è nel complesso piacevole ed elegante, con un finale semiaperto caratterizzato da una nota tragicomica.
Rick and Morty 4×04 si distingue per casting, fotografia e scene imprevedibili… ma manca qualcosa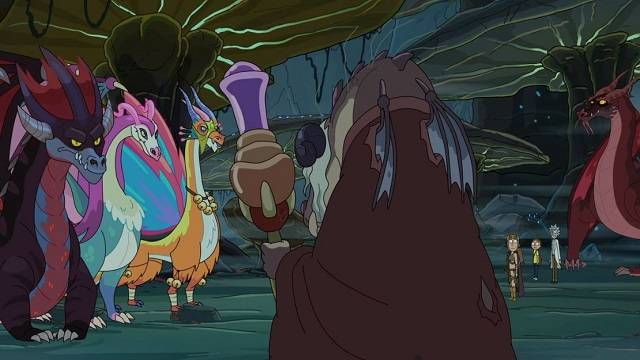 L'animazione della puntata è davvero fantastica e coloratissima, sulla scia di The Old Man and The Seat che tanto ci aveva soddisfatti. Le ambientazioni, le creature magiche (per quanto buffe) e i combattimenti sono una gioia per gli occhi, con numerosi elementi degni dell'universo videoludico di World of Warcraft. Altrettanto apprezzabile è il team di doppiatori, tra cui troviamo Liam Cunningham, direttamente da Game of Thrones, nei panni del drago Blathrama, e Matthew Broderick come interprete del gatto. Inoltre, numerose scene dell'episodio sono caratterizzate da un livello di comicità altissimo e da un senso dello humor davvero sottile, come nel caso del tentativo di evocazione di Morty, a cui il drago invia una GIF animata in risposta, o la trasformazione di Summer in un'elfa arciera.
L'unica pecca della puntata risiede nella gestione complessiva della trama principale, che manca di una direzione precisa. Se il finale parzialmente aperto della vicenda di Jerry lascia lo spettatore incuriosito e divertito, lo stesso discorso non vale invece per i nostri protagonisti, la cui caratterizzazione viene sacrificata per dare spazio a un'avventura pittoresca. Il senso generale dell'episodio si perde un po' nella varietà dei suoi elementi, validissimi se presi singolarmente, ma che rendono il tutto leggermente confuso.
Un po' come accade in un sogno, a pensarci bene.