Questa settimana come di consueto è stato trasmesso dalla CBS un nuovo episodio di Young Sheldon, lo spin-off che sta pian piano oscurando la serie madre. La settimana scorsa la puntata dedicata alla crisi di fede di Mary Cooper ci aveva fatto commuovere. Questa volta invece il nuovo episodio è stato molto più allegro e spensierato: abbiamo infatti visto il piccolo genio cercare di mantenere un segreto per non far andare nei guai suo padre. Sappiamo quanto costi al dottor Cooper evitare di rivelare qualcosa che deve essere assolutamente tenuto nascosto e questa sua caratteristica ci aveva già fatto ridere in tante scene di The Big Bang Theory (leggi qui 12 segreti assurdi di questa sitcom).
Non abbiamo visto quindi nulla di assolutamente nuovo, ma l'episodio intitolato "A Financial Secret And Fish Sauce" è stato comunque molto divertente.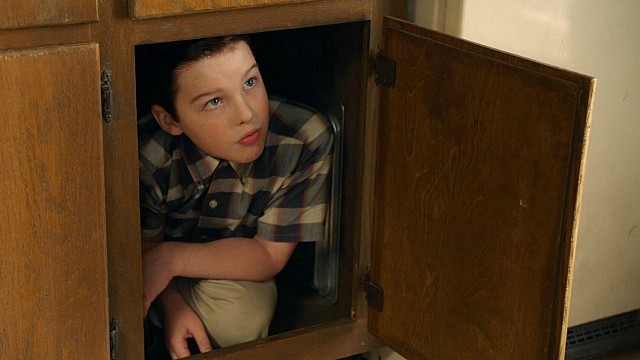 In questa nuova puntata di Young Sheldon, il ragazzino ha deciso di trascorrere il suo weekend a fare la dichiarazione dei redditi per i suoi genitori progettando di divertirsi un mondo. Ma mentre analizzava i documenti che gli servivano, si è accorto che mancava un assegno di circa 300 dollari. È andato quindi a chiedere a suo padre George dove fosse finito e a cosa fosse servita quella somma. L'uomo all'inizio ha cercato di evitare di rispondere alle domande del figlio, ma alla fine ha deciso di capitolare: ha confessato quindi di aver fatto un prestito a un amico all'insaputa della moglie. Ha quindi chiesto a Sheldon di mantenere il segreto e non rivelare nulla a sua madre.
Questo ha messo il ragazzino in una sgradevole posizione: per evitare di rivelarle qualcosa per sbaglio, ha cominciato a smettere di parlare con sua madre e a nascondersi da lei. Lo stress lo ha anche costipato impedendogli quindi di andare in bagno con regolarità e creandogli non pochi disagi. Proprio per allontanarsi dalla propria madre che stava diventando sempre più sospettosa, ha deciso di trascorrere una notte lontano da casa per poter dormire in santa pace. Dopo essersi reso conto che passare un giorno in albergo era fuori dalla sua portata, ha pensato di autoinvitarsi a casa del suo amico Tam per organizzare un pigiama party. Il padre George lo ha quindi portato alla dimora del suo amico e ha cercato anche di consigliargli qualche scherzo divertente da fare a Tam.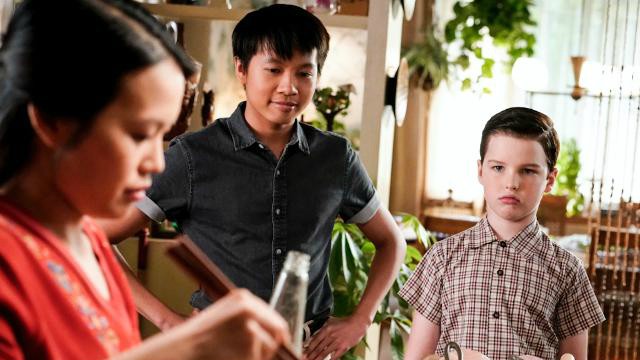 Una volta che Sheldon è entrato in quella casa si è dovuto adeguare alle usanze della famiglia vietnamita che non sono state tutte di suo gradimento. Dopo aver pranzato Sheldon è andato nella stanza di Tam per giocare con lui e lì ha deciso di rivelargli il segreto che lo stava torturando. Essendosi liberato di quel peso, si è sentito più leggero e tranquillo ed è riuscito anche a dormire con maggiore tranquillità.
È normale quindi che dopo una bella dormita sia riuscito a vedere la situazione da un nuovo punto di vista: il colpevole del suo malessere era stato suo padre che lo aveva messo in mezzo in una situazione così sgradevole. Per questo, quando George è tornato a prenderlo, il ragazzino lo ha rimproverato e gli ha detto che da quel momento in avanti avrebbe smesso di considerarlo un modello di riferimento. Queste parole hanno colpito molto il povero padre che ha capito che era arrivato il momento di confessare il suo segreto alla moglie Mary.
Abbiamo quindi scoperto che il segreto non riguardava solamente lui, ma anche Georgie e Costance.
La donna aveva portato suo nipote a scommettere al cinodromo ed essendosi ubriacata aveva lasciato che fosse Georgie a guidare fino a casa. Quando erano stati fermati dalla polizia si era quindi messa al posto di guida per non far andare nei guai suo nipote. Era stata però arrestata e George aveva pagato la cauzione per farla uscire di prigione. Mary è andata su tutte le furie quando ha ascoltato quella storia assurda e ha spedito suo marito e il suo primogenito a dormire a casa di sua madre. Ma dato che il genero l'aveva tradita, spifferando il suo segreto, Costance ha capito che doveva assolutamente vendicarsi! Ha quindi telefonato a sua figlia e le ha confessato che George, una volta da ubriaco, aveva fatto pipì nell'orto della Chiesa.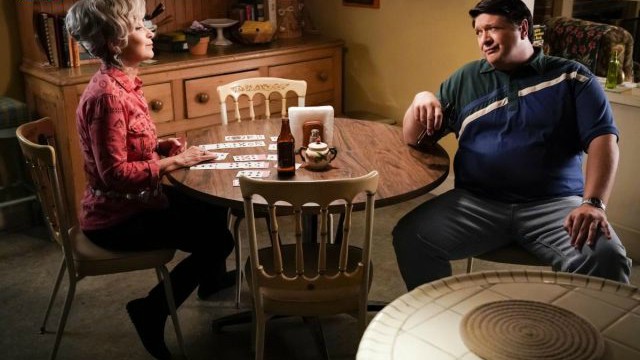 Tra segreti e risate la puntata è andata avanti senza farci annoiare nemmeno per un attimo.
Come ho già detto all'inizio della recensione questa non è stata la puntata migliore di Young Sheldon in assoluto ma non possiamo ritenerla affatto mediocre. Per tutto l'episodio infatti non abbiamo fatto altro che chiederci quale fosse questo enorme segreto che George doveva nascondere. Abbiamo rivisto inoltre una caratteristica di Sheldon che ci ha sempre divertito: la sua totale incapacità di mantenere un segreto. Le scene divertenti non sono mancate e l'episodio è stato abbastanza godibile. È davvero bello rivedere nel protagonista di Young Sheldon interpretato da Iain Armitage tutte quelle stranezze che appartengono al personaggio di Jim Parson (leggi qui le 10 stupefacenti follie di Sheldon). La serie riesce sempre a essere divertente grazie a personaggi secondari perfettamente scritti come Costance e Missy (stavolta messa purtroppo in ombra dal fratello maggiore).
Young Sheldon non è una sitcom priva di difetti o di episodi meno convincenti, ma riesce comunque a mostrarci sempre il suo potenziale.
Il mio timore però è che gli scrittori possano tirarla per le lunghe e non farci mai vedere i problemi in casa Cooper di cui Sheldon si è lamentato più di una volta in The Big Bang Theory. Se decidessero di proseguire in questa direzione non ne sarei affatto felice! Non fraintendetemi: vedere i coniugi Cooper andare d'amore e d'accordo mi rende felice ma temo che continuando di questo passo gli episodi potrebbero diventare abbastanza noiosi. Vedremo comunque cosa gli sceneggiatori hanno in serbo per noi nelle prossime settimane.