Young Sheldon è una comedy molto riuscita che ci ha fatto ridere più di una volta grazie alle gag spassose e alle stranezze di Sheldon. Tuttavia guardando gli episodi della prima stagione ci siamo accorti che gli autori hanno voluto rendere questa Serie Tv più profonda di The Big Bang Theory: le avventure del piccolo Sheldon e della sua famiglia ci hanno fatto riflettere e commuovere.
Young Sheldon, che in un primo momento doveva seguire il filone di Malcolm in The Middle, si è totalmente distaccato dalla sitcom di Linwood Boomer e ci ha regalato puntate meno leggere di quanto potessimo aspettarci. Questa non è certamente una novità: How I Met Your Mother e Scrubs ci hanno fatto piangere durante tantissimi episodi (scopri qui 10 Serie Tv comedy dai risvolti drammatici) e lo stesso ha fatto questo show.
Dopo che la seconda stagione ci aveva riservato finora esclusivamente puntate divertenti, finalmente invece abbiamo potuto guardare un episodio più maturo e riflessivo. Per la prima volta inoltre è stata Mary Cooper a rubare la scena a suo figlio!
La madre del piccolo genietto ha infatti dovuto affrontare una crisi di fede nel nuovo episodio intitolato A Crisis Of Faith and Octopus Aliens. L'evento che l'ha portata a mettere in discussione tutto quello in cui credeva è stata la morte di una ragazza a causa di un terribile incidente stradale. Questa notizia ha colpito molto la donna che, come tutte le mamme, trema al pensiero di perdere uno dei suoi figli. Ha cercato quindi di aiutare la famiglia della ragazza a riprendersi da questa terribile perdita pregando per loro, ma si è presto resa conto di quanto potesse essere vana e inutile una preghiera.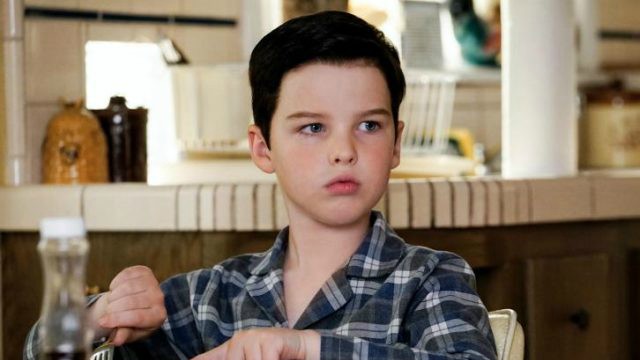 Ha confessato quindi al Pastore Jeff i suoi dubbi e gli ha chiesto come facesse a credere ancora in Dio dopo disgrazie del genere. Il Pastore le ha consigliato di rafforzare la sua fede lavorando ancor più duramente per il Signore. Mary ci ha provato: all'inizio le è sembrato che il suo gruppo di preghiera e il suo giardino della fede potessero aiutarla, ma le è stato chiaro che stava solo aggirando il problema. Dato che la fede non poteva più aiutarla, ha provato a risolvere la questione in un modo diverso. Si è ubriacata con due Spritz e ha invitato sua madre a uscire con lei.
Le due donne sono quindi andate a bere una birra e a giocare a biliardo in un locale. Da sbronza Mary ha anche confessato a Costance di non voler più andare a messa la domenica. Le ha detto che, mentre stava per scrivere un biglietto di condoglianze per i genitori della defunta ragazzina, le erano mancate le parole e aveva cominciato a mettere in discussione tutto.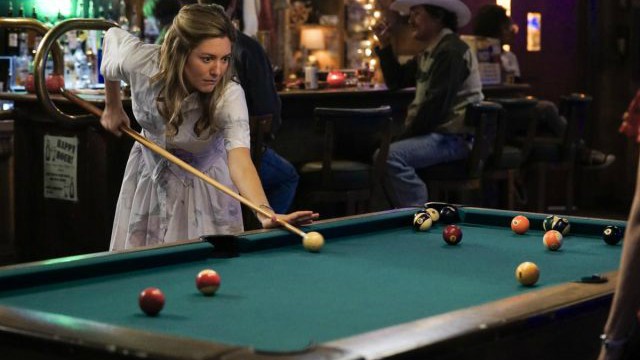 Come poteva la morte di una ragazza, che aveva tutta la vita davanti, essere compresa nel progetto di Dio?
Costance non è riuscita a dare una risposta a questa domanda, ma ha cercato di risollevare il morale della figlia per tutta la serata. Quando poi l'ha riaccompagnata a casa da George, Mary era ormai completamente ubriaca. Per questo il giorno successivo non si è svegliata in tempo per accompagnare i suoi figli a messa e ha preferito restare a letto.
È stato George quindi a dover badare alla casa e ai suoi tre scapestrati figli. Ha messo a letto i due gemelli e ha preparato per loro la colazione superando le loro incertezze e dimostrando di essere abbastanza all'altezza del compito. Sheldon si è accorto che c'era qualcosa di strano in sua madre: non pregava più prima di consumare ogni pasto e non andava più a Messa. Per questo l'ha raggiunta in veranda mentre era sola per parlarle e convincerla a credere di nuovo in Dio.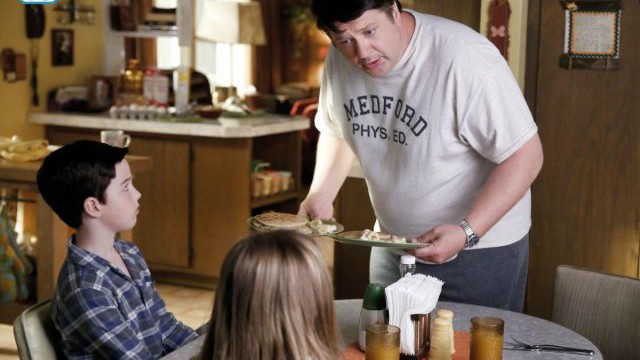 Le ha detto che tutto nell'Universo lasciava credere che all'origine ci fosse stato un creatore. Quindi con la logica ha cercato di dimostrare l'esistenza di Dio. Alla fine è riuscito a far ragionare Mary e a farla tornare quella di un tempo.
Beh, ci sono 5 miliardi di persone su questo pianeta e tu sei la mamma perfetta per me. Quante sono le probabilità che questo accada?

Grazie Signore per questo prezioso ragazzo.
Abbiamo detto più volte che Young Sheldon avrebbe dovuto fare il salto di qualità e credo davvero che con questo episodio ci sia riuscito! Con questa puntata infatti è accaduto infatti l'inimmaginabile: lo spin-off ha superato senza dubbio la serie madre.
Apprezzabile è stata soprattutto l'alternanza tra le scene divertenti (come i dialoghi tra Costance e sua nipote) e i momenti più commoventi (come la scena tra Sheldon e sua madre). Ma a regalarci tante risate sono soprattutto i confronti tra il piccolo genio di casa Cooper e il Pastore Jeff che non ci stancano mai.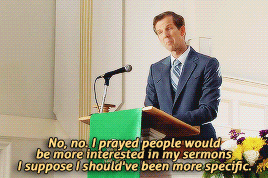 Questo episodio di Young Sheldon ci ha inoltre mostrato una Mary Cooper molto più umana rispetto al personaggio che abbiamo conosciuto in The Big Bang Theory (leggi qui 12 segreti assurdi di questa serie che probabilmente non conoscevi). È stato molto bello anche vedere la donna uscire con sua madre e confessare a lei i suoi dubbi e le sue paure. Nelle prossime puntate vorrei che venissero dedicate più scene al loro rapporto. È stato divertente anche vedere George occuparsi per la prima volta da solo della sua famiglia. 
Insomma, siamo di fronte a un piccolo capolavoro: gli sceneggiatori sono riusciti a trattare un tema delicato come quello della fede in maniera veramente perfetta.