Perché dietro alle Serie Tv Marvel Netflix c'è tutto un universo da scoprire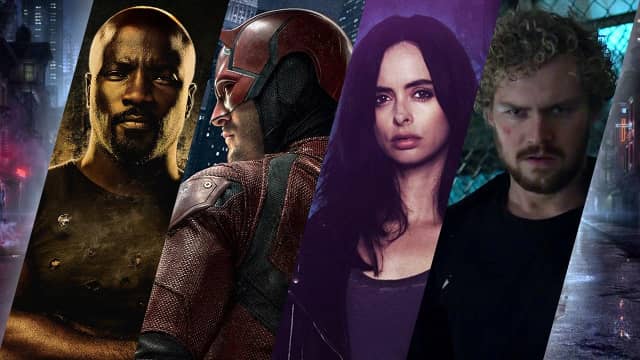 The future's a long time. So, the truth is, I don't really know, but there are a lot of TV shows being made, and hopefully we'll continue to make a lot of movies. At some point, there's going to be a crossover. Crossover, repetition, or something. – Kevin Feige
Ci avviciniamo alla fatidica data del 18 agosto, giorno in cui Netflix trasmetterà The Defenders, crossover con protagonista il team-up dei supereroi delle Serie Tv prodotte da Marvel Television, facenti parte del Marvel Cinematic Universe (MCU).
Oggi però non ci interrogheremo su ciò che vedremo negli otto episodi della miniserie. Oggi faremo luce sull'eredità lasciataci dai vari titoli Marvel fin qui andati in onda. Lo faremo attraverso uno strumento distante dall'universo seriale, la comparazione. Prenderemo come riferimento tre elementi: il supereroe, il villain e lo sviluppo del plot, sotto svariati punti di vista. Emergeranno similarità e differenze che ci porteranno a una conclusione complessiva sull'universo Marvel-Netflix.
Iniziamo questo viaggio nei vari volti Marvel di New York City, tra vigilantes, criminali incalliti e storie in divenire.
SUPERHEROES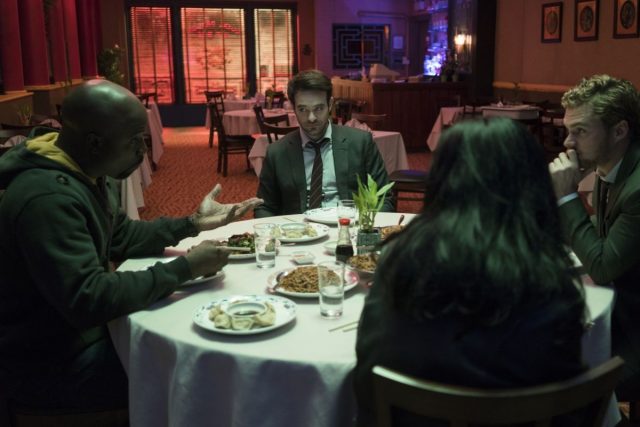 We make quite a team. –

 

Danny Rand
The Devil of Hell's Kitchen
Di Matthew Murdock conosciamo passato, presente e sprazzi del prossimo futuro. Un personaggio che sin da subito ci ha condotto alla scoperta sia del lato umano che di quello più oscuro, Devil. Un'evoluzione umana perfettamente sviscerata nel corso di due stagioni: dapprima affrontando l'incidente che lo ha reso cieco, il legame con il padre e con la fede, passando poi per il confronto con il mentore Stick, fino allo scontro con una nemesi dal volto di Frank Castle, The Punisher. Oltre a questo, non dobbiamo neanche sottovalutare l'importanza degli affetti e il peso che questi hanno avuto per Matt.
Il Diavolo di Hell's Kitchen convince per condotta, coerenza e omaggi al canone in stile fanservice (vedere il costume rosso), ma non mancano le qualità intrinseche della Serie. Uno dei punti di forza di Devil è senza dubbio la forte fisicità espressa durante le riprese, con scene d'azione che vincono per distacco rispetto a quanto proposto negli altri prodotti seriali Marvel.
L'eroe più completo del gruppo, un Defender in cui convivono consapevolezza e spasmodica sete di giustizia.
The smartass detective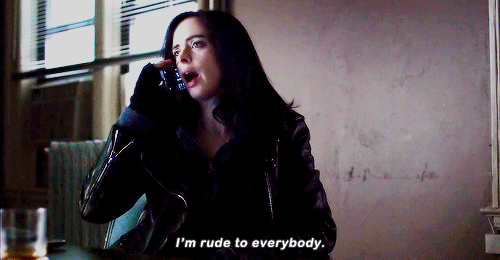 Jessica Jones è una figura più complicata di quanto appaia. C'è una grande dose di non detto dietro a quel giacchetto di pelle nera.
Jessica non è soltanto una supereroina in pensione oggi titolare di un'agenzia investigativa, ma una donna spezzata, con lo sguardo inchiodato sul passato, che tenta di andare avanti affrontando la vita… un bicchiere alla volta. Non è simpatica, non è amabile e l'empatia è un concetto a lei sconosciuto. Eppure, nel quadro complessivo, questa protagonista si erge tra le macerie della sua esistenza con forza sovrumana e un desiderio di normalità mai sopito.
Un Defender unico e raro.
The righteous ex-con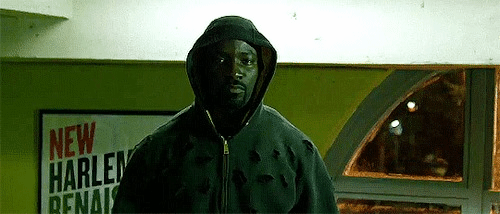 Ex poliziotto che a seguito di un esperimento ha ottenuto forza sovrumana e pelle indistruttibile. Luke Cage è un paradosso. Introdotto in Jessica Jones, è l'unico del team che a lungo rifugge dai suoi poteri, oltre che da quanto successo nella prigione di Seagate.
Dopo la morte di Reva, Luke è intenzionato a rimanere nell'anonimato. Eppure è chiaro sin da subito che Harlem e i suoi abitanti hanno un estremo bisogno di lui.
A dire il vero il protagonista è un uomo di valori e risiede in questo il paradosso. Carl Lucas è una persona che sa farsi amare, che persegue la giustizia, uno che esclama "Sweet Christmas" piuttosto che imprecare. La sua identità da fuggitivo, Luke Cage, invece denota un'evidente mancanza di carisma eroico che pare impedirgli una piena immersione emotiva. Tutto ciò probabilmente anche a causa dei suoi superpoteri, che a tratti lo rendono letteralmente invincibile. A smuoverlo una volta per tutte sarà proprio il dover fare i conti con se stesso e con quello che ha significato essere un Lucas.
Un supereroe acerbo, il quale ha avuto bisogno di stimoli e partner per iniziare il suo percorso.
The kid with a glowing fist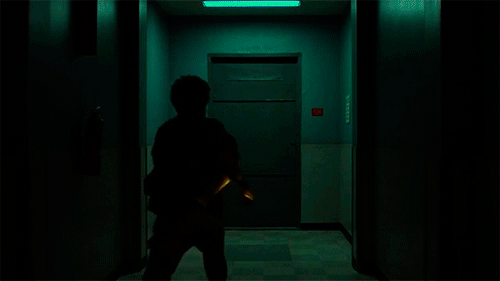 Kung-fu e buddismo, cuore e spirito. C'è tutto perché Iron Fist possa essere una miscela esplosiva ricca di contenuti.
Eppure Danny Rand rappresenta una nota dolente. Al di là di una generale confusione che contraddistingue tutta la Serie Tv, l'anima del rampollo di casa Rand è divisa tra il figliol prodigo e il protettore di K'un-Lun. Troppo isterico il passaggio che lo trasforma da ingenuo ragazzo finalmente tornato a casa ad arma vivente violenta e spietata.
Inoltre, sottolineiamo anche una certa difficoltà nella produzione delle scene di combattimento. Montaggi artificiosi e movenze palesemente coreografiche non rendono merito a quello che in realtà è uno dei nomi più badass a firma de "La Casa delle Idee".