Siamo solo all'inizio ma The Punisher ha già fatto strage. In effetti anche nella stagione d'esordio ci aveva abituato bene. Ritmo altissimo per una serie Tv che ha nel suo dna violenza e foga.
In queste due puntate facciamo meglio conoscenza dei due protagonisti e del nuovo antagonista (che affiancherà Billy Russo aka Mosaico nella doppia linea narrativa).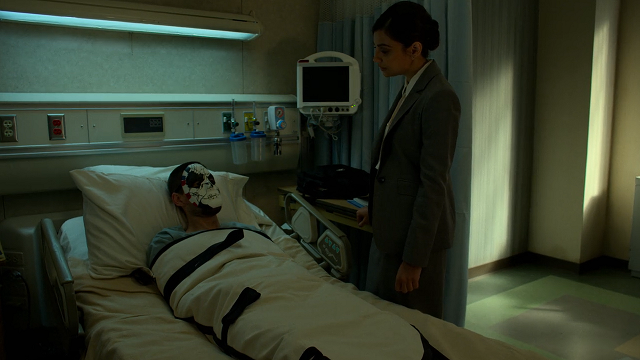 Frank e la ragazzina Rachel (nome falso) proseguono il tragitto fino ad arrivare in un Motel. Purtroppo però poco ci mette la gang, se così si può definire, a trovare il loro nascondiglio. Questo non toglie ovviamente che The Punisher ha tutto sotto controllo, o quasi. In un primo momento in contrasto con la ragazzina, riesce poi ad averla dalla sua parte. Un piano ben congeniato come al solito che porta alla morte di molti dei suoi nemici. Molti, non tutti. La donna già vista nel primo episodio è ancora salva, il punitore vuole informazioni da lei. Spara alla gamba, con la mano sinistra vista la ferita alla destra, in un punto tanto doloroso quanto non letale.
La mira di Castle è eccezionale, tanto che i medici che poi cureranno la donna crederanno sia mancino. The Punisher non ha una mano preferita: The Punisher mira, colpisce e punisce.
Il secondo episodio però non vede protagonisti solo loro. Iniziamo a conoscere quella che è stata ed è la riabilitazione di Billy Russo. Una maschera per nascondere quel viso tanto sfigurato dal suo ex compagno Frank. Un mente annebbiata, completamente smarrita. Dei sogni con un teschio. Il ragazzo non sa cosa è vero o cosa è falso. Non ricorda nulla di quello che è successo, o almeno così pare.
È difficile infatti comprendere – conoscendo Russo – se sia sincero o meno. Quello che è certo è il dover stare attenti a ogni sua mossa, perché nonostante i poliziotti fuori la porta, ha parecchia libertà, e la dottoressa che lo segue sembra essere dalla sua parte.
Un secondo episodio che termina con l'arresto da parte della polizia di "Rachel" e Frank.
Nel finale della prima stagione veniva chiesto al punitore di sparire e non mettersi nei guai. Ovviamente, questo non potrà mai succedere.
La chiamata finale a una Madani distrutta e irriconoscibile ci fa ben sperare. È vero, Dinah rifiuta la richiesta d'aiuto, ma è davvero poco credibile.
Soprattutto perché nel terzo episodio abbiamo la fuga di quel Billy Russo di cui avevamo tanta paura.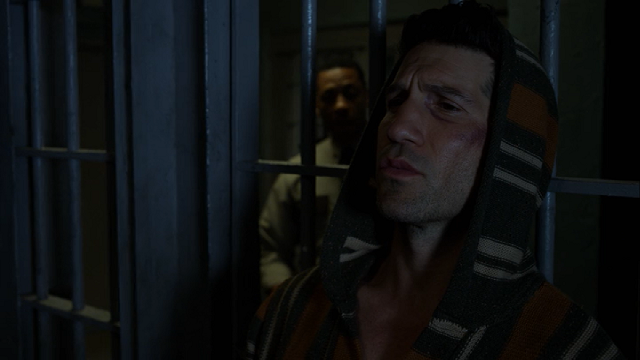 Ma nella terza puntata facciamo meglio conoscenza del crudele prete (se prete si può definire) che ha messo gli occhi sulla ragazza e su Frank. Un uomo devoto a Dio, in tutto e per tutto, con una famiglia e una moglie malata.
Decisamente pazzo, circonda la stazione di polizia con un esercito molto pericoloso. Castle lo ha capito, i poliziotti della piccola cittadina ancora no, ma lo faranno molto presto, dopo la ferita inferta a un giovane.
A quel punto, dopo aver capito di che pasta sono fatti, e soprattutto dopo aver conosciuto meglio l'intelligenza tattica di The Punisher, è lui che prende in mano le redini del gioco.
Uno contro tutti.
Proprio come piace a lui. E in poco tempo nessun sopravvissuto. Neanche la donna, che però è stata uccisa precedentemente dallo stesso uomo malvagio che ha organizzato tutto questo. Castle però rischia grosso ma fortunatamente viene salvato da quell'agente Madani che tanto sembrava essere persa e irriconoscibile.
Un colpo di fortuna? Probabilmente, ma in questo modo anche lo stesso uomo è riuscito a scappare.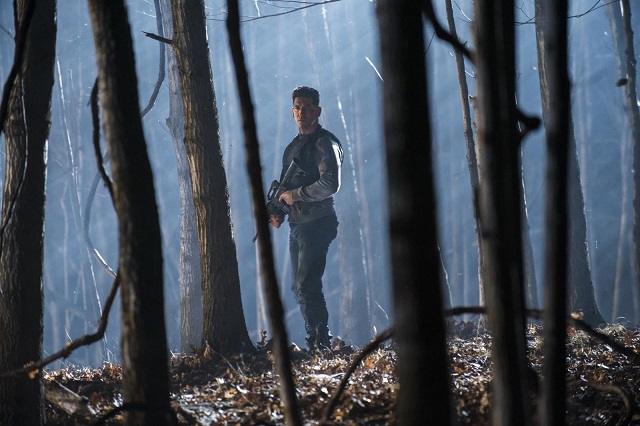 Frank e la ragazza dalle mille identità false ora sono dirette a New York.
Questi 3 episodi ci hanno dimostrato come The Punisher, a differenza di altre serie tv targate Netflix/Marvel, sia fin dal primo momento ricca di azione e soprattutto energia. Pochi momenti di pausa, tanto sangue e tanta violenza. È quello che cerchiamo in un prodotto di questo genere. Certo, il personaggio protagonista rende facile questo tipo di sceneggiatura, ma dopo qualche flop di troppo e alcune cancellazioni, diciamo che la paura di un fallimento anche di questa serie tv, a seguito del successo della prima stagione, c'era e come.
Per ora le aspettative sono state rispettate. Vedremo quante altre emozioni riuscirà a regalarci il teschio.