Ascolta, Israele: il Signore è il nostro Dio, il Signore è uno solo. Tu amerai il Signore tuo Dio con tutto il cuore, con tutta l'anima e con tutte le forze.
Lo Shemà è una delle preghiere più sentite dell'ebraismo. Viene recitata alla mattina e alla sera. Apre e chiude il giorno ebraico. "Shemà Israel", sussurra Frank in The Man in the High Castle, prima che il giogo piombi su di lui. "Ascolta, Israele". Nel momento della morte, affida la sua vita alla fede. Al Credo che ha abbracciato nel sesto episodio di questa terza stagione. In quella circostanza c'è stato il suo bar mitzvah, il suo ingresso nella comunità. In quel rito si celebra la raggiunta maturità.
Frank nella passata stagione aveva dato sfogo a tutta la sua rabbia. Aveva risposto con un attentato alle ingiustizie del suo mondo. Nel farlo, come afferma lui stesso, non avrebbe mai immaginato di sopravvivere. E di dover convivere con la sua azione. È quello che avviene, invece. Frank vive. Sfregiato e in preda alla sofferenza. Finché un raggio di sole non lo illumina. "Mi ha cambiato", "Sono libero". In quel sole, in quella conversione sulla via di Damasco, scopre qualcosa.
Lo Shemà nasce dalla costola di due passi presenti nel Levitico (19,3) e nel Deuteronomio (6,4). In entrambi avviene la professione di fede monoteistica. "Io sono il Signore, vostro Dio". "Il tuo Dio è uno solo". Ma tanto in un passo, quanto nell'altro segue una frase, identica, immutabile. Ve'ahavta. "Tu amerai". Rivolta all'altro, all'uomo. "Tu amerai il tuo prossimo".
È tutto qui il senso della conversione di Frank.
In una scoperta che Juliana aveva già fatto propria nella passata stagione. "Milioni di persone continueranno a vivere grazie alle scelte che tu hai fatto, grazie a quello che c'è di buono in te, Juliana. Un atto spontaneo di amore e speranza. Ecco su cosa ho scommesso", così si era espresso L'uomo nell'Alto Castello. Juliana aveva puntato sull'uomo. Sull'umanità. Di fronte a chi affermava "Se vogliamo batterli dobbiamo essere peggiori", lei aveva risposto risparmiando John Smith. L'uomo che avrebbe poi evitato lo scoppio del conflitto tra Reich e Impero giapponese.
Ve'ahavta. "Tu amerai". Su questo scommette pure, alla fine, Frank. Sulla possibilità che ci sia un'altra via alla violenza. Una via pacifica. Quella che passa attraverso l'amore e la bellezza. La bellezza della sua arte, del suo grido silenzioso ma potentissimo che si impone sopra tutto e tutti. Un grido che si propaga a macchia d'olio. Che "contagia" milioni di persone.
Questa stagione di The Man in the High Castle è tutta impregnata di un tema silenzioso. Quello identitario. Ogni protagonista, ogni uomo sulla scena è chiamato a compiere una scelta. È chiamato a scegliere il proprio Dio. Questa scelta passa, spesso e volentieri, dalla perdita o dalla riconquista di un'individualità. Della propria condizione di uomini o bestie. Joe Blake è il primo a essere chiamato a scegliere. Quando spara al padre nei suoi occhi non c'è più nulla. "Non c'era più il Joe a cui ero affezionata", confesserà Juliana nella 3×10. Joe cede alla disgregazione di sé.
Lo fa per debolezza. Per una tortura prolungata e snervante.
A essere sconfitto non è solo il suo corpo, ma la sua mente. "Capisco la lealtà verso una persona, non verso una causa". Così si esprimeva nella scorsa stagione di The Man in the High Castle. Ora, invece, la causa lo ha soggiogato. In lui non c'è più identità. Solo l'ombra stanca di un uomo che fu. La stessa ombra che accomuna i giovani americani che imperversano per le strade di New York durante le feste per lo Jahr Null, L'Anno Zero.
Quei ragazzi che incendiano biblioteche, saccheggiano scuole e calpestano "il vecchio", sono il risultato del consapevole piano nazista. Di un progetto di disgregazione di identità nazionale. Il passato è "sorpassato", inutile. Da rinnegare. C'è solo il Null, il nuovo, lo zero. La perdita del senso collettivo passa dalla rimozione coatta del passato. La Statua della Libertà, simbolo di un mondo sconfitto, è fatta saltare in aria tra giochi pirotecnici. La Liberty Bell riconvertita in una svastica. La storia americana è spinta all'oblio.
Joe e i "nuovi americani" non sono gli unici a rimanere vittime del Dio nazista. Anche Joe cade sotto i suoi colpi. In passato era giunto alla conclusione che "tutto si riduce a una cosa sola: la famiglia". Di fronte alla scelta del figlio, anch'egli vittima dell'ideologia di cui è impregnato, sembrava aver compreso. Sembrava aver scoperto le brutture di un regime oppressivo e spersonalizzante. La centralità che avrebbe voluto ridare alla famiglia, ai valori degli affetti, crolla però di fronte ai doveri di stato.
Smith cede al potere. Al "sissignore" di un uomo che delega ad altri la propria morale.
Durante il processo di Norimberga, molti nazisti avevano provato a giustificarsi allo stesso modo. "Rispondevo soltanto agli ordini". Non uomini, ma strumenti. Macchine svuotate di morale e coscienza. Mezzi al servizio del potere. Smith è diventato uno di loro. L'esito di questa sua disumanizzazione è uno e uno solo. La solitudine. Quella solitudine che lo accompagna nel finale di stagione di The Man in the High Castle. "Ti amo, John ma io stavo scappando da te", prorompe Helen.
Joe e John sono anime perse, gusci vuoti. A loro si affianca l'ispettore Kido, avviluppato dai legacci del suo ruolo. La sua vestizione prima dell'esecuzione di Frank si contrappone visivamente alla preghiera del ragazzo. A quell'atto finale di fede. Lo stesso era avvenuto durante il Bar mitzvah quando alle immagini della festa si erano affiancate e sovrapposte quelle dell'investitura di Smith come Reichsmarschall. Da un lato l'uomo che scopre nel Ve'ahavta, nel "Tu amerai", il segno più alto di morale. Dall'altro chi indossa abiti esteriori ma si svuota interiormente.
Indossa una maschera e diventa esso stesso maschera.
John perde la sua famiglia. Kido rinuncia all'amore. Lascia andare la donna che segretamente ha sempre amato perché sa che quel suo amore non potrà mai concretizzarsi. Perché la sua vita è in mano all'"onore". Quell' "onore", di cui costantemente si riempie la bocca. Ideologia di cui è intriso, irrimediabilmente inaridito.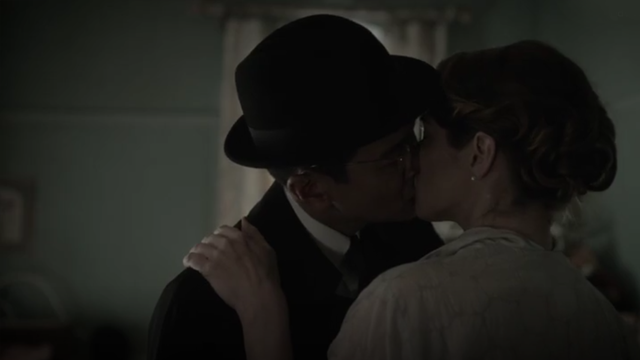 Vincitore è invece Tagomi che avvicina a sé l'amore di una donna e collabora per la vittoria dell'umanità. Così fanno pure Ed e Robert Childan dando compiutezza alla missione di Frank. "Voleva che preservassimo il futuro". E questo potrà avvenire solo tutelando quel passato di cui entrambi sono amorevoli estimatori.
The Man in the High Castle ci regala così una stagione tutta giocata sul tema dell'identità e dell'ideologia. Sul tema della riacquisizione della propria dignità e della perdita di coscienza. Il mondo in The Man in the High Castle è ancora diviso in due. Da un lato l'idea nazista che allontana l'uomo da sé, dall'altro il "Ve'ahavta" l'unico comandamento davvero umano. Perché non è un'imposizione ma un moto interiore. Ve'ahavta. Tu amerai. Tu, amerai.