Sta succedendo davvero. Non è un'esercitazione. Alla fine di "Jennings, Elizabeth" l'episodio di questa settimana di The Americans, il personaggio del titolo riceve una telefonata da suo marito, riempie una borsa da viaggio ed è in fuga.
Il cappio intorno alla gola di Philip ed Elizabeth inizia a essere terribilmente stretto nel penultimo episodio di The Americans. È finalmente giunto il momento per loro di tagliare la corda e correre di nuovo tra le braccia di Madre Russia?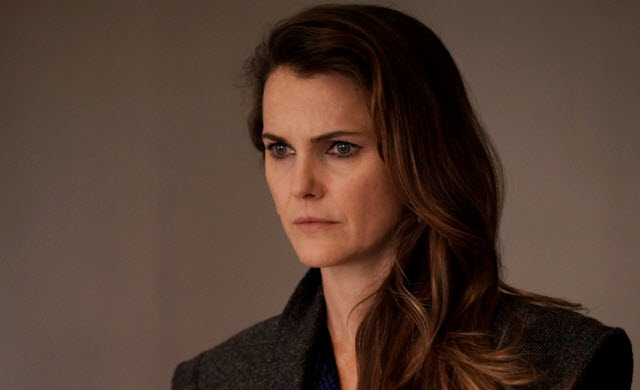 Stan sta collegando gli ultimi punti sui suoi vicini. Cerca informazioni su di loro in un database federale, ma senza trovare nulla. Si presenta a sorpresa da Philip nella sua agenzia di viaggi per curiosare. Chiama persino il pastore Tim a Buenos Aires e gli chiede:
"C'è qualcosa che dovrei sapere, come agente dell'FBI, riguardo alla famiglia Jennings?"
Il pastore Tim non vende nessuno, però. Aderholt prende per pazzo Stan quando gli confessa di sospettare che Philip ed Elizabeth siano spie sovietiche.
I federali catturano Oleg mentre raccoglieva un messaggio di Philip. Stan si trova seduto di fronte al suo vecchio amico nella stanza degli interrogatori. All'inizio, Oleg non dice nulla. Più tardi però, in una cella senza telecamera, Oleg sussurra una parte della verità a Stan. Gli racconta che all'interno del KGB c'è chi trama contro Gorbaciov e l'importanza del messaggio nel fermarlo. Oleg fa appello ai sentimenti più alti di Stan, chiedendogli di portare il messaggio a Mosca. Ma non arriva a vendere Elizabeth e Philip per questo. Scuote la testa quando Stan gli mostra la foto di Philip ed Elizabeth. E si rifiuta di decodificare il messaggio. A Stan non importa il destino di Gorbaciov, ma Oleg lo incalza di nuovo, dicendo:
"Pensi non sia importante chi sia il nostro capo?"
La scena finisce con loro due in silenzio, fianco a fianco. Ma è chiaro che Stan ci sta riflettendo. E abbiamo imparato che Stan è tutto, fuorché uno stupido.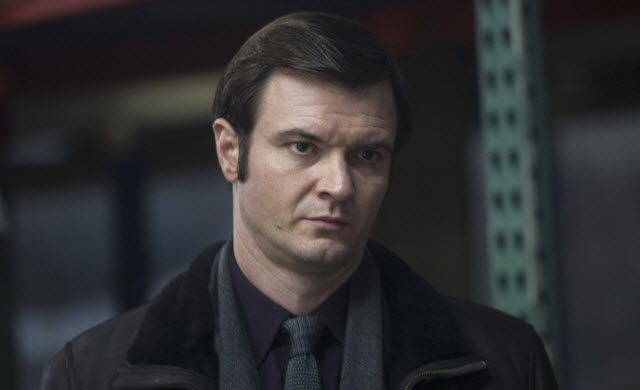 Prima di arrivare alla scena finale, con cui abbiamo esordito, è bene avere in mente una considerazione. Con un solo episodio di The Americans rimasto, tutti i personaggi principali sono ancora vivi. Philip, Elizabeth, Paige, Henry, Stan, Claudia, Oleg, e anche Aderholt. Non è cosa così scontata.
Torniamo alle scene principali. Come non parlare di Keri Russell in un episodio intitolato "Jennings, Elizabeth"? Sebbene nell'episodio 9 ci siano molte scene degne di nota, è doveroso concentrarsi sul culmine del viaggio interiore di Elizabeth: la menzogna. E, tra tutte, su quella che si è rivelata essere l'ultima goccia di quel vaso ormai traboccante che è Paige.
In tutto l'episodio Keri Russell è chiamata a trasmettere la maggior parte delle emozioni attraverso il silenzio. Ma, come abbiamo imparato in questi anni, dopo il silenzio c'è la tempesta. Quando sua figlia va da lei, con il cuore spezzato, perché sua madre le ha mentito, in particolare sul fatto di essere andata a letto con Jackson, Elizabeth non è disposta a cedere. Non all'inizio almeno.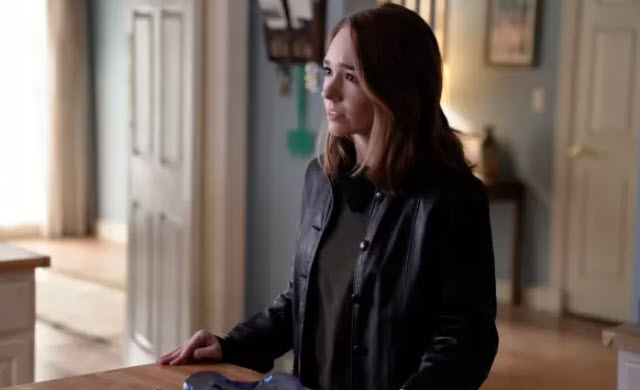 "Sei stata tu?" Chiede Paige.

"Non essere ridicola" risponde Elizabeth.
È uno scambio semplice, ripetuto ed elevato. Paige spinge la madre ad ammettere ciò che ha fatto. Ma ciò che sorprende dell'interpretazione della Russell è che anche il pubblico può cogliere le bugie. Paige afferma di essere sempre stata in grado di capire quando sua madre stia mentendo: "e ora so". La fotografia della scena richiede che anche il pubblico "veda" la bugia sul viso di Elizabeth. Tutti quelli che stanno guardando devono capire Paige attraverso le espressioni di Elizabeth. E lei riesce a fare tutto questo in modo superbo. All'inizio è estremamente convincente, con solo una leggera esitazione. Quindi le accuse di Paige la portano a essere ripetitiva nelle sue repliche.
Alla fine: "Basta!". E la temuta vena si gonfia. L'esplosione è rappresentativa di tutto ciò che Elizabeth ha tenuto nascosto a sua figlia. Ma è l'escalation di menzogne ​​all'interno della scena che colpisce davvero. Keri Russell è incredibilmente efficace. È così fisicamente in sintonia con ogni battito della scena che potrebbe quasi tacere e risultare comunque esplicita. Ma ovviamente poi avremmo perso le sue repliche strazianti:
"Sesso? Quello era sesso? A nessuno importava, incluso tuo padre"
Elizabeth affronta una Paige arrabbiata. Ora non nega più. Paige vede attraverso le sue bugie, ma non può capire. Definisce sua madre una "puttana" e aggiunge "Non c'è da stupirsi che papà non sopporti di essere nella stessa stanza con te. Menti su tutto". Elizabeth le si scaglia contro, dicendole che non può capire come lei e Philip siano cresciuti: "Siamo stati orgogliosi di fare tutto il possibile" per la Russia. Incluso fare sesso con un sacco di estranei.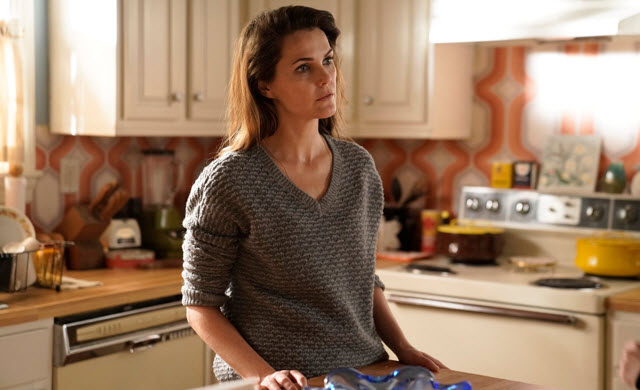 Alla fine lei tace. In piedi, in una posa d'attacco, flettendo contro l'isola della cucina come se fosse l'unica cosa che la trattenesse e sostenesse. Keri Russell è Elizabeth Jennings come pochi altri attori hanno mai abitato un personaggio, e sta lasciando il ruolo al vertice del suo gioco.
(Arriverà un Emmy questa volta?)
Ma c'è un'altra grande prova attorale in questa straordinaria puntata. Non ha senso ignorare la performance di Margo Martindale (che ha regalato alla Serie i suoi unici due Emmy, tra l'altro). Qui, una volta in più, mostra tutta la qualità che ha senza nemmeno doversi alzarsi in piedi. Quando Elizabeth le dice che ha ucciso Tatiana e ha comunicato il suo piano, Claudia scatena mirabilmente il "fuoco" del suo inferno emotivo.
Mette in dubbio la lealtà di Elizabeth verso il suo Paese. Le dice che il danno che ha fatto è "indescrivibile" ed è "molto peggio di tutto il bene che hai fatto nel corso degli anni". La incalza ancora:
"Cosa ti rimane adesso? La tua casa? I tuoi bambini americani? Philip?"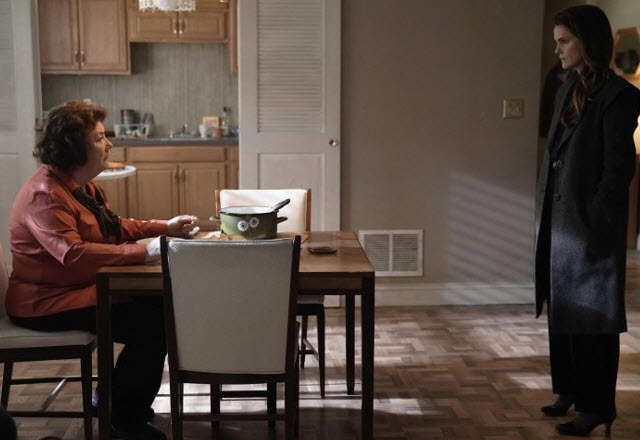 Claudia non mette la benché minima inflessione sulla parola "americano", sottolineando gli insuccessi dell'orgogliosa madre Russia. Poi rivela i suoi veri sentimenti verso un'agente che ha abbandonato i suoi doveri e tenendo la carta "Philip" alla fine. Il suo attacco frontale e imponente è proprio questo: un fronte. È nel suo ambiente. E la Martindale distribuisce metodicamente tutti gli insulti.
Ma è quando arriva il momento di parlare di sé stessa, che ci regala il meglio: vacilla. Con una leggera contrazione degli occhi, Claudia dice che non ha paura. Ma l'ha. E Margo Martindale lo sa. È stata tradita e si sta scagliando su Elizabeth per paura. Martindale lascia che le emozioni sembrino sopite, dato che il personaggio di Claudia, in genere, è illeggibile. Ma alla fine espone il suo vero io. Mentre Elizabeth esce, Claudia cerca di tornare al suo pasto come se tutto continuasse secondo i piani. Ma i suoi occhi acquosi la tradiscono. Lei è nel panico.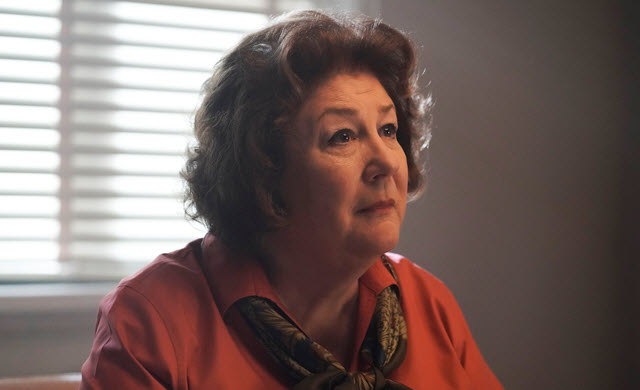 Con un solo episodio mancante di The Americans, lo siamo anche noi. C'è tanto ancora prima di arrivare alla conclusione di quello che è stato impostato per essere un finale thriller e movimentato. Vedremo Philip ed Elizabeth fuggire in Russia? E, nel caso, sarebbero i benvenuti? Uno di loro, o Paige, o Stan pagherà il prezzo più alto? Henry farà addirittura un'apparizione? Sapremo mai cosa è successo a Martha? Non resta che aspettare "Start", l'ultimo episodio di The Americans.
P.s.: Elizabeth è stata scossa da un flashback sui giorni in cui era una giovane agente sovietica. Assistette a un terribile incidente, ma non si fermò ad aiutare il ferito perché pensava che non ci si potesse fermare nel bel mezzo di una missione. Il suo mentore la sgridò invece per aver lasciato "un compagno morire per strada". Esattamente come ha fatto in questo episodio con Tatiana. Ma la cosa più straordinaria di questo flashback è come siano riusciti a far sembrare Keri Russell così giovane! Un sacco di trucco? Un face-swap? O solo la genetica naturalmente superiore di Keri Russell? Qualunque sia il metodo usato: complimenti!
Leggi anche: The Americans – Il risveglio