Le pallottole finalmente iniziano a volare in modo inaspettato ed entusiasmante in Harvest, l'episodio di questa settimana di The Americans. La scorsa settimana avevamo lasciato Elizabeth al telefono con Philip per discutere della sua missione, apparentemente impossibile, a Chicago. È stato immediatamente evidente che questo viaggio a Chicago sarebbe stato diverso.
Piccola digressione: The Americans ci ha dimostrato in questi anni come sappia fare dell'anti-climax una regola vincente. 
"Rififi", l'episodio della scorsa settimana, ha stabilito un'aspettativa di reale difficoltà e reale pericolo per Elizabeth, e ora gli sceneggiatori continuano su questa riga con un ottimo lavoro.
Dopo che Philip ha dato l'addio a Henry e replicato a una selva di insistenti domande da parte di Stan, si dirige a "Houston" (Chicago) per aiutare Elizabeth con il loro "chiassoso" cliente. Le scene dei due nell'hotel di Chicago colgono e rappresentano sapientemente l'imbarazzante e malinconico luogo in cui si è arenato attualmente il matrimonio di Jennings.
Philip è arrivato per aiutare Elizabeth come un eroe da romanzo rosa. Si percepisce sullo sfondo del non detto (o del non raccontato) quel tracotante e ingenuo amore che spingeva Richard Gere ad arrivare su un cavallo bianco a "salvare" Julia Roberts in Pretty Woman. Ma questo non è un film romantico e non significa che tutto sia improvvisamente "rose e fiori".
"Stai qui?" Chiede Elizabeth a Philip mentre disfa i suoi bagagli. Lui non risponde, così Elizabeth dice: "Prendiamo qualcosa da mangiare".
Così fanno. Li vediamo mangiare una pizza in un ristorante di Chicago, confortevole e allo stesso tempo squallido. Non dicono nulla ma sono chiaramente parte integrante del rispettivo spazio reciproco. È raro che una Serie sia in grado di catturare la scomoda intimità di un matrimonio tra persone che vanno in direzioni "ostinate e contrarie" in modo così succinto e perfetto.
Più tardi, in albergo, Elizabeth dice a Philip cosa le è successo a Città del Messico. Gli racconta della missione che ha ricevuto e del vero scopo di quella bella collana che indossa sempre adesso.
"Dammela," dice Philip indicando la capsula di cianuro.

"Cosa ne vuoi fare?"

"Gettarla nel bagno?"

"No."

"Allora perché mi hai detto che l'avevi?"

"Mi chiedi sempre di dirti le cose. Quindi te l'ho detto."
"Mi chiedi sempre di dirti le cose. Quindi te l'ho detto". Elizabeth e Philip non hanno ancora detto "Ti amo" in questa stagione. Uno dei motivi per cui The Americans è una Serie così valida è proprio a causa di momenti come questo. Stanno manifestando tutto il loro reciproco amore senza doverlo banalizzare con frasi e stereotipi. Ma arrivano al punto con un percorso e un processo che è di una verosimiglianza disarmante.
Poi, subito dopo, The Americans si dimostra per l'ennesima volta padrona sia dei momenti tranquilli e sottili della condizione umana, che di quelli più movimentati. E decide di diventare rumorosa… davvero molto rumorosa.
Elizabeth aveva ragione. Questa è una missione difficile. Il nome in codice "Harvest" sta guidando lungo le strade trafficate di Chicago, sapendo di essere seguito da un gruppo di agenti dell'FBI. Il piano di Philip ed Elizabeth è semplice e per un breve momento sembra anche funzionare. Philip requisisce un piccolo autobus e, con l'aiuto di un agente, fa fermare il traffico. Così Elizabeth salta fuori e carica Harvest nel loro autobus. Un uomo assunto da Philip poi salta sulla macchina di Harvest.
Ma ovviamente non può essere tutto così semplice. Questa è una missione impossibile. E mentre Philip ed Elizabeth si sono mossi con coraggio e intelligenza, l'FBI si rende conto molto rapidamente di ciò che è successo: due agenti hanno allestito un posto di blocco in una strada residenziale. Quando l'autobus arriva, la compagna di Elizabeth, Marilyn, viene rapidamente colpita in faccia. Nella sparatoria che segue Marilyn, Harvest ed entrambi gli agenti dell'FBI vengono uccisi. Le uniche due persone sopravvissute sono Philip ed Elizabeth.
Quattro morti in un colpo solo sono un conteggio incredibilmente alto per una Serie così solitamente equilibrata. E potrebbe persino superare il record ottenuto con le quattro guardie di sicurezza che Elizabeth ha ucciso all'inizio della stagione (qui un approfondimento sul primo episodio). L'azione non si esaurisce nemmeno con la sparatoria. Philip ascolta le ultime parole di Harvest morente. Opportunamente non scopriremo mai il suo nome, né ne abbiamo realmente bisogno. Abbiamo solo bisogno di sapere quanto siano stupide e inutili le informazioni che ha (le informazioni su come accedere al sensore sono a Parigi). E che ama sua madre ma che odia suo padre.
Poi l'azione si spinge fino ad arrivare a Philip ed Elizabeth che riescono a mettersi al sicuro in un garage, Philip deve tagliare la testa e le mani di Marilyn, per non farla riconoscere, usando un'ascia.
Questo è il culmine della puntata di questa settimana di The Americans. Questa volta gli autori si sono concessi una scena da film d'azione. E funziona. L'azione è stata ben gestita in drammaturgia e tempi e questa scena illustra ulteriormente l'inferno in cui Philip ed Elizabeth si trovano. Quando Philip si assume il peso delle ultime parole di Harvest, non è difficile immaginarlo mentre pensa a quello che un giorno Paige e Henry penseranno di lui.
Anche quando Philip deve decapitare Marilyn è un perfetto momento di assurdità, surreale, quasi comico. Quasi nessuna missione che Philip Jennings abbia mai intrapreso si è conclusa senza che lui fosse messo in condizione di dover fare qualcosa di mostruoso, grossolano, terrificante o tutte  queste cose insieme. Perché questa missione avrebbe dovuto essere diversa? C'è anche un altro momento incredibilmente surreale. Quando una donna raggiunge la sua macchina durante la "festa dell'ascia" beatamente ignara della violenza che sta avvenendo a pochi passi di distanza.
L'estrazione fallita di Harvest è stata comunque elettrizzante. È un chiaro segnale che The Americans, man mano che si avvicina il finale, abbia bisogno di salire di ritmo con così pochi episodi rimasti. In breve: è l'apice. Ecco perché è anche un po' deludente che il resto di "Harvest" scelga di comportarsi nella stessa vecchia maniera sottomessa e eccessivamente razionale.
Però c'è ancora una cosa. In "Harvest" si iniziano a gettare le basi per la consapevolezza di Stan che Philip ed Elizabeth potrebbero non essere chi dicono di essere. Anche se, per fare un parallelo eccellente, la gestione della scoperta d'identità da parte di Stan, non ha lo stesso livello né efficacia di quella garantita a Hank in Breaking Bad rispetto alla verità su suo cognato.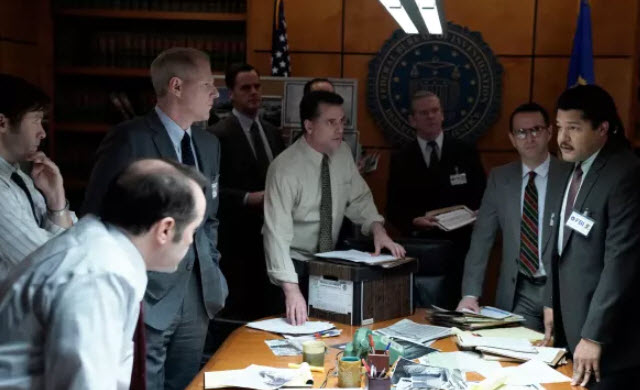 Stan inizia a sospettare di Philip ed Elizabeth per gli stessi motivi per cui l'aveva fatto Paige: non sono mai fuori. Philip spera di allontanare i sospetti di Stan dicendogli che gli affari dell'agenzia di viaggi stanno andando male. Ma Stan non è uno stupido. Agenzia di viaggi o no, nessuno riceve regolarmente telefonate alle tre del mattino. E non è normale abbandonare i propri figli durante il Ringraziamento. E Philip non sa che Stan ha già un altro indizio.
Mentre Stan irrompe nella casa di Jennings e dà un'occhiata in giro, è ossessionato dalle parole di William morente. "Un paio di bambini. Sogno americano. Lei è carina. Lui è fortunato". Stan non arriva a una conclusione definitiva sui Jennings in "Harvest", ma ci  è pericolosamente vicino.
Gli improvvisi sospetti di Stan sono in linea con lo stile drammaturgico di The Americans. Questa infatti è una Serie che onora il Rasoio di Occam. E il Rasoio di Occam stabilisce che: l'agente dell'FBI della porta accanto potrebbe notare che qualcosa succede sempre quando i Jennings non sono presenti. E di contro che quando avvengono queste grandi operazioni illegali sono sempre assenti. Eppure Philip era fuori dai giochi da tre anni. Basteranno?
L'ultimo, ma non meno importante tassello, ce lo regala Elizabeth quando presenta la realtà dello spionaggio a Paige nel modo più brutale possibile. Ma non ha alcun effetto. La morte di Marilyn è forse un tardivo ripensamento? Momenti come la crescente disperazione di Erica di insegnare a una sconosciuta qualcosa di profondo prima di morire e il desiderio di Elizabeth di mostrare a sua figlia la verità prima che sia troppo tardi, rappresentano una narrazione perfetta e sottile.
Il problema è che stiamo esaurendo il tempo per il sottile. The Americans ha solo altri tre episodi. Con tre episodi rimasti, tutto deve essere di fondamentale importanza. Anche nella narrazione. Ora c'è la necessità di accelerare. Fino ad oggi abbiamo imparato che gli autori di The Americans sono riluttanti ad andare "troppo veloci". Fortunatamente, la maggior parte degli eventi di "Harvest" dimostrano che invece, in caso di necessità, sono assolutamente in grado di farlo.