The Americans non ha bisogno di spie. Non ha bisogno della Guerra Fredda, dello spionaggio o della tensione sessuale incandescente tra i protagonisti e chiunque altro sia necessario portarsi a letto. "Rififi", l'episodio di questa settimana di The Americans, entra in profondità, fin nelle viscere del conflitto coniugale tra Philip ed Elizabeth. Quello che questo episodio rivela definitivamente è che l'intera Serie di The Americans ha bisogno solamente di Philip ed Elizabeth Jennings (qui vi raccontiamo quanto piaccia al pubblico americano).
Non c'è alcun salto temporale dallo scorso episodio, dopo che Philip ha dato il benservito a Kimmy e ha sabotato la missione di Elizabeth. Lei entra in cucina e chiede a Philip se sia tutto a posto. Quello che segue è l'argomento che alla fine spinge marito e moglie a separare le camere da letto. É il cuore (spezzato) di questo episodio.
"Stan è passato", dice Philip. "Era molto arrabbiato per una coppia che è stata uccisa di fronte al loro bambino di 7 anni".

"Non l'ho fatto di fronte a loro figlio", risponde immediatamente Elizabeth.

"Non sto facendo la cosa con Kimmy."

"Certo che non lo stai facendo. Non lo avresti mai fatto. Volevi solo scoparla. Non stavi compiendo alcuna missione qui."

"L'ho avvertita di non andare in nessun paese comunista. Non la vedrai mai più qui. È finita. Tutto questo è finito."
Questo è davvero il principio della fine. La bellezza di questa scena è che Elizabeth e Philip stanno discutendo di qualcosa di fondamentalmente orribile. Philip ha dovuto sedurre e andare a letto con un'adolescente per il "bene" del suo paese (quale paese?). Ma l'argomento avrebbe potuto essere qualsiasi altra cosa e l'avrebbero affrontato esattamente allo stesso modo.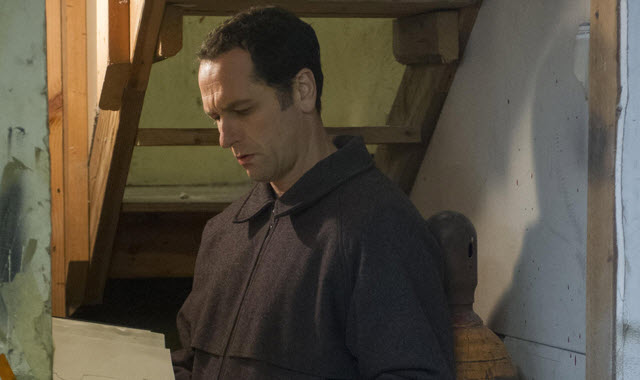 Il matrimonio non è solo difficile, dovrebbe essere fondamentalmente impossibile. Le persone cambiano man mano che invecchiano. Adottano valori diversi. Questo è quello che sta succedendo a Philip ed Elizabeth e il resto dell'episodio non solo lo rende cristallino, ma esplora anche gli effetti devastanti derivanti da ciò.
Henry Jennings torna a casa. Uno sconosciuto in una terra straniera. In The Americans a volte si è fatto fatica a trovare uno scopo per Henry, probabilmente perché il personaggio è stato così giovane per così tanto tempo. Philip ed Elizabeth non hanno raccontato a Paige cosa fanno per vivere fino alla terza stagione e anche allora il processo di trasformarla in "ragazzina spia" ha impiegato quasi tre stagioni. Henry per necessità è in gran parte sopravvissuto a tutto ciò. Arrivando al punto di mangiare la maggior parte dei suoi pasti nella casa dei Beeman e servire da cassa di risonanza per Stan.
Ora, tuttavia, il suo status di estraneo funziona a favore dello spettacolo, in quanto mette in luce quanto siano cambiate le cose. Elizabeth e Philip riescono a malapena a stare nella stessa stanza insieme. Elizabeth fuma più che mai, senza nemmeno più preoccuparsi di farlo davanti a Henry.
"Amo tua madre. A volte … va tutto bene ", dice Philip.
Forse le capacità di recitazione di Philip si sono arrugginite ora che è fuori dal gioco di spionaggio da troppo tempo. Elizabeth, almeno in questo, è ancora solida.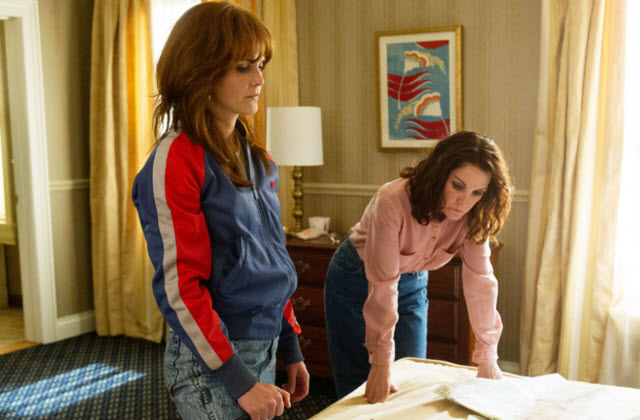 Proprio come i Jennings stanno cambiando nel loro matrimonio, così anche il mondo che li circonda. Philip ed Elizabeth hanno affrontato molte missioni nell'arco delle stagioni di The Americans. E a volte è stato difficile dire cosa queste missioni stessero cercando di comunicarci a livello tematico. Cosa volessero raccontarci "tra le righe". Ora, sei anni dopo, finalmente è chiaro che molti di questi episodi  non stanno cercando di dire altro che: spiare è difficile. Provi un approccio che pensi funzioni e inevitabilmente non va. Perché le persone sono incoerenti e strane. Quindi provi un altro approccio. E un altro. Spiare è uno lavoro lungo e difficile. Entrambi stanno vivendo dozzine di vite simultaneamente fino a quando una di loro fa "click" e si ottiene un frammento di informazioni di cui si aveva bisogno.
Quindi come si diceva all'inizio, The Americans non avrebbe bisogno di nessuna delle sue premesse sulla Guerra Fredda per funzionare. Ma aiutano. Che cos'è lo spionaggio se non un matrimonio con il proprio lavoro? Le persone sono altrettanto incoerenti e strane e devi ancora vivere dozzine di vite, adottando nuove esperienze e nuovi valori con il tuo partner fino a che un giorno queste strade divergono. O fino a che "morte non vi separi". Il contro-spionaggio opera secondo un principio simile. Aderholt e Stan hanno il loro più grande successo nel caso de "I clandestini", eppure in questo episodio riescono a rendere molto, molto chiaro (quasi come se sapessero che ci sono solo quattro episodi alla fine) che sono vicini a finire questa cosa e a rintracciare i restanti "clandestini".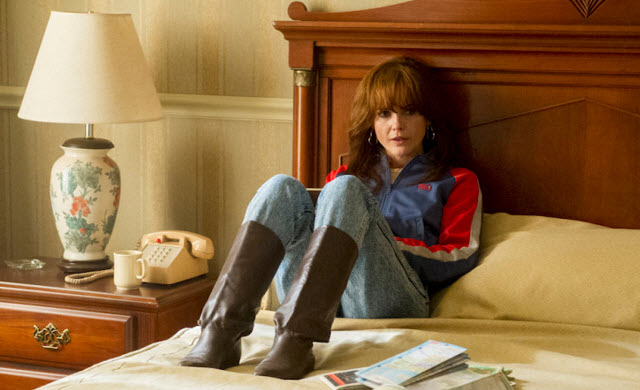 Elizabeth nel frattempo deve lasciare la festa del Ringraziamento per andare a Chicago. Ancora una volta i suoi valori hanno ripercussioni sulla sua famiglia. Elizabeth se n'è andata e Philip è costretto a formulare una scusa elaborata per lei. Ciò fa sì che Philip, Paige, Henry, Stan, Renee e il signore e la signora Aderholt prendano parte al brindisi scherzoso, stranamente ingenuo, di Stan in una scena al limite del surreale.
Anche se questa guerra sembra essere alla fine, i nostri personaggi stanno diventando sempre più estremi. Elizabeth non si lascerà mai questo mondo alle spalle. Lei è a Chicago, di fronte a morte quasi certa. Stan è coinvolto nel suo lavoro più che mai. Paige sta diventando il piccolo mostro perfetto che Elizabeth ha sempre immaginato. In "Rififi", più il mondo cambia, più i nostri personaggi rimangono gli stessi.
Alla fine dell'episodio, però, ci rendiamo conto che potrebbe essere l'unica cosa che mantiene vivi i Jennings. Dopo che Elizabeth chiama Henry da un telefono pubblico con una chiamata che suona sinistramente come un addio, Philip la richiama.
"Sto solo chiamando per vedere se va tutto bene" dice Philip.
"Non proprio," risponde Elizabeth. "È solo difficile."
"Potresti perdere il cliente?"
"Non sono sicura di poter realizzare ciò per cui sono venuta qui senza … sarà solo dura."
"Mi stai chiedendo di venire?"
"Lo gestirò. Questa è la mia parte del lavoro."
"Non penso che questo abbia funzionato negli ultimi mesi e non è l'unico "cliente" al mondo."
"Cosa ti è successo?"
"Niente. Ancora lo stesso coglione di sempre. "
"Non tornerò a casa."
"Ok. Verrò."
"Nessuno ti sta chiedendo di venire."
"Lo so. Stai ferma. Sto arrivando."
Philip potrebbe pensare di essere un uomo libero ora. Si è liberato da una vita da cui sembrava impossibile poter uscire. Vive il suo paese (quale paese?). Gioca con le macchinine. Lui è una persona. Ma alla fine della giornata è sempre stato destinato a credere in qualcosa di più grande di lui: l'amore. Pover'uomo.