L'ultimo episodio di The Americans è il definitivo attraversamento del Rubicone. A essere precisi è una vera e propria serie di attraversamenti di confini. Alcuni di questi erano ben tracciati fin dall'inizio, altri invece sono orizzonti divenuti presenti e immediati solo ora. Il filo conduttore di questi confini ruota, come un caleidoscopio di cause ed effetti, attorno al sesso. Il gioco finale di The Americans sta per arrivarci addosso come un piccone su un muro. La sola domanda è: chi travolgerà?
Sesso dunque. Ma in varie forme. Nel bene e nel male. Partiamo da quello narrato, vissuto nel passato, null'altro che un ricordo. Claudia dopo aver insegnato a Paige come "foderarsi lo stomaco" con l'olio d'oliva prima di una impegnativa bevuta, si crogiola appunto nei ricordi del passato:
"I'd only had sex with one man, my husband, and then he was killed at the beginning of the war."

"Avevo fatto sesso con un solo uomo, mio ​​marito, e poi è stato ucciso all'inizio della guerra".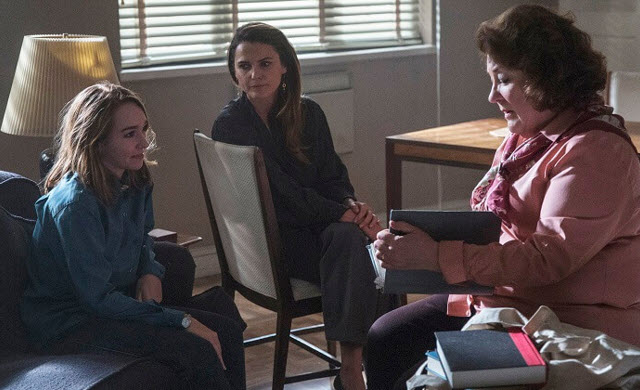 Ma quest'ultimo episodio di The Americans ci presenta anche ben altre situazioni. Philip ed Elizabeth ad esempio. Questo è il "cuore" dell'episodio. E forse il "cuore" in quanto è successo non centra nulla. La scorsa settimana, avevamo lasciato la coppia sdraiata a letto, con Philip che stava studiando i conti dell'agenzia di viaggi, quindi un bacio. Sembrava reale: si erano confidati l'un l'altro, erano a letto insieme ed è successo. Ma Elizabeth si era fermata lì. Era stanca (comprensibilmente) e si addormentò.
Questa settimana, lei entra con uno scopo. Almeno così sembra. Forse aveva deciso di fare la sua mossa con Philip molto prima di attraversare la soglia della loro camera da letto. Dopo aver menzionato brevemente di cosa aveva parlato prima con Paige, lei chiede se Philip abbia "molto da fare" quella notte. Si tocca il viso, stringe la mano e poi si baciano: una connessione intima e tenera che diventa quasi giocosa e divertente mentre la calcolatrice di Philip si intromette cadendo in mezzo a loro (qui vi raccontiamo le più divertenti scene di sesso delle Serie Tv).
La mattina dopo, lei fuma ancora nervosamente fuori mentre Philip è evidentemente rilassato. "Hai dormito bene?" le chiede. "Non proprio," dice lei. "Tu?", "Sì. La prima volta da tanto" le dice con un sorriso. "Mi chiedo perché?" risponde maliziosa Elizabeth. La domanda che invece esce dallo schermo e cala sul pubblico è se lei sapesse che una notte insieme avrebbe sciolto Philip e, in tal caso, se fosse per quello che l'ha fatto. La mossa successiva di Elizabeth è chiedergli un favore, un grande favore. Vuole infatti che lui l'aiuti a prendere Kimmy in ostaggio durante il suo viaggio in Grecia, al fine di ricattare il padre per ottenerne i segreti. È il genere di cose che alla "spia in pensione Philip" non sarebbero piaciute, ma ora è in uno stato mentale molto più disponibile.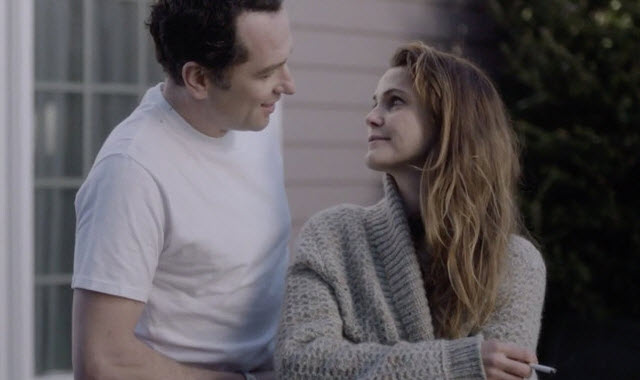 Due sono gli elementi che spiccano da questa scena. Prima di tutto, Elizabeth era consapevole di ciò che stava facendo? La sua formazione è così radicata nel suo essere che istintivamente ha visto un'opportunità per convincere Philip a fare ciò che voleva e l'ha colta automaticamente? Oppure c'è un'alternativa? Come abbiamo avuto modo di vedere nel corso delle stagioni di The Americans scrittori e registi sono piuttosto decisi con ciò che ci mostrano e con ciò che non fanno vedere (qui vi raccontiamo perché). E in questo episodio non c'è niente di esplicito sullo schermo per indicare che Elizabeth stesse lavorando consapevolmente su suo marito. Potrebbe essere che abbia agito puramente. Almeno fino al mattino.
Questo per Philp però non è l'unico momento di sesso dell'episodio. Non riuscendo a convincere Kimmy all'incontro con "Jim" in Grecia, prima tenta di adularla. Fallendo. Così passa direttamente ai fatti. Un bacio sul sedile anteriore che conduceva direttamente al letto nel suo appartamento di Ann Arbor dove Philip si esibisce virilmente mentre fissa cupamente il muro di fronte a sé.
Il sesso è stato anche un problema in questo episodio di The Americans, almeno indirettamente, per Oleg, che ha incontrato la sua ex amante Tatiana. Lei lo ha rintracciato al suo seminario sui trasporti urbani e gli ha chiesto il motivo per cui si trovasse in America. Gli sviluppi di questo incontro costringeranno Oleg a guardarsi molto bene le spalle d'ora in avanti.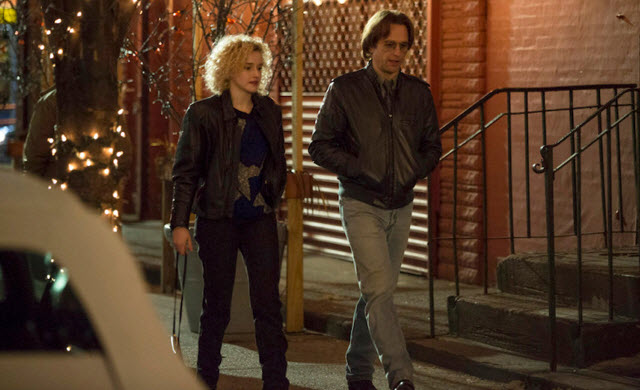 E poi c'è Paige. Ha mentito a sua madre parlando dell'incontrato con il simpatico stagista del Congresso, tralasciando la parte di aver dormito con lui. Quando Paige, nel bel mezzo di un improvvisato sparring match con Elizabeth, ha raccontato ai genitori dell'incidente della baracca, sono iniziati i veri fuochi d'artificio. Paige può eguagliare sua madre in esplosioni emotive.
"Non dirmi con chi dovrei e non dovrei dormire."
Quest'ultima frase fa scattare in Philip l'attenzione. Le sue reazioni sono senza dubbio la parte più importante della scena. Certo era già arrabbiato con Elizabeth dopo essere andato a letto con Kimmy, ma stava ancora seguendo il piano. Paige rincara la dose:
"Se mi piace un ragazzo, farò quello che voglio. Capisci?"
Dice Paige mentre apre la porta del garage. "Se ti piacciono, bene" risponde Elizabeth. Poi, Paige risponde così innocentemente:
"Perché dovrei dormire con loro se non mi piacessero?"
Mentre esce dal garage, il regista Thomas Schlamme fa oscillare la cinepresa verso uno stordito Philip. In quel momento, sta reagendo al benessere di sua figlia, ricordandosi con chi ha appena "dormito" (e soprattutto perché). E forse sta anche considerando perché lui e sua moglie sono riusciti a fare tutto quello che hanno fatto. Perché le piaceva? O lo faceva per le stesse ragioni per cui è andato a letto con Kimmy? Il lavoro.
"Perché dovrei dormire con loro se non mi piacciono?"
L'educazione e l'addestramento di Paige rimangono ancora incompleti. Ma questa domanda porta a quello che è l'episodio emotivo principale della puntata. Una scena silenziosa e violenta in cui Philip si intrufola nell'appartamento di Paige. L'affronta. Inizialmente nel ruolo del padre comprensivo, ma quando Paige lo minaccia e rimprovera sulla sua intromissione nel "proprio" lavoro decide di impartirle una dura lezione. Con grande tranquillità, ma senza lesinare la violenza.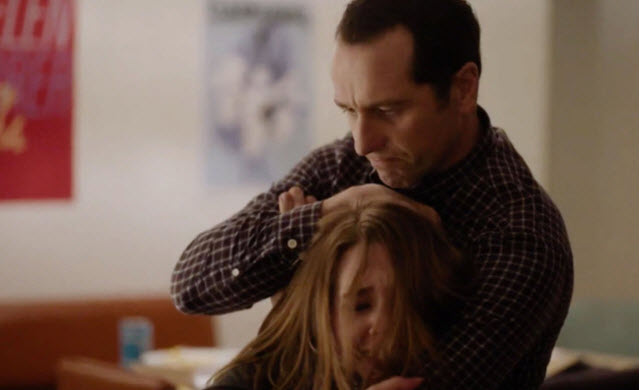 "Voglio vedere cosa hai imparato", dice. E inizia a buttarla e spintonarla per la stanza. Non aveva bisogno di sottolineare che avrebbe potuto ucciderla in qualsiasi momento. Ma Paige non si tira indietro. Quando i suoi gomiti e pugni si rivelarono inadatti lo morde, forte, sul braccio. Il mormorio di Philip "non male", mentre se ne va, potrebbe essere preso per ironia ma tutto lascia pensare che fosse seriamente preoccupato per lei, ma alla fine dopo questa "prova di forza", con riluttanza,  ne risulta addirittura impressionato.
The Americans è entrata nella seconda metà della stagione finale. Quello che verrà d'ora in poi sarà il risultato di tutto questo. Il fusibile sta bruciando. Un'esplosione è imminente. Vedremo chi alla fine verrà catturato dalle fiamme che si spargeranno.