Lo sappiamo da tempo. Era l'estate del 2016 quando venne confermata la messa in produzione delle ultime due stagioni dello Spy Thriller di Joe Weisberg: The Americans. Questa definizione però calza stretta pensando alle vicende personali e professionali che coinvolgono Elizabeth e Philip, i coniugi Jennings (compagni per altro anche nella vita reale!) e la loro famiglia.
Infatti, così come i protagonisti vivono sotto mentite spoglie, anche questa Serie viaggia celata tra i generi, nascondendo la sua essenza di Family Drama nell'abito impeccabile di una Spy Story storica. E lo fa molto bene! Il ritmo lento ma inesorabile della trama permette un'attenzione ai dettagli impeccabile. Non vi è nulla lasciato al caso. Non una frase, un personaggio, un'inquadratura che prima o poi non venga, se necessario, recuperata, ripresa o sfruttata dagli sceneggiatori ai fine dell'evolversi degli eventi; questo anche a distanza di intere stagioni.
Nell'avvicinarsi all'atto conclusivo di una vicenda che dal 2013 ci sta accompagnando lungo l'ultimo decennio della Guerra Fredda per scendere e scrutare il grande abisso tragico e umano di queste due spie del KGB perfettamente integrate nel "Sogno Americano", la rete televisiva FX la scorsa estate, decide di spaccare il web con una campagna pubblicitaria di grande impatto, in vista delle candidature agli Emmy Awards (gli oscar della Televisione ad acclamazione popolare). Si iniziano a far vedere varie immagini sulla rete di una bandiera rossa con la falce e il martello. Una bandiera dell'Unione Sovietica che avvolge la cupola del Campidoglio a Washington capeggiata dalla dicitura: The Russians Are Here (I Russi sono qui).

L'impatto della Serie
Dal suo esordio, The Americans ha avuto dati di ascolto in crescita. Nelle prime tre stagioni però i riscontri migliori sono venuti più dalla critica che dal pubblico. Infatti The Americans scorre senza mai ricevere le grandi gratificazioni agli Emmy che avrebbe meritato, ma facendo comunque incetta di premi assegnati da tecnici e critica professionista (Critics' Choice Television Award, Peabody Award, ecc). La campagna pubblicitaria della FX va letta anche, e forse soprattutto, in quest'ottica: convincere il telespettatore americano del valore di questo prodotto. Dalla quarta e ancor più con la quinta stagione, la musica cambia! Anche il grande pubblico d'oltreoceano si affeziona sempre più a The Americans garantendole quel successo che meritava.
Le ragioni sono varie, ma riassumendole possiamo raggrupparle in due aspetti che toccano le corde del sentimento più profondo del pubblico statunitense: la paura e la speranza.
La prima identificata nella minaccia chimica del virus "morva", elemento catalizzante della sceneggiatura nelle ultime stagioni, e in grado di offuscare la patina di "antagonista" che ricopre l'immagine dei due protagonisti. La seconda, riconducibile all'attesa di una redenzione di Elizabeth e Philip. La possibile frattura nella granitica convinzione dei Jennings riguardo alla "ragion di Stato" e soprattutto il sempre più forte identificarsi del pubblico nel processo d'uscita dall'adolescenza della giovane figlia Paige (Holly Tayler) sempre più consapevole della menzogna celata dietro la sua perfetta famiglia "americana", spingono il pubblico a sperare in quello spirito consolidato e familiare da: "se io posso cambiare e voi potete cambiare, tutto il mondo può cambiare" al quale naturalmente si aggrappa lo spettatore.
Un cast straordinario per The Americans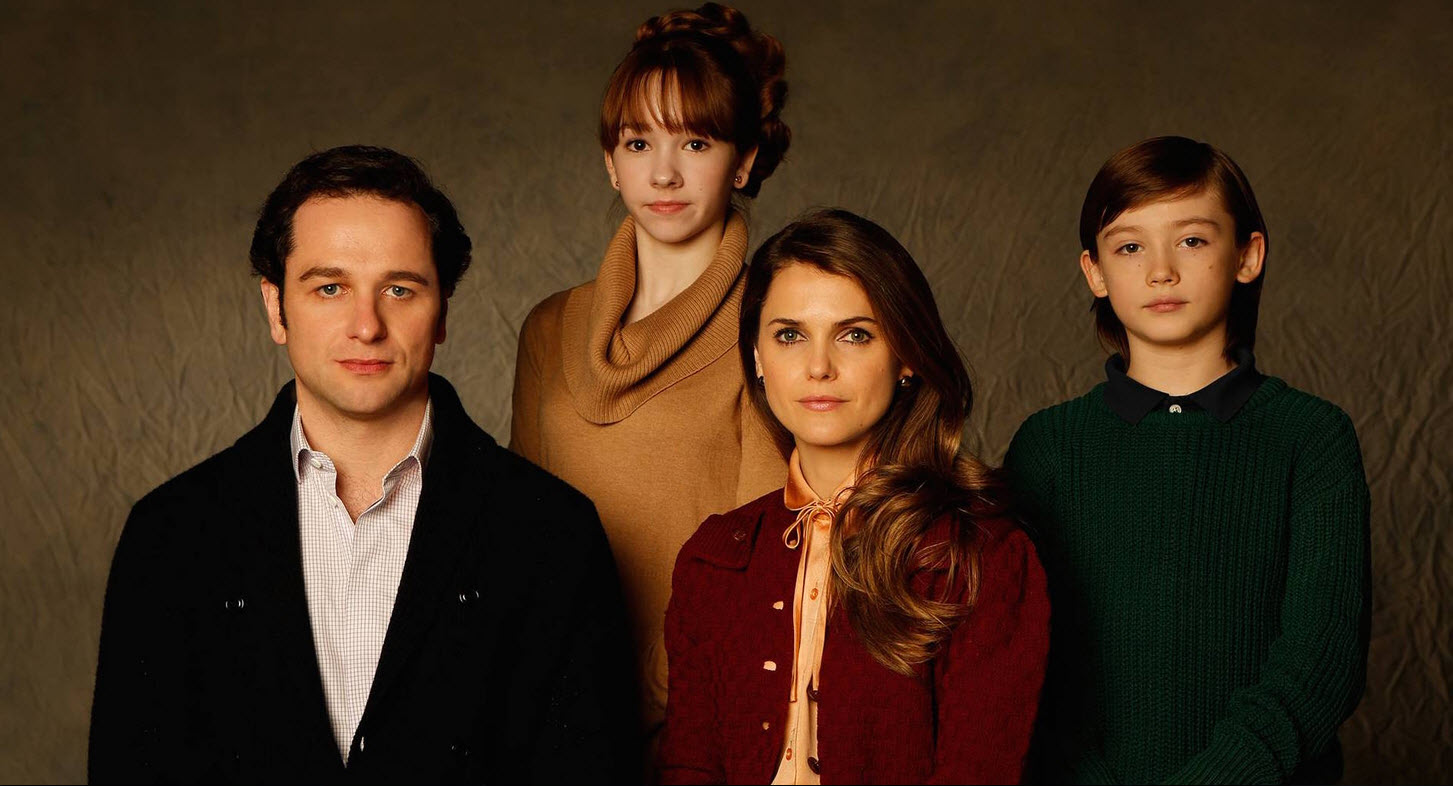 È stato però necessario tempo e un cast straordinario per ottenere l'affetto del grande pubblico. Arduo era il compito della Russell e di Rhys di suscitare empatia nel ruolo di una coppia di Russi assassini nascosti nella classe media americana. Loro però riescono a dare vita a due straordinari personaggi tragici in grado di comunicare emozioni complesse anche solo tramite sguardi, piccoli movimenti o semplici gesti. A questo aspetto poi si aggiunge il "contesto" storico nel quale la serie viene trasmessa: l'oggi per intenderci. Da qui la straordinaria intuizione della FX e della loro pubblicità estiva.
Facciamo un passo indietro e arriviamoci partendo, come è giusto che sia, dal principio.
Parlare oggi dell'uscita della prima stagione di The Americans potrebbe trarci in inganno. Potrebbe farci dimenticare quanto il mondo sia mutato da quel lontano 30 gennaio 2013. Solo 10 giorni prima Barack Obama si insediava per il secondo mandato nella Casa Bianca e l'idea di una cellula dormiente russa in territorio americano poteva sembrare null'altro che un "nostalgico" ricordo degli anni '80; aspettarsi poi che il pubblico americano fosse pronto a immedesimarsi nelle vicende umane dell'ex-nemico russo, addirittura un azzardo.
Le reazioni del pubblico
Eppure la scommessa di Weisberg e Fields è vincente. Il pubblico europeo e in generale quello non statunitense, percepisce immediatamente la grande innovazione portata da The Americans: la sfida di generare empatia in un modello di protagonisti che si discostano totalmente da quanto mai visto prima. Non più, come storicamente avviene nelle spy story del piccolo ma anche grande schermo: "buoni" contro "cattivi"; facili da identificare e in cui è facile immedesimarsi, blocchi mutuati da decine, centinaia di autori come Fleming o Le Carré, ma due spie russe che arrivano a generare figli e una famiglia per la sola ragion di Stato, per rispondere ad un comando superiore.
Due assassini freddi e glaciali che sono disposti quasi a tutto per raggiungere il loro scopo. Ed è in quel "quasi" che s racchiude tutta la sfida di questo progetto televisivo. Questa Serie porta a un livello superiore quanto già anticipato, in contesti diversi ma per questo forse più semplici (soprattutto per il pubblico americano) da accettare come Dexter o Breaking Bad. L'antieroe qui, in questo ipotetico 1981, è il nemico. Non un nemico qualsiasi come un serial killer o uno spacciatore, ma il nemico per antonomasia della recente storia americana: il russo.
La FX colpisce nel segno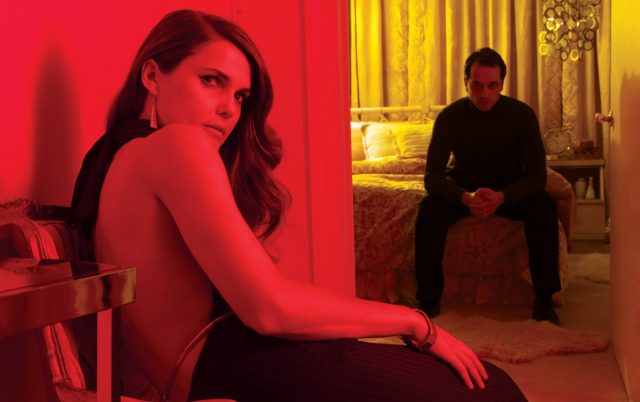 Passano gli anni e passano le stagioni di The Americans. La fredda Elizabeth, mirabilmente interpretata da  Keri Russell, inizia a mostrare lati sempre più umani in quel freddo e algido soldato sovietico che è. Anche il brillante marito Philip (Matthew Rhys) con il quale era forse più facile simpatizzare "a pelle", mostra sfaccettature e determinazioni che sono via via sempre più affascinanti e intriganti. E il pubblico americano? Quest'ultimo si ritrova nemmeno 5 anni dopo con una Serie di eventi storici che riavvicinano la finzione e la fantasia alla quotidiana realtà.
Le elezioni del successore alla Casa Bianca sono intrecciate alle vicende del Russiagate. I rapporti tra Usa e l'ex nemico russo tornano sulle pagine dei tabloid e dei giornali d'oltreoceano. La paura per l'ingerenza russa sul suolo americano torna tangibile realtà.
La bandiera rossa sul Campidoglio: "I russi sono qui", i Russi sono tra noi… geniale. Il miglior sostegno a The Americans arriva dalla realtà.
Ora il grande pubblico non è più svogliato, ma coinvolto. La critica continua a impazzire per le vicende che riguardano i Jennings; anche lo spettatore non vive più distaccato gli eventi intricati e drammatici della trama come il tentativo di reclutamento di Paige o l'assassinio del giovane Hans. Vive invece con palpabile partecipazione ogni singolo momento. La crescita durante tutta la quinta stagione proprio del personaggio interpretato da Holly Tayler, ad esempio, rappresenta un parallelo non voluto ma perfetto con lo spettatore: non è più innocente, non può più ignorare quello che sa. Deve dire addio a quella sé stessa che ha vissuto fino ad allora e prendere coscienza che ciò la porterà ad agire di conseguenza. Emblematico di tutto questo è proprio l'ultimo episodio della 5° stagione.
Cosa accadrà oggi?
Più in generale però è proprio l'intera ultima Serie che ci presenta una struttura narrativa che lascia le vicende storiche in secondo piano e si concentra sempre più sullo sviluppo psicologico e umano dei personaggi. Risulta così a quest'aspetto e non più all'azione e alla trama il compito di guidare le puntate verso la prossima conclusione.
La finzione calata nelle vicende reali degli anni '80 pensata e prodotta nel 2013 è arrivata a essere il nuovo presente del 2018 grazie proprio agli attuali eventi storici nei quali è trasmessa.
E possiamo stare certi che Weisberg e Fields non si lasceranno perdere l'occasione, così come fatto questa estate con la pubblicità per i voti agli Emmy Awards, di cavalcare sapientemente il momento per rendere "fatale" l'attimo in cui, nostro malgrado, vedremo comparire la parola "fine".