# #
Un episodio ricco di eventi e di spunti interessanti per quello che ci aspetta, tanti i quesiti con i quali The Alienist ci lascia. Uno su tutti: quanto è labile la sanità mentale di Laszlo?
# #
Nel quarto episodio intitolato Those Bloody Thoughts, la caccia continua con Moore, Sara e Laszlo impegnati su piste diverse mentre cominciano ad affrontare demoni e fantasmi del passato. La ricerca del serial killer iniziata nello scorso episodio (qui la recensione) li porta infatti a confrontarsi innanzitutto con se stessi lungo un cammino irto di ostacoli. Scopriamo che Silver Smile ha un altro soprannome: The Saint. E che la sua figura si ammanta ancora di più di mistero e ambiguità, soprattutto nel finale quando finalmente ci viene mostrato il suo volto.
Mentre stiamo quasi per raggiungere la metà della stagione, tutto quello che di The Alienist ci ricorda altre Serie Tv e altri film (primo fra tutti Hannibal) si sta condensando in qualcosa di unico, costruito sapientemente fino a quella scena finale.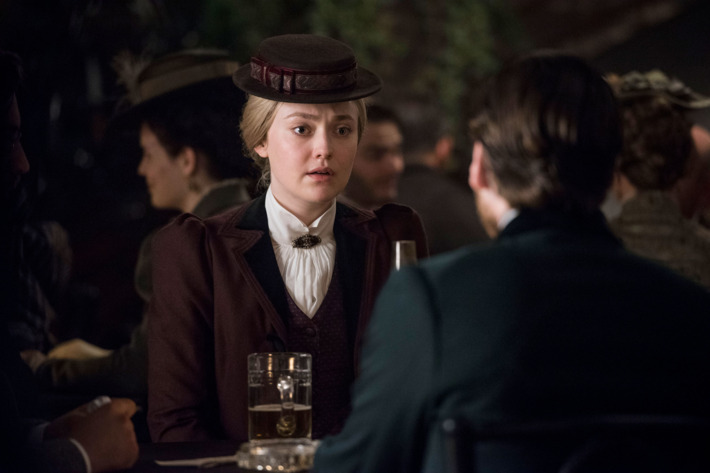 # #
Uno dei temi più importanti di questo quarto episodio è la connessione tra piacere e dolore. 
Il sadomaso, il bondage e la perversione in generale è associata ad una duplice sensazione di eccitazione e piacere fisico ed allo stesso sofferenza. Sembra assurdo ma è così ed è legata a quella parte più oscura e di difficile decifrazione che è il cervello umano. D'altronde perché siamo così spesso legati ad un ricordo che più che farci stare bene ci ha fatto soffrire? Ed è lo stesso motivo per cui siamo attratti dalle cose sbagliate o potenzialmente dolorose?
Fin dal primo quadro è quindi chiara la piega che l'indagine sta prendendo così come la difficoltà crescente di Laszlo nell'affrontare il problema. Lui da studioso e da mente analitica si ritrova impacciato e incapace di gestire propriamente i molteplici e caotici sentimenti che lo stanno travolgendo. Pensiamo alla scena iniziale con la dominatrice o ancor di più al conflitto tra lui e John Moore.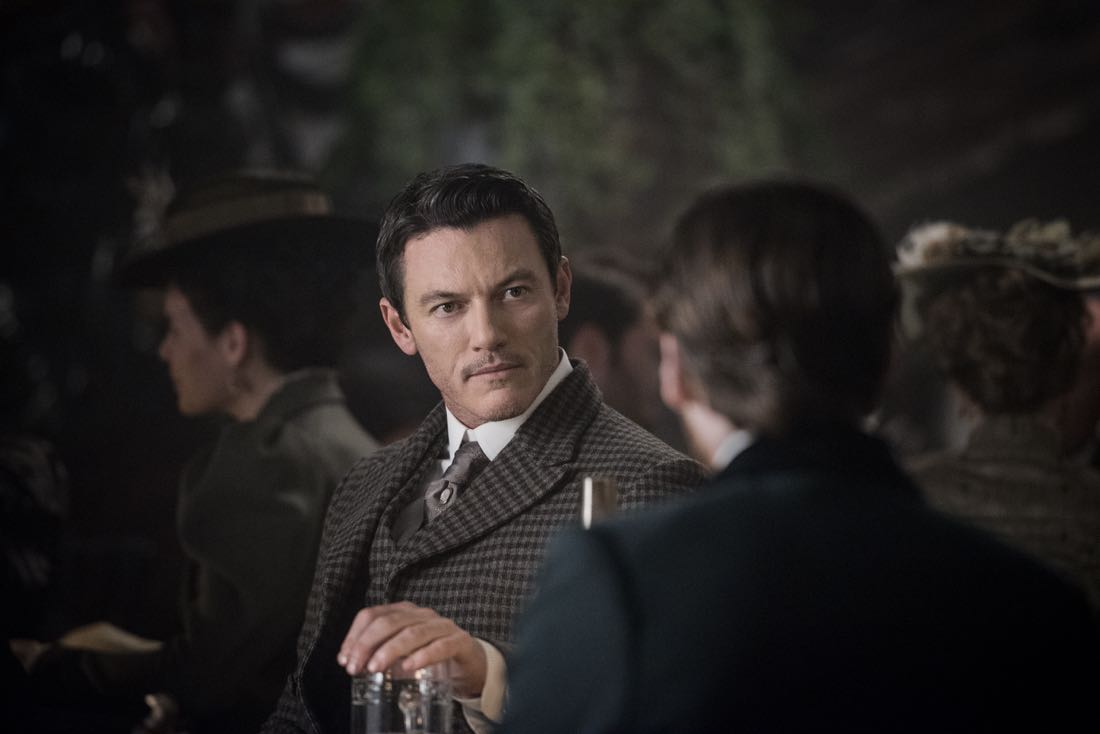 Mentre Kreizlerc continua ad essere un personaggio contraddittorio e non facile da gestire o tantomeno comprendere, l'amico (e quanto pare adesso anche rivale in amore) John Moore appare reale e tangibile. Frequenta i bordelli perché nonostante l'indubbio bell'aspetto soffre di insicurezza, e piange e si sente male di fronte ai corpi martoriati come farebbe una persona normale. Questo è John Moore, un uomo normale e sincero nelle sue manifestazioni.
Laszlo si mantiene occupato e ogni passo in avanti rivela qualcosa in più del passato turbolento del protagonista. Brevi scorci che si intrecciano con la caccia presente.
Prima di passare al pezzo forte parliamo un po' di Miss Howard, Protagonista di un intenso dialogo con Laszlo nel parco in cui viene posta l'attenzione sulle pressioni della società, di cui ne fanno le spese in primo luogo le donne. A esse, ad esempio, viene costantemente chiesto di essere felici e sorridere anche se hanno davvero pochi motivi per farlo fino a che si arriva a un punto di rottura e l'argine si spacca. Sara osserva rapita il dottore, il suo sguardo è un misto di ammirazione e dubbio.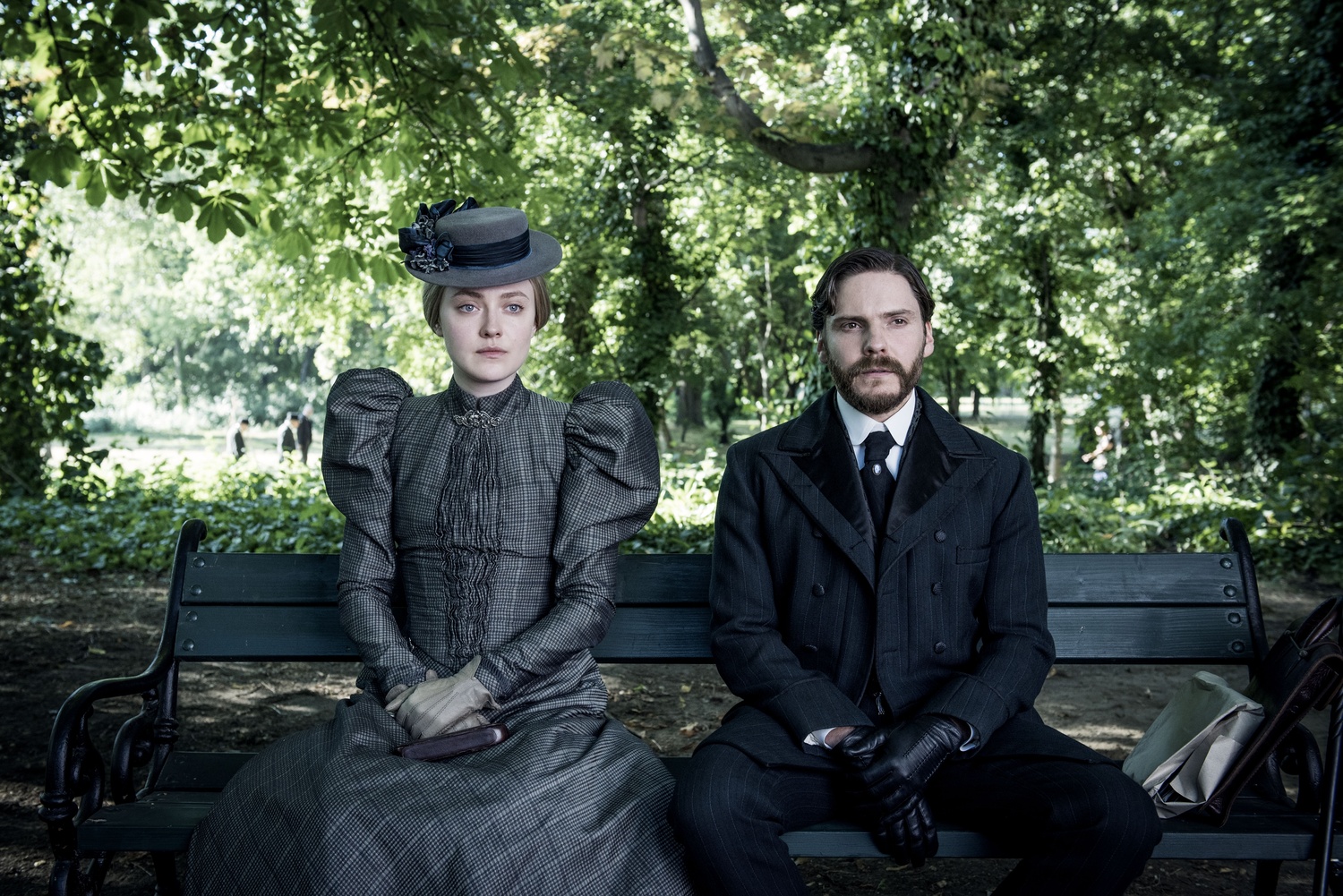 Eccoci dunque alle considerazioni finali. Nella puntata di questa settimana gli eventi scorrono velocemente e si forma un quadro più o meno preciso della personalità del killer. Laszlo ha infatti un'illuminazione durante una seduta arrivando alla conclusione che per silver smile i bambini sono rimpiazzabili, sono privi di valore sincero. Non solo. La dominatrice che incontra all'inizio gli dice che il serial killer sta infliggendo ferite perché probabilmente lui stesso ne ha di sue, in un confronto che ricorda tanto il Red Dragon di Hannibal Lecter.
Piacere e dolore convivono quindi nel killer come convivono nell'animo tormentato di Laszlo, in quello ferito di Moore e in quello tanto ambizioso quanto pericoloso di Sara.