Continua il viaggio nella New York corrotta e oscura del 1896. The Alienist comincia a rivelare qualcosa di più dei suoi protagonisti ma ancora non ci basta.
Il secondo episodio di The Alienist intitolato a "Fruitful Partnership" segna il vero inizio delle indagini e la messa su di un team quanto mai eterogeneo. Nella New York di fine Ottocento, uno psicopatico si aggira tra le vie di fumo e sesso della metropoli americana. Laszlo pensa subito a un uomo e anche a noi pubblico appare piuttosto scontato data la forza fisica, la violenza e soprattutto la frequentazione del particolare bordello in cui giovanissimi ragazzi si vestono da fanciulle. Un episodio in cui ogni personaggio sembra assumere un ruolo preciso all'interno della vicenda, da impersonare affinché il dramma possa finalmente avere inizio.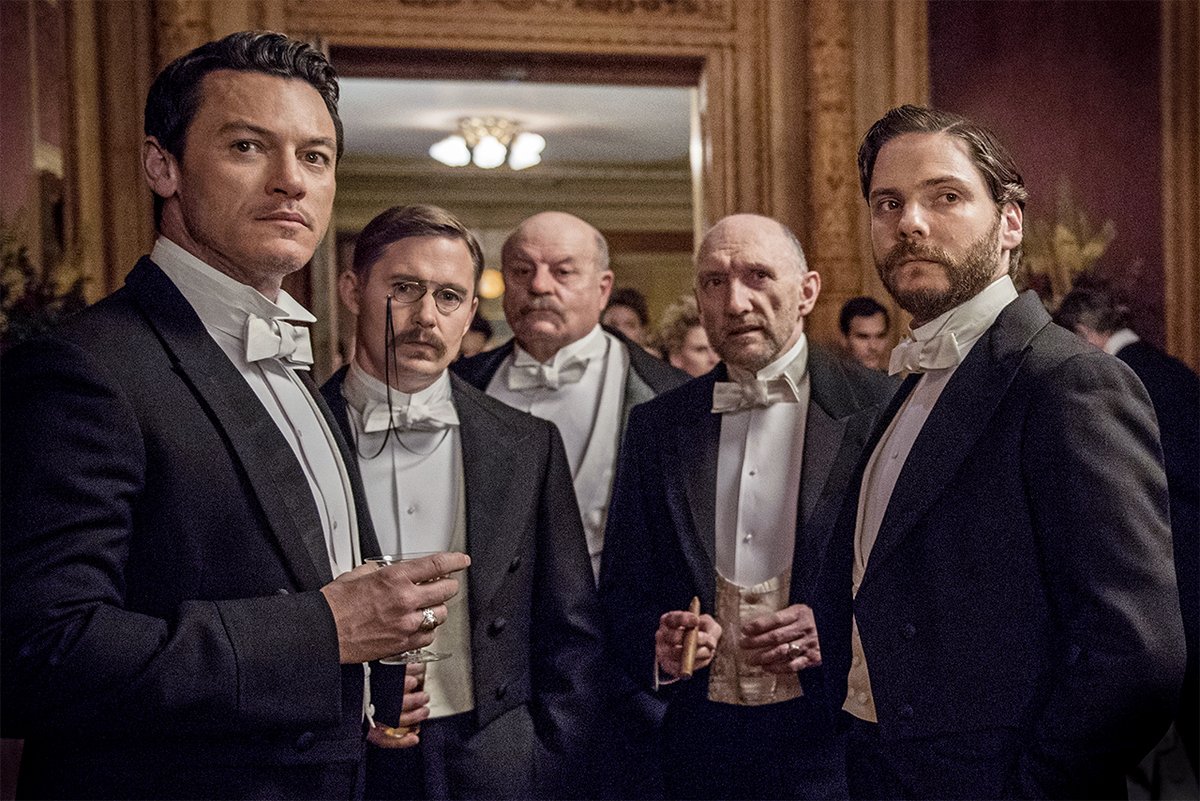 Prima di addentrarci nei meandri oscuri della mente umana lasciatemi dire una cosa. Ma quanto è figo sentire parlare italiano nelle Serie Tv straniere?! A voi non da quella sensazione di je ne sais quoi di puro godimento e orgoglio?
Va bene adesso possiamo tornare seriosi e professionali.
L'immaginario di The Alienist è la sua vera forza. La Serie Tv riesce a essere allo stesso tempo affascinante e sudicia, proprio come la città in cui è ambientata divisa tra una elité di e una massa di sfortunati. The Alienist giustappone continuamente queste due realtà, lo fa portando Moore e Sara nella fatiscente casa degli italiani e poi ancora nel finale quando Moore si aggira ben vestito tra i bassifondi della città, regalando un netto contrasto visivo tra i suoi abiti eleganti e puliti e il sudiciume delle strade e delle persone attorno a lui.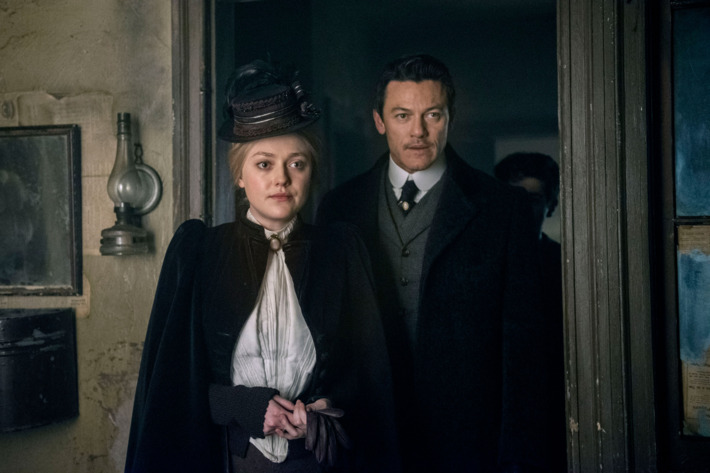 Dopo questo secondo episodio una delle incognite più grandi continua, a mio parere, a essere Laszlo. Il buon dottore è un indecifrabile enigma, la sua caccia sembra mossa da desiderio di vendetta e giustizia per i poveri gemelli Zweig ma sarà proprio così? La recitazione di Brühl certamente, in questo senso, è ideale. Da buon nord europeo, austriaco per la precisione, i suoi movimenti e le sue espressioni sono accorte e misurate. Difficile interpretate la scena con la domestica Mary, lei forse gelosa per le attenzioni riservate a Miss Howard, ma ancora una volta la domanda è: se ci fosse di più?
Proprio Miss Howard si riconferma un'alleata preziosa e il personaggio più stimolante di The Alienist. Dakota Fanning interpreta una donna determinata e forte, che non si fa accompagnare alla porta e che indossa un vestito elegante perché vuole non perché deve. Viene detto di più sul suo passato, sulla morte dei suoi genitori e il suo ricovero per qualche tempo in un manicomio.
È una donna che, per una mente brillante, non può non suscitare interesse. Schietta e sveglia. Miss Howard potrebbe rivelarsi davvero la carta vincente di The Alienist e di tutta la squadra.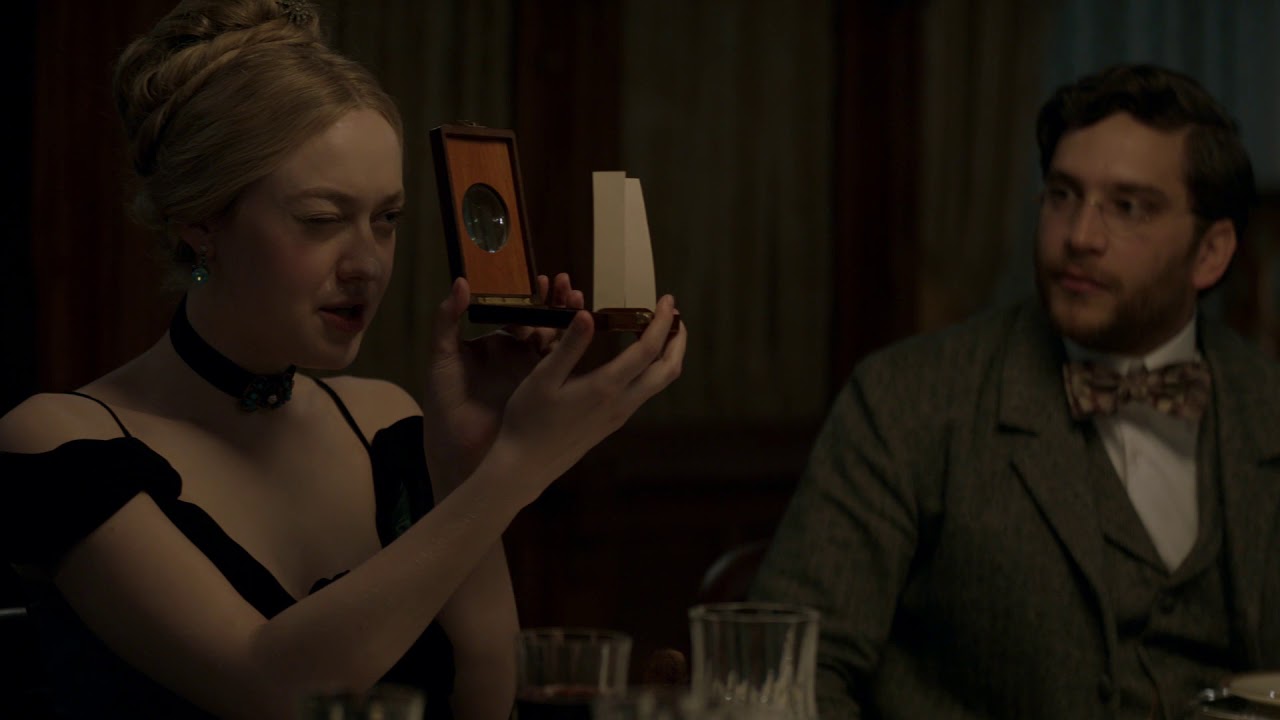 Inoltre sembra che nell'aria ci sia odore di triangolo ma non so se sono stata l'unica a sentirlo. Le domande pungenti fatte a Moore da Laszlo, i rispettivi sguardi protettivi e di ammirazione nei confronti della giovane donna sembrano suggerire questo. Che i due amici si possano scontrare per il cuore di Sara? Staremo a vedere.
Proprio Moore è il personaggio che lasciamo nella situazione peggiore, accerchiato dalle "ragazze" del bordello per ordine di Santorelli. Moore è il personaggio più empatico dei tre, è quello davvero colpito dalla vicenda e più coinvolto emotivamente parlando.
Santorelli, d'altronde, è l'unica nota dolente di The Alienist, almeno per ora. Ho paura che l'aggiunta di questa altra linea narrativa possa mischiare e confondere la Serie stessa, a meno che Santorelli non sia strettamente coinvolto con gli omicidi.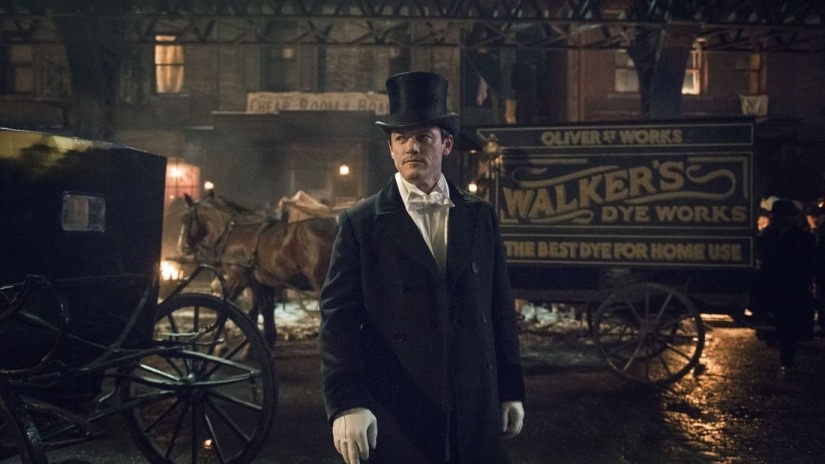 Tiriamo allora le somme. The Alienist è una Serie Tv dalle ottime premesse (in una dimensione seriale dove di certo le storie sui serial killer non mancano), un'ambientazione accattivante, una scrittura sottile ma precisa e interpreti d'eccezione. È una bomba sul punto di esplodere e questo ci piace. Dopo due episodi però si ha la sensazione che la storia stia procedendo a rilento, come se l'overture si sia prolungata più del previsto. Il verdetto finale avverrà con il terzo episodio e questo discorso vale anche in merito ai personaggi, sono solo ben scritti o sono davvero interessanti?
Il mio timore è che possano rivelarsi una copia, un già visto, in primis Laszlo a metà tra Graham e Sherlock. La dinamica stessa del trio composto da Laszlo, Moore e Roosevelt mi ha spaventosamente ricordato Sherlock e non è un bene perché The Alienist deve prendere le distanze, trovare la sua voce e scavare, come ci ha promesso, nell'oscura e spesso incompresa malattia mentale.
Dopo due episodi siamo convinti ma non del tutto conquistati.