The Alienist è finalmente iniziata! Dopo due episodi di preparazione, la Serie Tv ci mostra davvero di che pasta è fatta e cominciamo a inquadrare meglio i tre protagonisti.
Nel terzo episodio, Silver Smile, la caccia al serial killer ha finalmente inizio mentre Laszlo, Sara e Moore si muovono alla ricerca di una verità, ma quale?. Ognuno, dopo quanto avvenuto nel secondo episodio (qui trovate la recensione) ha di fatto un ruolo da compiere e sarà sempre più interessante scoprire come il loro rapporto e loro stessi cambieranno man mano che l'oscurità si farà più profonda e attanagliante. Avevamo lasciato Moore in una situazione infelice e scopriamo subito che come prevedibile non gli è andata affatto bene; non è chiaro però se lo stesso Moore si ricordi o meno tutti gli avvenimenti della sera prima o se il suo inconscio (per ora) stia tentando di proteggerlo.
La puntata prende una piega adrenalinica negli ultimi dieci minuti. Infatti un altro caso di omicidio regala interessanti indizi e mette i nostri protagonisti di fronte ad uno scomodo bivio.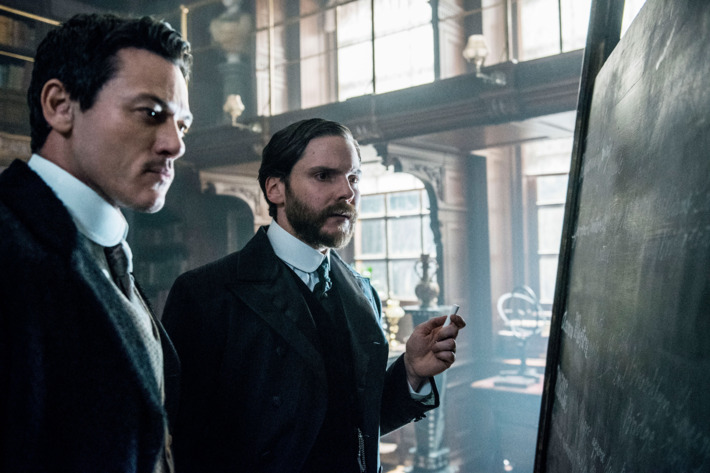 Arrivata al terzo episodio, The Alienist assume finalmente una forma. La figura del serial killer e la conseguente caccia hanno il solo scopo di scavare nella psiche dei tre protagonisti, è come se Laszlo, Moore e Sara fossero stati crisalidi fino a questo momento, in attesa di un qualcosa o appunto un qualcuno che permetta loro di evolvere e cambiare. Ciò che davvero è affascinante e probabilmente distingue The Alienist dalle altre Serie Tv sui serial killer è che il fulcro della storia non è il serial killer stesso (come Hannibal o Mindhunter) ma il modo in cui gli efferati delitti da lui compiuto abbiano ripercussioni su questi tre individui.
Tre individui molto diversi tra loro. Sara continua a risultare il personaggio più accattivante: non cede alle pressioni di Laszlo, al contrario si rivela una degna "avversaria" in quanto a osservazione, non si lascia scoraggiare dalla nuova vittima ma con lucidità riesce a esporre una teoria, brillante tra l'altro. È una donna da temere (come fanno alcuni membri del corpo di polizia), invidiare (come forse sotto sotto fa l'ex compagna di classe) e ammirare (come fanno Laszlo e Moore). Le mie previsioni riguardo al triangolo amoroso sembrano essere confermate: Moore ha fatto la sua mossa e Laszlo è sempre più intrigato da questa donna difficile da capire e quindi da comandare.
Perché Sara è una donna fortemente indipendente ma che, in coerenza con i tempi, vive questa sua forza d'animo in maniera combattuta. Da un lato vuole essere padrona di se stessa, dall'altro sogna "quello ogni donna vuole".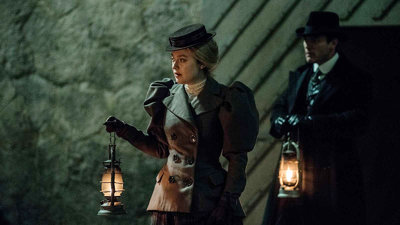 Silver Smile mette a dura prova i protagonisti che si sentono risucchiati nel vortice di violenza e tenebre in cui sembra precipitare New York. 
La cornice storica rende tutto questo ancora più evidente; moderno e vecchio si scontrano tra le file della polizia e nello studio di Laszlo dove la moderna scienza urla al progresso e all'inizio di tempi nuovi. Alla modernità delle impronte digitali si contrappone però un pensiero antiquato, ancorato alle leggi del passato perché sicure e note. Come noti sono gli uomini che ogni sera vengono al bordello e di cui Sally dice che ci si può fidare. Mentre le indagini proseguono, e vengono aggiunti nuovi tasselli, è come se i protagonisti si allontanassero pian piano dalla strada maestra, addentrandosi in un bosco pieno di pericoli e ombre.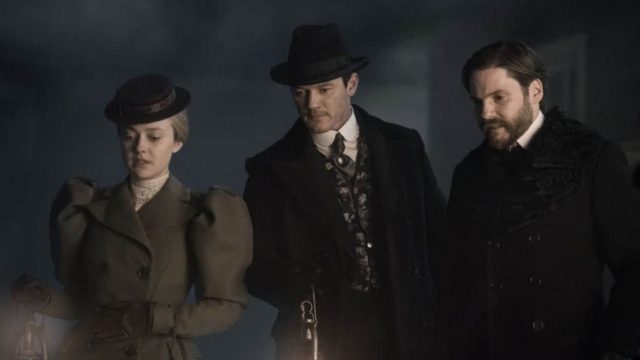 I rapporti tra i protagonisti sono stati incrinati fin dal primo episodio, a unirli non è un unico obbiettivo ma desideri personali che ognuno tiene gelosamente nascosti. Sara probabilmente desidera dimostrare al mondo il proprio valore, Moore è un empatico dal buon cuore mentre Laszlo continua a essere la figura più criptica, restando pericolosamente vicino al ciglio del baratro. C'è un non detto alla fine dell'episodio che incuriosisce e allarma perché il futuro di The Alienist è ancora tutto da scoprire.