Ragnarok: recensione e commento con spoiler
Ragnarok, uscito lo scorso 31 gennaio su Netflix, è un prodotto originale sviluppato dallo scrittore e produttore danese Adam Price, che ha creato le apprezzate serie Borgen ed Herrens Veje (Ride Upon the Storm). La serie di sei episodi mostra una fluidità e un equilibrio efficace tra umorismo e dramma adolescenziale gotico. Quello che colpisce, o meglio dire che la rende diversa, è la maggior serietà dei temi trattati. Ne esce quindi un prodotto meno patinato e più sensibile nella rappresentazione di un adolescente solitario che inizia il percorso che lo condurrà nel mondo adulto e fantastico in cui vive.
Ragnarok è stata presentata come la svolta moderna della mitologia norrena, ma nell'anima è la classica storia sulla maturità adolescenziale sulla scia di serie come The O.C. o Skins.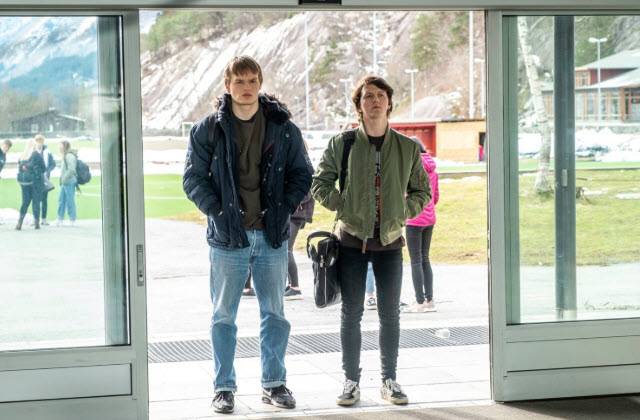 La storia di base è abbastanza semplice: il solitario Magne (David Stakston), e il suo sardonico fratello minore Laurits (Jonas Strand Gravli), tornano nella loro cittadina natale, Edda, quando la madre viene assunta presso la Jutul Industries, l'azienda principale della città. Avevano abbandonato la loro casa molti anni prima a seguito di un misterioso incidente nel quale perse la vita il padre. Una volta arrivati, una strana donna passa la mano sul viso di Magne e sembra risvegliare qualcosa dentro di lui. Il ragazzo diviene incredibilmente forte, gli occhiali che da sempre portava non sono più necessari e acquisisce strane abilità come essere in grado di percepire i cambiamenti climatici.
Questo si rivela particolarmente utile poiché a Edda il meteo è decisamente strano e in parte, larga parte, sembra dipendere dai sinistri comportamenti proprio della Jutul Industries. Magne si convince che i membri della famiglia di magnati che controlla l'azienda, e di fatto l'intera città, non siano esattamente chi vogliono far credere di essere.
Il biondo norvegese inizia quindi a muoversi tra vari elementi: la sfida di essere in una nuova scuola e in un nuovo contesto sociale, una cotta per la dolce compagna di scuola Gry (Emma Bones) e l'esplorazione delle sue inaspettate nuove abilità. A un certo punto lo vediamo lanciare un martello molto lontano.
Anni di filmozzi Marvel ci fanno ben capire chi dovrebbe incarnarsi in lui (e che chissà se ritornerà in questa serie).
L'influenza della famiglia Jutul è una specie di virus o di morbo che affligge e condiziona l'intera Edda. Non con la forza o la violenza, come avveniva nelle dispute raccontate dai miti norreni, ma con i più attuali e moderni metodi: denaro, fama, influenza e un controllo mediatico dittatoriale. Fin da subito i ricchissimi imprenditori risultano essere gli antagonisti principali della storia. Sia gli adulti che i più giovani sono gli artefici di un vortice sempre più frenetico e d'episodio in episodio palesano con sempre maggior disinvoltura la loro sovrannaturale e reale natura.
La serie ci pone davanti il dicotomico contrasto bene e male. Rinunciando a giocare su sfumature più "grige" e ambigue.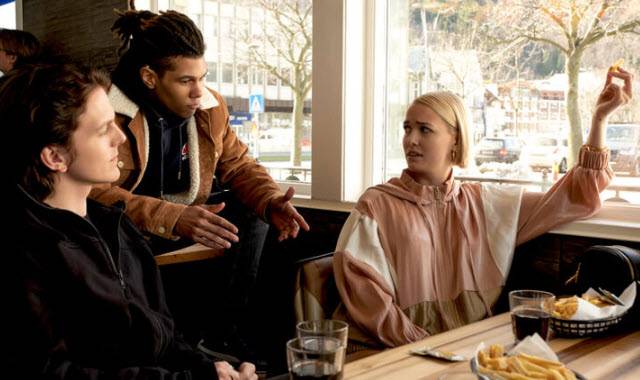 Interessante invece come Magne cerchi in ogni modo di evitare il ruolo da eroe. Come sia riluttante a prendere parte alla battaglia che sta arrivando: al Ragnarok. Tutto ciò che lo circonda ha un'influenza su di lui che lo aiuta a posticipare la presa di coscienza e l'intervento. La scuola, la famiglia, gli amici lo inibiscono dall'agire e solo dopo un sforzo notevole riesce a esprimere a pieno e al momento opportuno tutto il suo potenziale.
L'intersecazione quindi tra l'immaginario mitologico norreno e il teen drama in Ragnarok funziona bene. E quello che difetta in recitazione e didascalicità di alcune scene lo recupera con il coraggio di mostrare temi seri affrontati con la giusta leggerezza. Scene di violenza o nudo (mai eccessive da divenire volgari ma insolite per il genere) vengono trasposte con un equilibrio gradevole e incalzante. Il target di questa serie è indubbiamente la fascia più giovane di pubblico, ma nonostante questo lo show non scade mai nell'eccessiva superficialità o banalità, e anzi cerca sempre di mantenere un tema drammatico.
Il problema principale, come detto poco fa, è che diversi momenti divengono così didascalici al punto da azzerare l'aspetto drammatico sconfinando, se non proprio nel ridicolo, quantomeno in una sorta di esagerazione drammaturgica superflua.
All'interno della famiglia Jutul le situazioni alla Twilight sono davvero frequenti: per esempio quando i fratelli Saxa e Fjor ballano al rallentatore, su quella che mi pare fosse una traccia dei Rammstein, con gli occhi che iniziano a brillare di giallo nell'oscurità. Oppure quando il "cattivo" principale, già alla fine del primo episodio, si spoglia nudo per cacciare, uccidere e strappare il cuore di un caribù per consumarlo mentre ruggisce in cima a un scogliera. Ecco, è abbastanza evidente che le sottili sfumature e ambiguità narrative non sono certo una priorità per questa serie. Tutto è spiattellato in faccia allo spettatore senza fatica. Ma gli esempi potrebbero continuare anche sui personaggi secondari. Come l'anziano cassiere che funge da "coro greco" e commenta gli eventi mentre accadono in scena.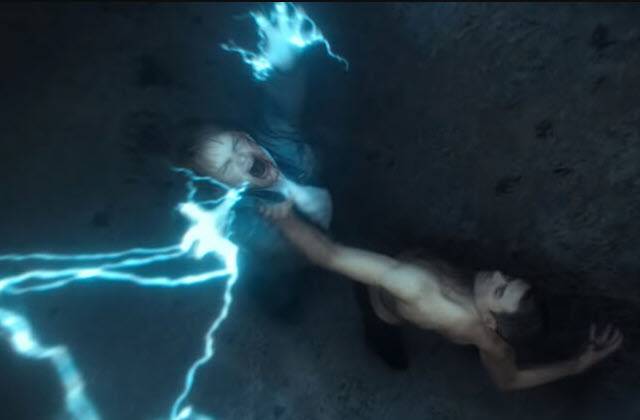 Il sesto e conclusivo episodio assolve alla duplice funzione di chiudere i principali archi narrativi e lasciare tutto lo spazio aperto per proseguire con una nuova stagione. La scoperta della verità e del contenuto del bunker all'interno della montagna da parte di Magne dà una sferzata conclusiva agli eventi. Al suo interno, nel vortice crescente di aspettative, non si trova alcuna ancestrale divinità norrena, ma un pericolo ben più reale e terreno: 2500 barili di rifiuti tossici. L'impatto delle perdite di questi sulla situazione climatica della città, e soprattutto del soprastante ghiacciaio, è devastante. Gli scarti nocivi colpevoli del disastro sono stati stoccati lì negli anni '60 da parte proprio della famiglia Jutul.
Lo scontro finale è epico seppure sempre un po' troppo "alla Twilight".
La certa vittoria di Vidar Jutul viene ribaltata grazie all'evocazione di fulmini dal cielo da parte del biondo protagonista che finalmente incarna a pieno i poteri del mitologico Thor. I due crollano a terra apparentemente esanimi e abbattuti dallo scoppio del fulmine che li ha divisi. Wenche scruta da lontano la scena dichiarando tra sé e sé che il Ragnarok è soltanto all'inizio.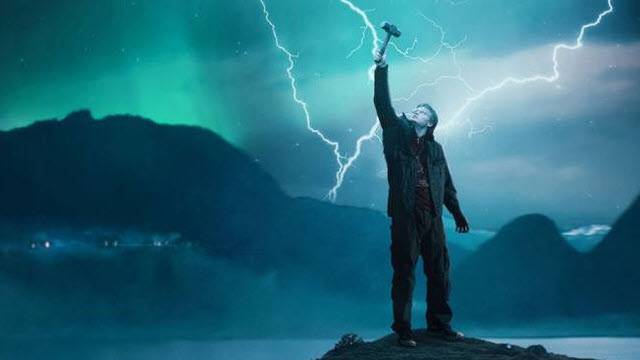 La pioggia cade e bagna i due corpi a terra. L'inquadratura indugia sulla mano di Magne che, chiudendosi a pugno, ci regala un flebile segnale che la vita ancora scorre in lui.
Le premesse per una seconda stagione di Ragnarok ci sono quindi tutte. Se Netflix però vuole iniziare a contrastare il dominio di Disney+ (che in Italia arriverà in anticipo) sulle serie tv supereroistiche mitologiche, legate soprattutto all'universo Marvel, deve fare ancora qualcosa in più. Vanno bene i temi di attualità sdoganati in modo più critico e maturo, ma personaggi e regia devono acquisire una profondità e tridimensionalità che ancora mancano in questa prima stagione.
In ogni caso il giudizio complessivo è positivo. Soprattutto tenendo conto del genere nel quale questa Ragnarok vuole tentare di ritagliarsi uno spazio.