Spyfall (qui la recensione della doppia puntata) aveva già chiarito che i fan non si sarebbero di nuovo trovati davanti a episodi dallo stile spoglio, ultra-accessibile e troppo politicamente orientato come nella scorsa stagione di Doctor Who. Almeno non in tutti. E meno male. L'introduzione della nuova rigenerazione del Maestro – interpretata magistralmente da Sacha Dhawan – è stato il primo colpo geniale. Più attenzione alla storia del Dottore, a ciò che ne ha contraddistinto la mitologia. Un tentativo di aggiornarla e pure di stravolgerla. Ricostruendo dalle fondamenta una serie tv storica. Con Fugitive of the Judoon si aggiungono altri pezzi a un puzzle che, già prima, non era facile da risolvere. E le carte vengono mescolate ulteriormente.
Inizialmente Fugitive of the Judoon sembrava un classico episodio di metà stagione, con l'aggiunta del gradito ritorno dei Judoon. E lo è stato, per i primi quindici minuti. Perché di ritorno non c'è stato solo quello dell'iconica razza aliena dalla testa di rinoceronte.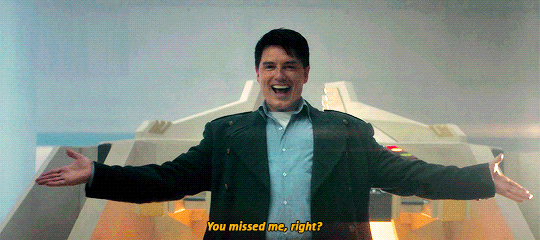 La ricomparsa di Jack Harkness in Doctor Who era nell'aria. Eppure chi non è saltato dalla sedia quando lo ha riconosciuto? La sua presenza è bastata a farci sentire a casa, a tornare indietro nel tempo alle emozioni e alle avventure delle prime stagioni.
Da tempo si mormorava di un ritorno del personaggio interpretato da John Barrowman. L'ultima volta che l'avevamo visto ci lasciava con una rivelazione che chiudeva perfettamente la sua storia nella serie tv, ovvero quella sull'identità di Faccia di Boe. E ora, dopo dieci anni, possiamo dire che Jack Harkness è esattamente come ce lo ricordavamo. Affascinante, bello, accattivante, astuto, intelligente, impulsivo. Con un lato oscuro che, in questo episodio, viene smussato. Felice come non mai di essere riuscito a ritrovare il Dottore tanto da baciarlo. Peccato che è Graham.
Il suo inserimento nella dodicesima stagione non è fine a sé stesso. Non è solo fan service, ma un tassello importante nella trama orizzontale.
Prima di scomparire nuovamente lascia un messaggio importantissimo ai companion del Dottore. Li avverte della presenza di un Lone Cyberman. Per nessuna ragione al mondo devono dargli quello che vuole. Ecco che quegli scorci di un Cyberman deteriorato nel trailer di questa stagione finalmente hanno un senso. E forse la presenza di Barrowman, proprio per questa rivelazione, potrebbe non essere limitata solo a questa puntata. Rivedremo il capitano dal sorriso scintillante? Staremo a vedere.
Un motivo in più per tornare è che non ha interagito per niente con il Dottore. Solo con i companion che, nella puntata, hanno avuto un'utilità pari a zero. L'unica cosa che hanno fatto è portare le parole di Jack al Dottore. E ricordare a Thirteen che non è sola e che non l'abbandoneranno mai. Del resto, sono una famiglia.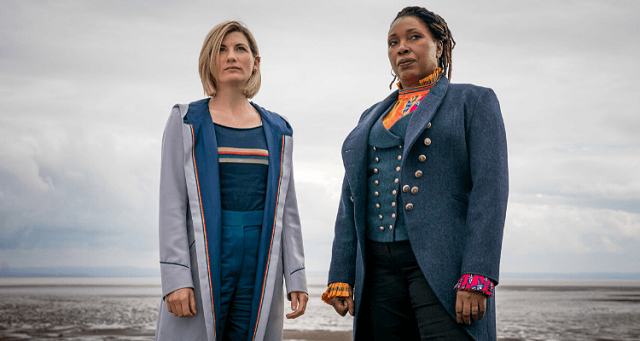 Il Dottore si trova ad affrontare il grande colpo di scena della puntata. Una cosa che nessuno si sarebbe mai aspettato.
Ruth Clayton è una donna comune. Si è svegliata come ogni mattina per andare a lavorare. Non pensa di essere una ricercata intergalattica. Questo perché non sa chi sia in realtà. O, più precisamente, non se lo ricorda. Un alieno travestito da umano e non uno qualunque. Ruth si è rivelata una rigenerazione del Dottore che non avevamo mai visto. Si è nascosta tra gli esseri umani, dimenticando la sua identità tramite il sistema camaleontico già visto nella terza stagione. Ma da quale punto della linea temporale proviene? Potrebbe arrivare dal flusso temporale del Primo Dottore di William Hartnell. Potrebbe provenire da un altro universo. O essere un'incarnazione futura che ha perso la memoria di quelle passate. Le ipotesi sono tante. E devono tenere conto di quello che il Maestro ha detto a Thirteen e anche a noi:
"Tutto quello che pensi di sapere è una bugia"
Il Dottore interpretato da Jo Martin sicuramente comparirà in episodi successivi e forse così il suo mistero verrà svelato. Intanto possiamo dire che la sua interpretazione è stata eccellente. Domina la scena, è dura e disposta a sporcarsi le mani come Thirteen non ha mai fatto. A sua volta la vicinanza con questo "nuovo personaggio" ha dato un'ulteriore slancio anche alla Whittaker. Si inizia a intravedere in lei il Dottore a tutto tondo. I confronti con personaggi del passato di Doctor Who, compresa sé stessa, e che non siano i suoi attuali companion, donano a Thirteen una maggiore tridimensionalità e un carattere distinguibile dalle sue rigenerazioni passate. Come successe in passato nella sua interazione con i Dalek.
In ogni caso l'idea alla base di Fugitive of the Judoon è geniale. È una strada che non è stata mai battuta finora. Qualcosa di nuovo che ancora non avevamo visto. Nel caso dello speciale "The Next Doctor", infatti, il Dottore di David Morrissey era un umano che aveva assorbito i ricordi del Signore del Tempo grazie a un database Cyberman. In quello del War Doctor di Jon Hurt si trattava di un'incarnazione rinnegata che aveva combattuto nella Guerra del Tempo.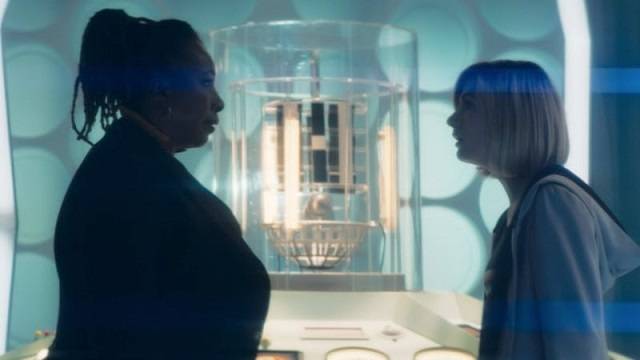 In generale ci troviamo di fronte a un episodio di Doctor Who come non ne vedevamo da tempo. Sconvolgente e caotico in senso positivo, coinvolgente, misterioso e semplicemente elettrizzante. Ha sorpreso dal primo all'ultimo minuto. Eventi che magari sembravano scontati sono stati messi in scena in maniera sorprendente e inaspettata, con tempi e battute a regola d'arte. Impattati quando servivano, divertenti quando la situazione lo richiedeva. Come i giochi di parole con la consonante -oon che già hanno complicato la vita a David Tennant (ecco gli esordi assurdi dell'attore).
Non c'è trama verticale in un episodio che si concentra esclusivamente su quella orizzontale, in particolare su Gallifrey, che non è più un tabù ma degno di essere approfondito. Infatti la presenza dei Judoon serve solo per introdurre altro. Accadono veramente tante cose e molteplici sono le domande lasciate aperte, soprattutto riguardanti il Dottore di Ruth. Sarà forse connesso al Timless Child? Per ora non c'è dato saperlo.
In conclusione, possiamo affermare che i tanti colpi di scena ci hanno tenuti incollati allo schermo nel corso di un episodio semplicemente spettacolare. L'augurio è che Doctor Who riesca sempre a mantenersi su questi livelli in una stagione che potrebbe essere più sorprendente di quanto pensavamo.
Leggi anche – Doctor Who 12×04: la recensione