Dopo un lungo anno di attesa Doctor Who è finalmente tornata con i primi due episodi della dodicesima stagione. Puntate a dir poco scoppiettanti, la cui prima si è conclusa con un colpo di scena che ci ha letteralmente fatto saltare dalla sedia.
Doctor, I did say look for the spymaster. Or should I say spy… Master?
Ebbene sì, il Maestro è tornato. Un villain storico che, ancora una volta, è riuscito a scampare alla sua fine. La sua ultima incarnazione è stata Missy ma l'ultima apparizione sullo schermo aveva il volto di John Simm. Quel Maestro era riuscito clamorosamente a ritornare complottando ai danni di Twelve e Bill. Proprio in quei momenti abbiamo assistito alla morte definitiva del più grande nemico del Dottore. O così pensavamo.
Sacha Dhawan ha avuto pochi minuti nella prima parte della premiere di Doctor Who per dare vita al Maestro. È nella seconda che l'attore riesce davvero a imprimere il proprio marchio su questo villain.
Molto più simile a quello di Simm che a Missy. Ecco perché alcuni fan ipotizzano che la versione di Dhawan sia pre-Missy. Del resto, ripensando alle parole dell'incarnazione femminile del Maestro, afferma di conoscere il Dottore da quando "era una piccola ragazzina". In ogni caso, Dhawan unisce alla pazzia e alla rabbia della versione di Simm una sorta di autocontrollo. È un Master che sa di rendere al meglio se trattiene i suoi peggiori istinti. Fondendolo all'odio nelle sue parole, può essere il Maestro più pericoloso di sempre. E l'attore dà il meglio di sé soprattutto nelle scene con il Dottore. La costringe a inchinarsi, a chiamarlo "Maestro". In cima alla Torre Eiffel ribadisce la sua dipendenza nel "giocare" con il suo vecchio amico. Una combinazione che esalta entrambi gli interpreti.
Rivedere la prima parte di Spyfall ci permette di scoprire come la vera personalità del Maestro si nasconda in bella vista. Senza contare che sembra conoscere il Dottore bene, anzi troppo bene. Esemplare è quando si morde la lingua mentre Thirteen gli passa accanto nella sua casa.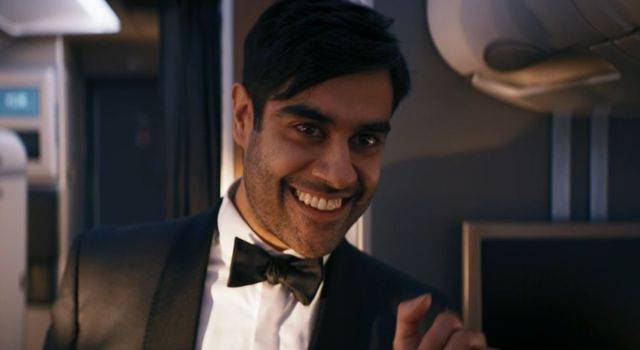 Quando rivela la sua identità il Maestro dice che tutto ciò che conosciamo è una bugia. Lo stesso Chibnall – showrunner di Doctor Who – aveva rivelato che Spyfall avrebbe cambiato le fondamenta della serie tv. Sembrava la solita dichiarazione per incentivare le persone a guardare lo show. Invece l'ologramma del Maestro mette in discussione tutto. Rivela di aver distrutto Gallifrey dopo aver scoperto lo sconvolgente segreto che i Signori del Tempo hanno tenuto nascosto per millenni. E tutto è riconducibile al Timeless Child, nominato nell'episodio The Ghost Monument (qui la recensione di quella puntata) della scorsa stagione, figura chiave nascosta nella mitologia di Gallifrey.
Ed ecco come tutta l'intera storia dei Time Lords, che esiste da più di 50 anni, potrebbe essere stravolta. Una mossa incosciente? O un autentico colpo di genio? Ancora difficile da capire ma lo scopriremo solo con il proseguire degli episodi.
Quello di cui possiamo essere sicuri è Jodie Whittaker. Finalmente in grado di essere davvero sola come Dottore. La separazione dai suoi companion – dei quali emerge solo Graham – le permette di definire il suo personaggio oltre loro e dare una connotazione più chiara al Dottore. Emerge un personaggio energico, mai sicuro di quello che fa. Eppure, in un modo o nell'altro, riesce sempre a risolvere in maniera impeccabile le situazioni problematiche in cui si ritrova. Thirteen ci fa compiere un giro sulle montagne russe, in costante pericolo di uscire dalle rotaie, danzando avanti e indietro nel tempo, come nei più classici episodi della serie tv.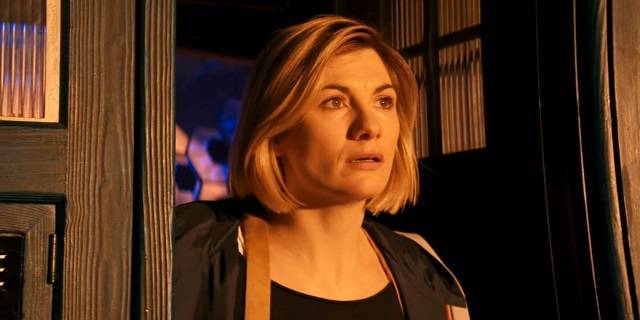 Quello di dividere il Dottore dalla sua "fam" non è l'unica cosa che Chibnall ha aggiustato. Sembra abbia ascoltato le critiche che i fan hanno mosso riguardo alla stagione precedente: era troppo moralista, politicamente orientata e corretta, lenta, senza una trama orizzontale e un grande villain. Lo showrunner ha preso atto dei difetti della sua prima stagione e li ha cancellati, regalandoci un episodio che è riuscito nuovamente a emozionarci. E lo ha fatto con la solita semplicità che aveva contraddistinto tutte le precedenti stagioni di Doctor Who.
Le promesse fatte nei mesi scorsi sembrano essere state mantenute: nemici storici, meno politically correct e attenzione alla storia del Dottore. Per esempio il video di Thirteen che spiega ai suoi companion come salvarsi dall'aereo che si sta schiantando è un rimando a Ten nell'episodio Blink (tra i 10 più spaventosi delle serie tv) che spiega come salvarsi dagli Angeli Piangenti. La trama che ci viene posta davanti è piena di azione, con un gran ritmo, un bel mistero, tanti colpi di scena e riferimenti comici di attualità. E un omaggio a un'altra icona british: James Bond. In questa premiere i produttori sono riusciti a coniugare il successo del mondo dello spionaggio internazionale con quello della fantascienza inglese portata avanti dalla BBC da più di mezzo secolo.
Spyfall non è perfetto. C'è confusione in alcuni tratti e la trama riguardante i Kasaavin e Barton non si fonde come avrebbe dovuto. Inoltre non ci viene data nessuna spiegazione sul motivo per cui questa razza aliena e questo inventore vogliono spazzare via l'umanità. E poi perché le moto invece del TARDIS? Perché O dovrebbe sapere qualcosa sui Kasaavin se nemmeno il Dottore li conosce? Nonostante questo, Spyfall ha decisamente superato le nostre aspettative. Spaventoso, divertente, sorprendente e stimolante, è Doctor Who al suo meglio. Oltre a ciò, colpisce la mitologia dello spettacolo con il più grande terremoto da "Il Giorno del Dottore".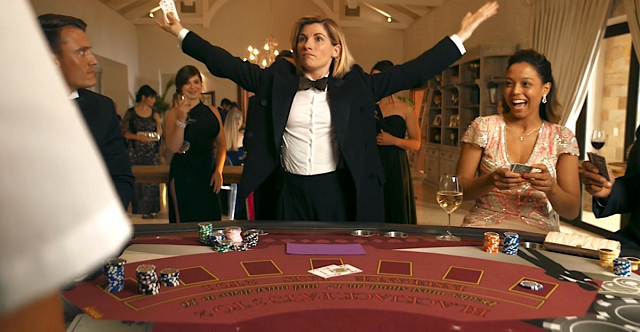 In conclusione non potevamo chiedere di meglio per l'inizio della nuova stagione. Vedremo come si evolverà la storia ma per adesso possiamo affermare che Doctor Who è finalmente tornata!