Ironia tagliente, personaggi stravaganti, animali che fungono da personificazione di umani difetti, la società dello spreco e del consumo hollywoodiana raccontata da un quadrupede da soma, dai tratti antropomorfi, con un vizio alcolico e con un ego perennemente insoddisfatto : Bojack Horseman è tutto questo: ve ne abbiamo già parlato, ma merita un'altra analisi approfondita.
Bojack Horseman è un cavallo famoso, il successo della commedia "Horsin' around" gli ha garantito una discreta fama e buoni guadagni, ma per colpa del suo ego, del suo malessere e del suo orgoglio, rifiuta nuovi contratti in mediocri e poco gratificanti lavori cinematografici. L'unico lavoro cinematografico a cui tiene veramente è Secretariat, film in cui Bojack si ritrova ad interpretare il suo idolo d'infanzia.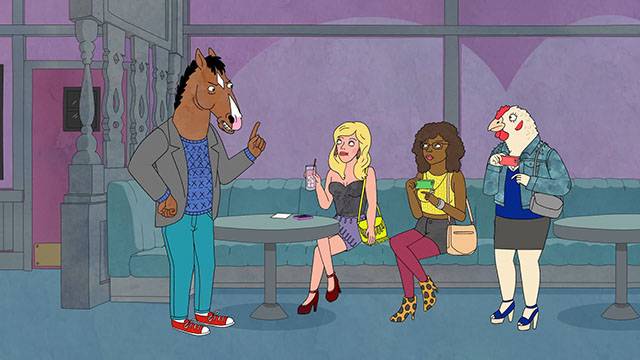 Il punto di partenza è indubbiamente la coabitazione in campo lavorativo, affettivo e sociale di animali e uomini. Dietro l'immediata simpatia e l'apparente no-sense che trasuda dalla visone dei primi episodi, questa serie tv animata inizia a svelare molto di più. Il primo collegamento che nasce spontaneo è quello tra le favole di Esopo e Fedro, dove gli animali comunicano attraverso un codice linguistico umano e fungono da reincarnazione di vizi e abitudini tipicamente umane.
Il gatto ritorna l'animale della seduzione e intelligenza, Princess Carolyn è l'agente-amante di Bojack. Colei che in virtù della sua professione di agente-manager delle star, deve essere cinica e ammaliatrice. Princess Carolyn è intrappolata da un amore a intermittenza verso Bojack, e deve continuamente fronteggiare le attenzioni di Bojack 'uomocavallo' verso Diane Nguyen, trentacinquenne fidanzata di Mr Peanutbutter.
Mr. Peanutbutter ( noto con la citazione : "è forse … un episodio crossover?!" ) è un simpatico e sorridente cane che stima enormemente Bojack, sia per lo charme che per il suo successo passato. Peanutbutter è un bonaccione generoso, e legherà moltissimo con Todd (Aaron Paul di Breaking Bad), l'eterno scansafatiche per antonomasia che vive da mantenuto a casa Horseman. Todd e Peanutbutter fonderanno una società, e tra assurde idee di marketing e investimenti senza senso, ci sarà da ridere fino allo sfinimento (Lo scolapasta-cappello, ad esempio è uno dei deliri più assurdi mai esistiti).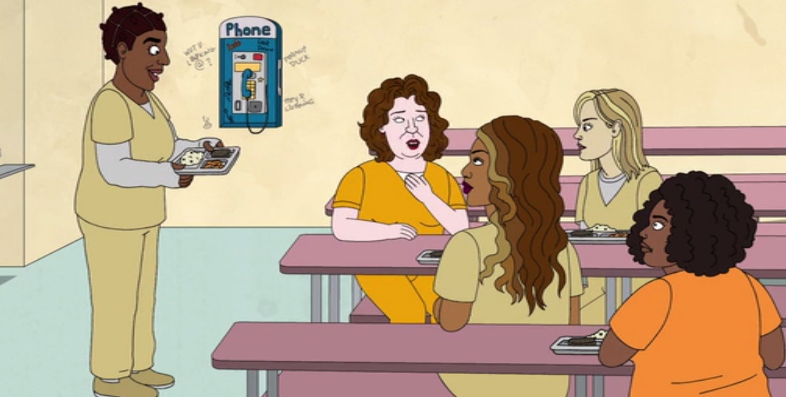 Oltre alla sincera e immediata simpatia per i personaggi e le situazioni deliranti, questa serie tv riesce ad incastrare alla perfezione riferimenti graditissimi. Non è un caso che il Pinky-Penguin sia il pinguino che lavora nella casa editrice che deve pubblicare il libro di Bojack, perennemente sull'orlo del fallimento finanziario, la nota casa editrice "Penguin Books" è il riferimento (non certo come crisi economica).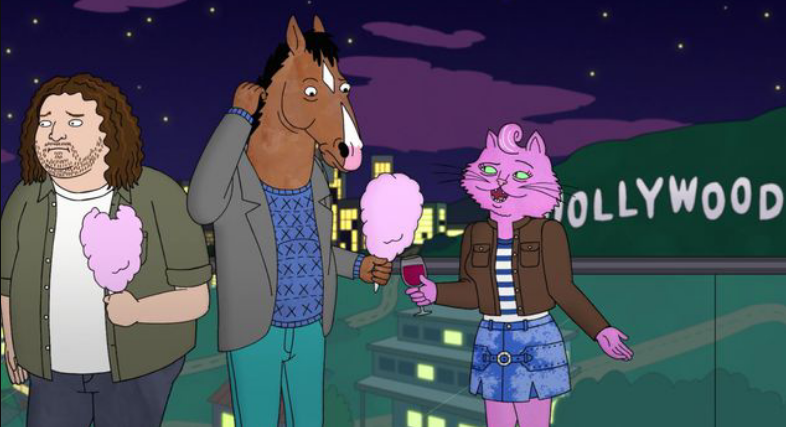 Innumerevoli sono poi i riferimenti alle Serie Tv, dall'inedita e discussa pellicola dell'ultimo episodio di The Sopranos, a Kiefer Sutherland di 24 spodestato dalle attenzioni del pubblico per colpa di Bojack, ad Hugo Reyes di Lost invitato a casa Horseman, alla fugace e magnifica riproposizione di "Orange is the new black".
Bojack Horseman ha probabilmente un grande spunto nel campo della serialità, impossibile non pensare in tal senso a "Californication". Uno scrittore che non è riuscito a replicare il successo del primo romanzo "God hates us all", un romanziere intrappolato dal suo eterno amore per Karen, tra i deliri con il suo amico-agente e l'ozio letterario, che ha un inizio ma non una vera fine.
Bojack è l'Hank Moody delle serie animate. Storia quasi sovrapponibile, simili ambientazioni e tematiche, continue ironie sullo  show business e sugli sprechi folli delle varie, o presunte, celebrità. Ozio, delirio, riflessioni e ironia.
Questa commedia animata per adulti è un vero successo, e lo è a ragion veduta.