La recensione della 5×06 di Better Call Saul analizza l'episodio alla luce dell'iconica canzone che Saul strimpella con la chitarra.
Smoke on the Water, a fire in the sky
Smoke on the Water
Fumo sull'acqua, un incendio che si propaga senza sosta. Urla di bambini, fuoco, distruzione. Caos. È un sogno, una visione. Un incubo che si imprime nella mente e nello spirito del bassista Roger Glover. Sul fiume l'incendio sembra inarrestabile ed è tutta qui la follia: il fuoco e l'acqua, la contraddizione dei due elementi che ora, invece, convivono e reagiscono in un balletto corale. Smoke on the Water. Il lago era quello di Ginevra, l'incendio quello del casino Montreaux dove si stava esibendo Frank Zappa. Uno spettatore sovreccitato fa partire un razzo, fuoco nel cielo. Le tende vanno in fiamme, è l'inferno.
I Deep Purple erano lì, assistono a quella follia. Nella mente di Roger Glover si imprime un'immagine: le fiamme e il lago. L'acqua e il fumo. Smoke on the Water. È la fusione di due forze diverse e apparentemente opposte: eppure eccole lì a mischiarsi, contorcersi in una danza tribale, in un riff irresistibile, come yin e yang. Diversi, eppure conniventi.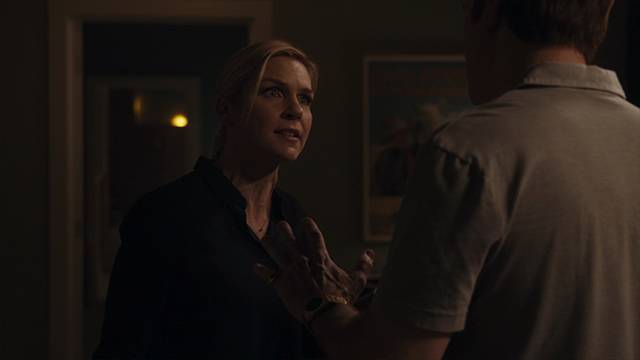 Smoke on the Water sono Kim e Saul in Better Call Saul. I loro gesti si oppongono come acqua e fuoco, l'uno contro l'altro, in un riff vertiginoso che incornicia una delle scene meglio recitate nell'intera storia della televisione. Il loro incontro-scontro nel finale di questa 5×06 di Better Call Saul è il capolavoro che Vince Gilligan, sua maestà, ha deciso di offrirci. L'assurdo riff che tormenterà le nostre anime con quel realismo irriproducibile.
Rhea Seehorn non recita più, è lei e insieme è Kim.
Rhea e Kim in un unico, grandioso momento di totale verità. Saul-Odenkirk non induce una reazione autentica soltanto alla sua collega avvocatessa, tenendola all'oscuro del suo piano. No, Odernkirk-Saul suscita una risposta reale, dannatamente vera anche nella sua collega attrice. E così Saul diventa Bob, Kim Rhea e viceversa, fuoco e acqua, l'uno sull'altro, l'uno dentro l'altro. Smoke on the Water.
E quel riff cresce, si alza, raggiunge vette inesplorate nell'assolo di una Kim furiosa, triste, rassegnata e poi di nuovo speranzosa, intimorita, disperata. E le corde della sua voce tornano sui toni più bassi al momento della rivelazione finale, quando la soluzione è l'estremo atto di difesa del suo amore per Jim e per sé stessa: il matrimonio, l'unico vincolo legale in grado di evitare a entrambi di compromettersi in un tribunale, di testimoniare.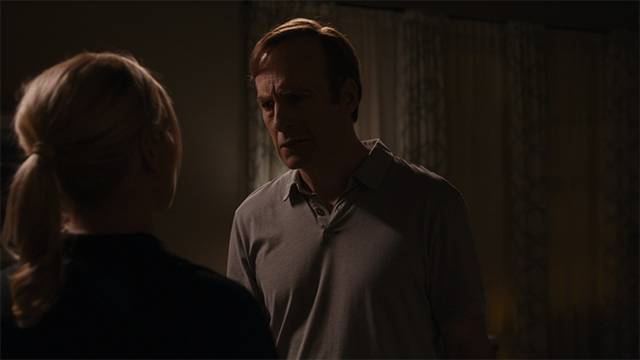 È questo il momento unico in cui tutto attorno ci sono fiamme e distruzione, persone sconfitte e umiliate e là, in primo piano, l'irripetibile scenario del fumo sull'acqua, l'uno nell'altro, Saul con Kim. Le fiamme inarrestabili di Saul si spandono ovunque, la sua incontenibile carica invade la buia sala conferenze di uno studio legale. Quello studio legale è raso al suolo nel fumo asfissiante della parlantina di Goodman mentre a fatica tutti se ne tirano fuori.
Il CEO della Mesa Verde non è più il tronfio texano dello scorso episodio.
Sconfitto, scende a patti con le fiamme, strisciando fuori da quell'inferno, non potendo far altro che inchinarsi. E Saul strimpella la sua Smoke on the Water, la accenna appena alla chitarra. Quella canzone che avevamo ascoltato nell'ultimo episodio della prima stagione, quando Jimmy aveva preso una decisione irreversibile.
Jim: "Era un sogno forse o era vero che sulla mia scrivania c'erano un milione e seicento mila dollari in contanti? […] Non lo sapeva nessuno che eravamo riusciti a prenderli. […] Perché non lo abbiamo fatto, che cosa ce lo ha impedito?"

Mike: "Se non sbaglio hai detto qualcosa che concerneva il 'fare la cosa giusta'".

Jim: "Io lo so qual è la cosa che mi ha fermato e quella cosa non mi fermerà più".
E Saul non si ferma più. Ormai le fiamme sono inarrestabili. Jimmy brucia e come una fenice risorge in Saul, fumoso, ammaliatore, "Imbonitore di terza categoria". In quella 1×10 di Better Call Saul Jimmy ha scelto di essere lupo, perché "Al mondo ci sono lupi e pecore, ragazzo. Lupi e pecore. Decidi tu cosa vuoi diventare". Il lupo Saul semina il caos e tra quelle fiamme rimane solo una persona.
Rimane solo Kim.
Kim: l'acqua che non riesce a spegnere il fuoco ma finisce per conviverci in un'assurda sovrapposizione di elementi. Smoke on the Water. E le fiamme diventano fumo che si innalza alto nel cielo. Ma il vincitore è uno solo. L'incendio non può essere domato. Basta una scintilla ed ecco che l'aria si fa incandescente. Una scintilla e Saul sfugge al controllo di Kim, prorompendo in tutta la sua forza. "Abbiamo vinto noi", si inganna l'uno. "No, io non ho vinto", replica l'altra. È quest'ultima la verità: il vincitore è uno solo. The winner takes it all. Il vincitore prende tutto, avevamo cantato nel finale della scorsa stagione. E lo sconfitto rimane al palo, insignificante.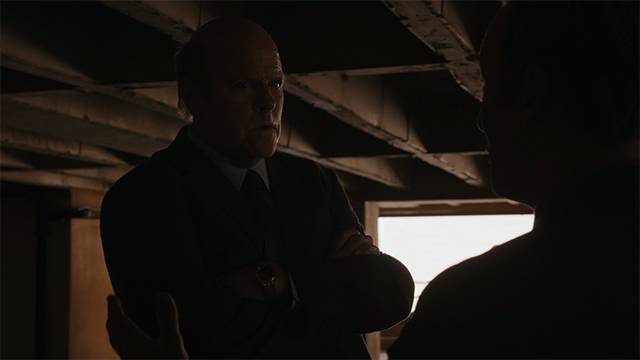 Il loser standing small in questo episodio è il CEO della Mesa Verde, ammansito da Saul. Ma sono anche Rick Schweikart e Paige. E lo è, inevitabilmente, Kim, vittima e strumento dei raggiri di quell'indomabile saltimbanco. "Ti ho nascosto le cose per proteggerti", afferma Saul. Ed è vero e falso allo stesso tempo: perché Jimmy vuole davvero difendere Kim me è altrettanto vero che Saul non vuole mandare all'aria il piano su cui aveva tanto faticato.
Le due verità si fondono in un deep purple man, un uomo viola intenso, fusione di blu e rosso. Il blu di Kim, della giustizia, della Legge e il rosso del mondo criminale, nell'universo simbolico di Gilligan. Smoke on the Water. Fuoco sull'acqua. Questo è Saul Goodman, l'accavallarsi di due elementi apparentemente inconciliabili che, invece, trovano in lui incontro e scontro. Un riff magnetico e impossibile da dimenticare, consacrato per sempre alla storia della televisione grazie alla mente geniale del suo creatore. Smoke on the Water, a fire in the sky. LA DO RE LA DO MIb LA DO RE DO LA.
Un saluto agli amici di Better Call Saul – Italia