Attenzione: questo articolo contiene spoiler su American Horror Story 9×08!
Con un sospiro a metà tra il dispiacere e il sollievo, siamo ormai a un passo dal traguardo: American Horror Story 9×08 ci accompagna verso la fine di questa difficile e altalenante stagione. Le carte in tavola sono state scoperte, i personaggi chiave hanno fatto tutti ritorno a Camp Redwood, e gli anni '80 stanno per cedere il posto al decennio successivo. Rest in Pieces, diretto da Gwyneth Horder-Payton e scritto da Adam Penn, è l'ottavo e penultimo episodio di 1984. Il titolo è costituito da un sottile gioco di parole: "Riposa in Pezzi" è un invito a scordarsi la pace, poiché essa non è data né ai morti, né tantomeno agli spettatori.
I toni e le atmosfere conferiti al pilot e a tutta la prima parte della stagione riprendono molto dalla cultura cinematografica horror, con contaminazioni che vanno da Venerdì 13 a Quella casa nel bosco. Lentamente ma inesorabilmente, il clima cambia vertendo sempre più intorno alla commedia e addirittura alla parodia, sulla linea de L'alba dei morti dementi e di Scary Movie. Le intenzioni degli autori sono davvero difficili da interpretare, e tutto che ciò che ci rimane da fare è dare un'occhiata a ciò che Rest in Pieces ha (o non ha) da offrire.
Tra vendetta e riscatto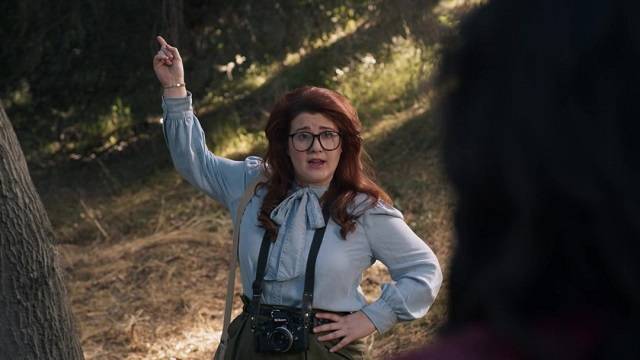 La storia riprende il 30 ottobre del 1989, a un solo giorno di distanza da Halloween. Seduta in una tavola calda, Brooke parla a Donna della sua intenzione di vendicarsi di Margaret, quando una giornalista del National Enquirer, Stacy, rivolge loro la parola. Tra una critica e l'altra agli ormai morenti anni '80, con l'Irongate, Small Wonder e il crack, Stacy lascia intendere di essere a conoscenza delle loro vere identità. La donna a questo punto le ricatta, facendosi condurre a Camp Redwood per raccogliere materiale sul macabro scoop più importante della sua via.
Brooke, però, ha un piano: durante gli anni trascorsi di carcere, la ragazza ha covato dentro di sé oscurità e rancore, e ora liberarsi della fastidiosa presenza di Stacy le sembra un'ottima idea, bando alla moralità. Solo l'intervento tempestivo di Donna le impedisce di uccidere la giornalista, poiché la compagna ricorda a Brooke che entrambe sono alla ricerca di una vendetta giusta, senza inutili spargimenti di sangue. Nonostante il proprio passato, Donna crede infatti che una sorta di redenzione sia possibile e che la strada da seguire per raggiungerla sia lastricata di buone azioni, oltre che da un ormai fin troppo abusato senso di giustizia.
La buona musica non muore mai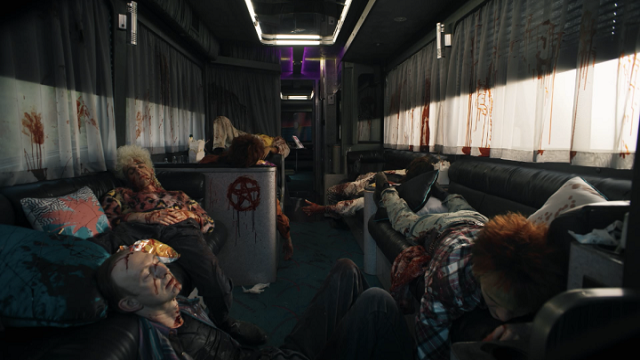 Margaret scopre intanto il massacro dei Kajagoogoo avvenuto nella puntata precedente per mano dei capogruppo. Mentre Courtney ne occulta i corpi, però, la band appare esibendosi con la canzone Too Shy. Dunque ora il campo è infestato anche dai musicisti fantasmi, i quali fanno scattare un'idea allo stesso tempo assurda e geniale nella folle mente di Margaret.
La donna intende ingaggiare Bruce (che sì, è sopravvissuto e pronto all'attacco) e Ramirez per sterminare tutti gli artisti del festival e rendere Camp Redwood la meta preferita dei loro fan. I due serial kiler accettano, a patto di tener fuori dalla questione Billy Idol, il loro mito. D'altronde, dei concerti di fantasmi non si vedono mica tutti i giorni, no?
In effetti American Horror Story 9×08 è ricca di riferimenti musicali e, in generale, agli anni '80. Dalla breve rissa tra Brooke e Donna sulle note di Eye of the Tiger dei Survivor, alla dolce conversazione tra Trevor e Montana, in cui lui dipinge la ragazza come la vivace ed eterna personificazione di un decennio spettacolare. Bruce uccide addirittura la donna che gli ha salvato la vita per aver interrotto una canzone dei Creedence. Questa puntata puzza un po' di nostalgia o sbaglio?
Una nuova vecchia famiglia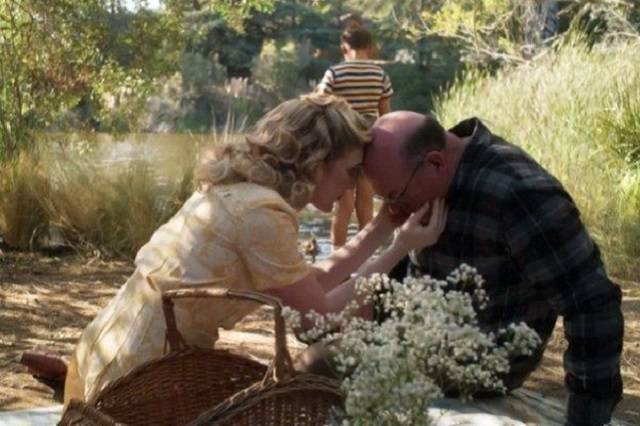 Una volta tornato a Camp Redwood, Ramirez trova Mr. Jingles ormai morto sotto forma di spettro. Furioso per non aver potuto uccidere di persona l'ex partner, si rende conto di avere ancora una freccia al suo arco: Richter infatti è ormai in trappola, lontano per sempre da Bobby, il figlioletto indifeso, e Ramirez si propone di fare un viaggio in Alaska e di porre fine alla breve vita del bambino per compiere la sua vendetta.
Mr. Jingles da qui in poi appare nel suo profilo più patetico: disperato e impotente, in balìa non solo di Ramirez, ma anche dei capogruppo del campeggio, i quali lo detestano e gli attribuiscono la colpa di tutte le loro disgrazie. Proprio questi ultimi, dopo averlo già ucciso e torturato plurime volte, lo pugnalano per poi lasciarlo nel bel mezzo del lago. Qui Richter viene recuperato dal fantasma del fratellino morto annegato tanti anni prima. Negli ultimi istanti della puntata, i due sono di nuovo in compagnia della madre, a comporre un lugubre ma felice quadretto familiare, forse destinato a durare solo fino all'uscita di Final Girl, l'episodio conclusivo.