Attenzione: questo articolo contiene spoiler su American Horror Story 9×07!
Finalmente capitano cose. Per la gioia degli spettatori, The Lady in White, la settima puntata di 1984, riesce a scrollarsi un po' di dosso le vesti della parodia slasher per lasciare spazio a una trama più interessante e corposa (anche se sempre molto dispersiva). Per cominciare, American Horror Story 9×07 vede il ritorno di due veterani della serie: Lily Rabe e Dylan McDermott. La presenza di entrambi risolleva i toni della stagione e, considerate le loro precedenti performance, ci restituisce un pizzico di speranza a un passo dalla conclusione.
Vi è anche da considerare il fatto che nel settimo episodio vengono introdotti alcuni nuovi elementi che riguardano principalmente i retroscena di Richter, e che sono totalmente svincolati dalla cruenta e parodistica atmosfera anni '80 presentata fino a questo momento. Mr. Jingles si evolve infatti sempre più in una figura tragica, lasciandosi dietro le vesti del killer psicopatico e trasformandosi in un personaggio profondo e intrigante. Una nota di merito va fatta senza dubbio all'interpretazione di Lynch, ma anche a quella di Lily Rabe: l'attrice rientra in scena immedesimandosi alla perfezione nella donna instabile e lamentosa che sarà la madre di Benjamin.
Le infinite trame secondarie di American Horror Story 1984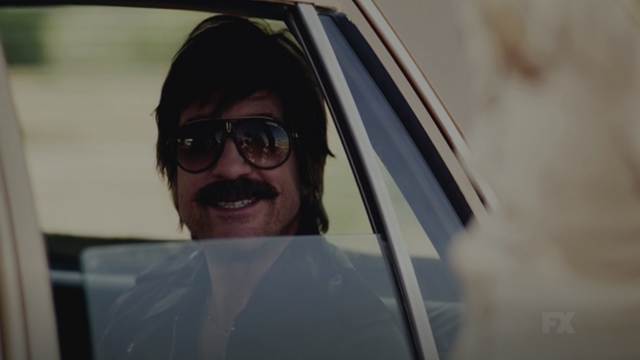 Passiamo dunque alla situazione di Donna e Brooke, che non ci dà invece tutte queste soddisfazioni. Le due si trovano in un motel, e Donna cerca di risollevare il morale alla ragazza, reduce da 1824 giorni di prigione e da un'esecuzione, portandola a pattinare. Un'inversione di marcia al limite dell'assurdo, considerati i precedenti della cosiddetta "infermiera Rita" nei confronti della stessa Brooke sin dalle rivelazioni di Slashdance, il terzo episodio. Ad ogni modo, mentre escono dalla pista di pattinaggio, si imbattono in uno strano tipo di nome Bruce (Dylan McDermott), che le convince a dargli un passaggio per il festival a Redwood.
Siccome le situazioni spiacevoli non sono mai abbastanza, Bruce si rivela essere l'ennesimo serial killer, nonché una sorta di imitatore di Richard Ramirez. Troverà questa volta pane per i suoi denti, dato che ormai Donna e Brooke sanno come trattare con gli assassini psicopatici, e sono diventate più spietate di loro. Risolta la questione, le due riprendono il viaggio verso il concerto di Margaret. Quest'ultima, insieme a Trevor, è intanto alle prese con l'organizzazione del festival, ma l'arrivo delle band a Camp Redwood si rivela più travagliato e sanguinoso del previsto.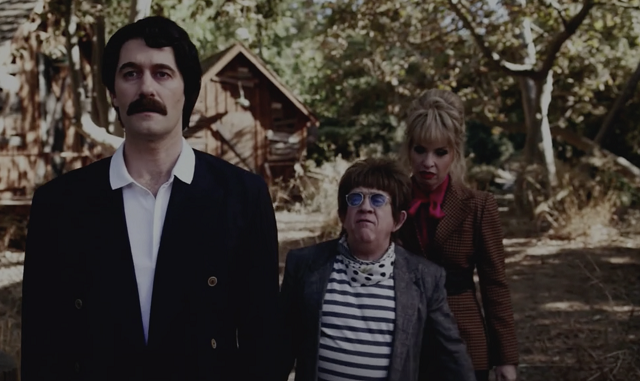 Il passato di Mr. Jingles e la strage del 1950
Le vicende citate finora fanno parte di filoni secondari, che continuano a non soddisfarci e ad apparire poco chiari, proprio come in Episode 100. La trama principale, invece, è un'altra questione: ripercorre l'infanzia di Mr. Jingles, dando un tocco cupo e introspettivo al contesto generale. Nel 1950, infatti, Benjamin si trova proprio a Camp Redwood, allora noto come Camp Golden Star, e qui assiste al primo vero massacro ad opera della sua stessa madre, Lavinia.
La donna, in seguito alla morte nel lago del figlio prediletto, Bobby, accusa Benjamin e tutti i presenti della dipartita del bambino. Subito dopo Lavinia perde completamente la ragione, stermina i capigruppo e cerca di fare lo stesso con Benji, che però riesce ad accoltellarla e a salvarsi. Nel presente, Mr. Jingles ritorna a Camp Redwood e racconta tutto ai fantasmi del luogo, che sono perseguitati da una misteriosa "signora in bianco". Ovviamente si tratta proprio di Lavinia, così gli ex capigruppo lo conducono da lei.
Lo scambio tra Benjamin e la madre fantasma rappresenta un picco all'interno di American Horror Story 9×07. Lavinia odia Benjamin, e rivela di essere stata lei a spingere Margaret a uccidere i consiglieri nel 1970. Mr. Jingles è sconvolto, poiché le origini di tutti i suoi mali risiedono proprio nelle azioni della sua stessa madre. Sul molo, Lavinia riappare e lascia intendere al figlio che il solo modo per scampare a Ramirez è uccidersi, così Mr. Jingles si trafigge lo stomaco e si allontana in forma spettrale.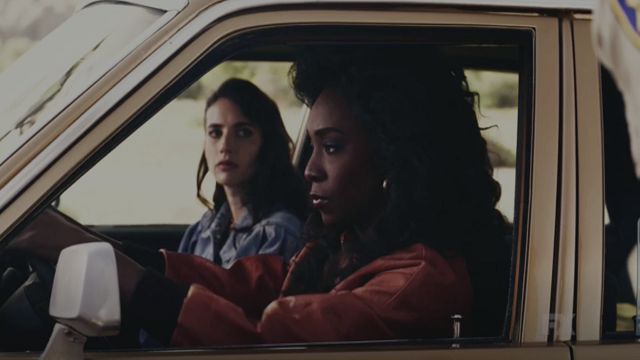 Questa evoluzione della trama ha il suo fascino, senza ombra di dubbio, e pare indicare una nuova direzione da seguire.
Tuttavia, la storia è ancora terribilmente affollata: Mr. Jingles ora è un fantasma invulnerabile, pronto a combattere contro Richard, Brooke cerca vendetta nei confronti di Margaret, Montana è a capo di una sorta di esercito di defunti maledetti… E sono solo alcuni dettagli di un intreccio molto più folto. Troppo.
The Lady in White, insomma, non è proprio tutta da buttare, ma ci sono ancora troppi fronzoli inutili. La sottotrama di Brooke, Donna e Bruce, ad esempio: che senso ha? Fa parte di un quadro narrativo più grande? Probabilmente Bruce troverà il modo di inseguire le due donne, e potrebbe anche finire per scontrarsi con Ramirez, il suo idolo… Ma è davvero necessario? Si direbbe che il team creativo stia perdendo tempo, quando invece ci sarebbero elementi e personaggi molto più interessanti da sviluppare. Vedremo cosa combineranno gli autori negli ultimi tre episodi.