Attenzione: questo articolo contiene spoiler su American Horror Story 9×01!
Ogni anno, con l'avvicinarsi di settembre, iniziamo ad avvertire uno strano formicolio percorrerci la schiena, un presentimento lugubre si impadronisce di noi e subito ci rendiamo conto che qualcosa di terribile e oscuro è alle porte, e che per un po' prendere sonno sarà davvero difficile. American Horror Story 9×01 approfitta infatti dei primi freddi autunnali e ci sfida a spegnere le luci e a goderci la nona stagione.
Con AHS: 1984, Ryan Murphy abbandona il taglio futuristico di Apocalypse (di cui potete trovare qui la recensione) per fare un salto indietro nel tempo e rendere omaggio all'anno di uscita di Nightmare on Elm Street e di Friday the 13th: The Final Chapter, tributando così i film slasher da cui trae ispirazione per questo capitolo. Una scelta tanto funzionale quanto rischiosa, in cui i numerosi cliché di genere, il forte citazionismo e un tocco rétro potrebbero diventare punti di forza oppure, al contrario, privare la storia di originalità. Intanto, seguiamo gli sviluppi di American Horror Story 9×01.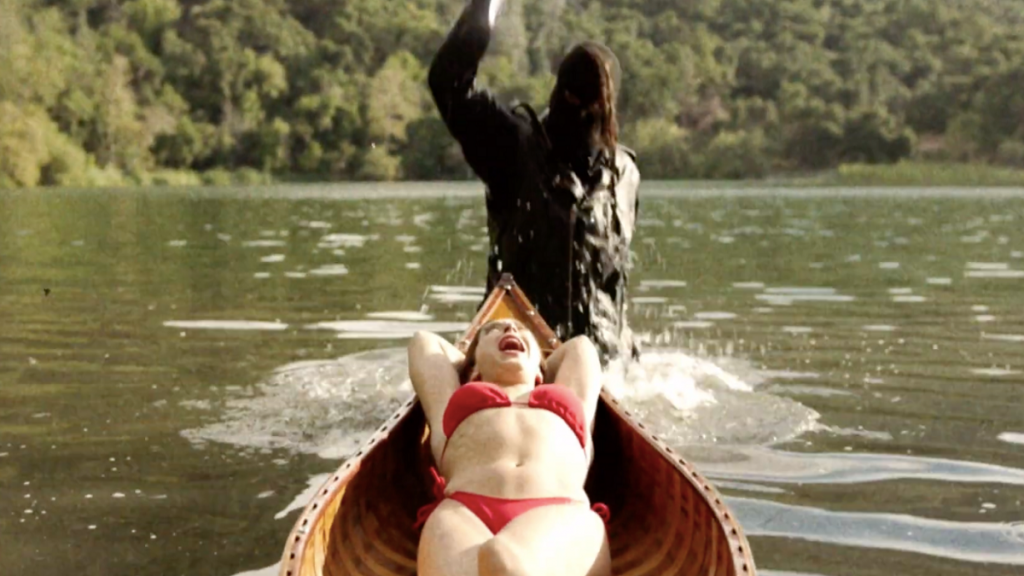 La storia vede protagonisti cinque ragazzi di Los Angeles che, nel periodo delle Olimpiadi, decidono di fuggire dalla frastornante vita di città per andare a divertirsi e guadagnare qualche soldo come capigruppo di un campeggio estivo. Non sanno ciò che Camp Redwood ha in serbo per loro (e in realtà, per ora, non lo sappiamo neanche noi). Intanto anche a Los Angeles i serial killer sembrano avere vita facile.
American Horror Story 9×01 ci racconta gli oscuri trascorsi di Camp Redwood
La prima scena dell'episodio consiste in un flashback ambientato nel 1970: siamo a Camp Redwood, e durante la notte tre ignari capigruppo approfittano della tranquillità generale per sfogare i loro impulsi sessuali. Interrotti da un curioso tintinnio, vengono massacrati poco dopo insieme agli altri ragazzi addormentati. Il serial killer zoppicante asporta poi a ognuno di essi un orecchio e se ne va con la sua nuova collezione.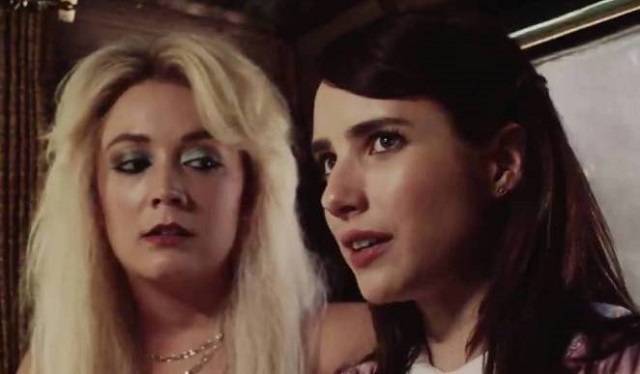 Ci spostiamo a questo punto in una palestra di Los Angeles, diversi anni dopo: il biondissimo Xavier (Cody Fern) tiene una lezione di aerobica a cui partecipano Montana (Billie Lourd), Ray (DeRon Horton), Chet (Gus Kenworthy) e Brooke (Emma Roberts), la quale si è appena trasferita in città). La loro decisione di partire per il campeggio avviene poco più tardi, ma Brooke si convince a seguirli solo la sera, dopo essere stata aggredita nel suo appartamento dal temuto killer soprannominato "Night Stalker".
Giunti a Camp Redwood, dopo aver ricevuto misteriose chiamate, avvertimenti di ogni genere ed aver persino accidentalmente investito un losco personaggio con la testa bendata, l'inquietudine dei ragazzi non fa che aumentare. Al campo, infatti, vengono loro narrate le vicende svoltesi lì tempo addietro: il massacro avvenuto per mano dell'ex soldato vietnamita Benjamin Richter, detto Mr. Jingles (John Carroll Lynch), aveva visto una sola sopravvissuta, Margaret Booth (Leslie Grossman), la nuova proprietaria del campeggio.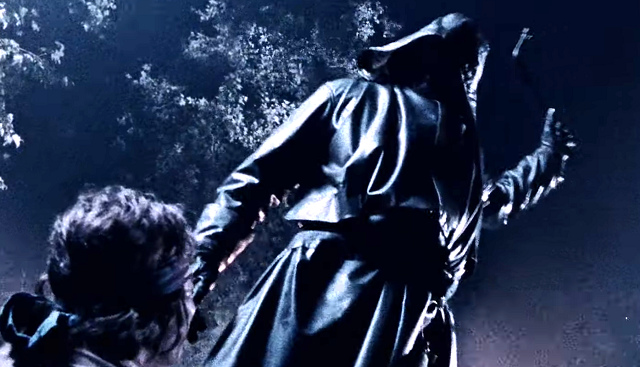 Mr. Jingles, rimasto rinchiuso per tutti quegli anni in un ospedale psichiatrico della zona, riesce nel frattempo a evadere, più motivato che mai. Per caso è venuto a conoscenza della riapertura di Camp Redwood, ed è determinato a versare altro sangue. Mentre in manicomio regna il caos e la polizia inizia le indagini, l'assassino raggiunge la tenuta, ma l'unica ad accorgersi della sua presenza è una terrorizzata Brooke, che non riesce a convincere gli amici. Non avendo prove, credono che la paura della ragazza sia irrazionale e il suo racconto un mero frutto dell'immaginazione. Non hanno ancora idea di quanto si sbagliano.
Un tuffo nei coloratissimi anni '80
Dopo otto stagioni, siamo abituati alla versatilità cui si prestano gli attori di American Horror Story, eppure non smettiamo mai di stupirci quando li vediamo interpretare ruoli totalmente diversi da quelli in cui eravamo soliti riconoscerli. La vivacissima e cotonata Montana tanto si distingue dalla strega aggraziata in grado di resuscitare cerbiatti, così come Brooke, timida e in tinte pastello, è l'antitesi assoluta della Madison che abbiamo conosciuto in Coven e Apocalypse. O ancora la castigatissima Margaret, che ci appare quasi grottesca nel suo estremo tentativo di portare felicità in un teatro di morte e rovina, in perfetta opposizione con il suo collaboratore, Trevor (Matthew Morrison), libertino, vanesio e superficiale.
In questa accozzaglia di personaggi eccentrici si distingue anche Cody Fern nei panni di Xavier, un convinto attore alle prime armi che di infernale ha solo il sex appeal (anche se qualche domanda ce la siamo già posta: perché non condivide con gli altri l'inquietante telefonata ricevuta durante il viaggio?)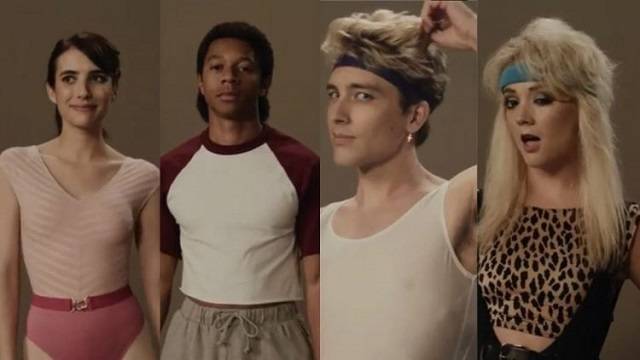 Se da un lato gli attori danno dunque un tono esplosivo e decisamente anni '80 alla serie, dall'altro a conferirle la perfetta atmosfera nostalgica contribuiscono i continui riferimenti ad avvenimenti storici e culturali: Montana paragona Brooke a una ragazza di Cheers e Xavier lamenta il fatto di aver dovuto rinunciare a un'audizione per M*A*S*H. Anche Trevor, in un eccesso di vanità, sostiene di essere apparso nelle riprese di Tre cuori in affitto e in un video di Jane Fonda. Possiamo anche notare come i ragazzi difendano "il decennio della rivoluzione sessuale" di fronte a una Margaret devota e perbenista, che in tale occasione cita il processo di Larry Flynt, editore nel settore pornografico.
Una menzione deve essere senz'altro fatta anche alla splendida opening, che ha da subito conquistato il web, e al lugubre pezzo della colonna sonora di Billie Eilish, Six Feet Under. Infine, a sostenere con maggior forza la connotazione temporale, vi è anche l'esplicito riferimento alle Olimpiadi di Los Angeles del 1984, svoltesi tra il 28 luglio e il 12 agosto. Mentre Brooke è alle prese con Mr. Jingles, gli altri stanno infatti seguendo i giochi in tv, in un'affascinante contrapposizione visiva e uditiva tra la fuga disperata della ragazza e la staffetta per portare la torcia olimpica.
Ma ora, come ci terranno incollati allo schermo?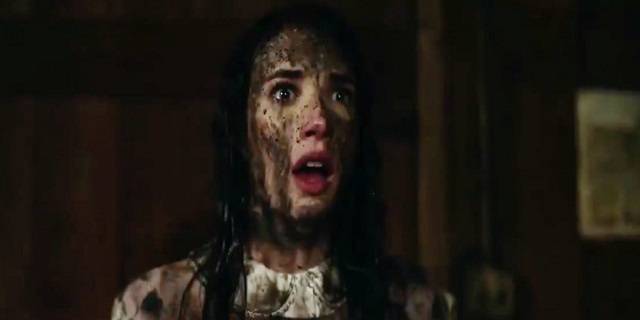 Abbiamo già constatato come il cast abbia tutti i presupposti per accontentarci, interpretando delle personalità vintage eppure totalmente nuove (anche se la mancanza di Evan Peters e di Sarah Paulson potrebbe effettivamente farsi sentire). La trama, pur non suonando così originale, si sviluppa in modo sempre più inaspettato, rispettando in pieno le regole dei vecchi cari slasher movie, con scene angoscianti e violente allo stesso tempo. Ma questo vale per un singolo episodio, al termine del quale noi già conosciamo l'identità del killer e il suo background: c'è da capire come, per un'intera stagione, AHS: 1984 sarà in grado di mantenere alta l'attenzione e di stupire con nuovi colpi di scena, considerato che gli assassini sono già in libertà e a un passo dal riuscire nel loro intento.
Alcuni interrogativi e congetture sorgono anche indipendenti dal filone principale della trama: il "Night Stalker" è una pazzo sprovveduto oppure ha dei nessi con la Chiesa di Satana che abbiamo conosciuto nella stagione precedente? Che ruolo ha la donna che interviene al momento della fuga di Richter dal manicomio?
Pur essendo solo all'inizio di quest'avventura al Camp Redwood, American Horror Story 9×01 pone delle buone basi per quella che potrebbe essere una stagione ricca di suspense e di sangue, attingendo a musiche, metodi di ripresa e dettagli che ci riportano indietro, nei contesti allegri di un drive-in o di una festa, dove i mostri sembrerebbero non potersi insinuare mai, eppure lo fanno. E le urla squarciano la notte.