*Attenzione, l'articolo contiene spoiler di Prison Break e The Office*
Prison Mike (l'alter ego che Michael Scott di The Office crea nell'episodio The Convict, 03×09, per convincere i suoi dipendenti che l'ufficio è meglio della prigione) ci ha insegnato tanto sulla vita del galeotto. Ci ha raccontato che la prigione è un inferno simile a Harry Potter, fa schifo, se hai fame puoi mangiarti i capelli e che non bisogna mai far cadere a terra la saponetta. Per non gettare al vento queste illustri lezioni di vita che Prison Mike ha imparato su internet, o in qualche vecchio film, abbiamo deciso di spedirlo per davvero in uno di quei carceri di massima sicurezza delle serie tv. E dove avremmo potuto rinchiuderlo se non nella prigione seriale per eccellenza, cioè Fox River, il carcere da cui Michael Scofield evade nella prima stagione di Prison Break? Siamo tutti d'accordo che al cospetto di criminali come John Abruzzi e Theodore Bagwell, il prigioniero Mike non sopravvivrebbe per più di 24 ore. Gli scenari in cui farebbe una brutta fine sono tanti, ma dobbiamo ammettere che è facile sottovalutarlo e in alcuni casi, forse, riuscirebbe a sorprenderci scampando al peggio. Perché in fondo, da Michael Scott a Michael Scofield il passo è breve: stessa arguzia, stessa capacita di leggere tra le righe e stesso coraggio che li rende capaci di tutto, anche di affrontare i Dementors.
Prison Mike ce la farà o non ce la farà a resistere a Fox River per 24 ore? Scopriamolo subito!
Ce la fa: l'evasione
Una delle poche chance che Prison Mike ha di sopravvivere a Fox River è quella di arrivare il giorno esatto dell'evasione, a cui abbiamo assistito rapiti nell'ultima puntata della prima stagione di Prison Break. Lui è duro, è scaltro e capisce subito che quel gruppetto di carcerati davanti alla cella di Michael sta tramando qualcosa. Non ha dubbi: stanno parlando male di lui. In carcere bisogna essere forti, ma anche sensibili. Quindi con le sue capacità di immedesimazione si trasforma in Robert de Niro sfoderando la sua miglior interpretazione del celebre monologo di Taxi Driver. Guarda intensamente Sucre ed esclama: You talkin' to me? Il gruppo lo circonda con fare minaccioso, poi Mike vede il buco nel muro della cella e inizia a strillare: «un buco nel muro, ho visto un buco nel muro!» Non riuscendo a zittirlo, Abruzzi guarda Michael – il quale continua a controllare l'orologio impaziente – e dopo un suo cenno stordisce Prison Mike e lo infila nell'intercapedine per portarlo via di lì. Non avendo per lui una tuta bianca da reparto psichiatrico, lo abbandonano nel tunnel e proseguono con il piano. Mike rinviene e, considerando che la fuga dei prigionieri di Prison Break è in corso da ore, la sicurezza di Fox River non è al 100%, quindi riesce a sgattaiolare via, raggiunge la porta principale e, senza essere notato da nessuno, esce vittorioso.
Non ce la fa: la rissa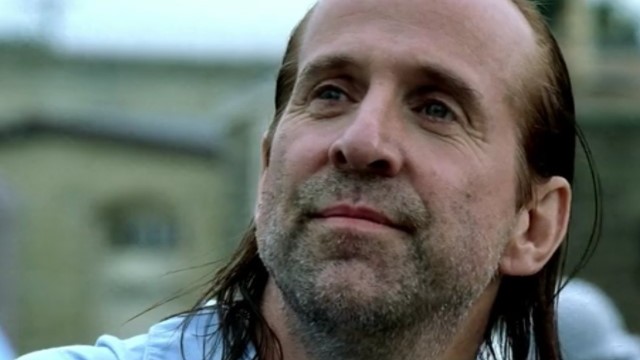 Siamo nel cortile di Fox River. I nuovi detenuti sono appena arrivati e Scofield sta per fare la sua prima chiacchierata con Westmoreland. Prison Mike si aggira con la bandana viola in testa, l'aria da vero duro, passo ritmato, sguardo fiero e minaccioso. John Abruzzi si sta dirigendo verso Scofield quando Mike, che ha legato sin dai primi attimi con il suo omonimo, si intromette. Abruzzi gli dice di spostarsi, lui risponde beffardo: «Ti aspetti davvero che non ti spinga contro il muro, biaaaatch?» Tutti ridono. La gang inizia a picchiare il fratello di Burrows. Prison Mike si sente escluso ed è offeso dalla reazione degli altri, così ruba dalle mani di un detenuto un coltellino e per richiamare l'attenzione si trafigge un fianco. Purtroppo sono tutti occupati a prendere a pugni Scofield quando il povero galeotto di Scranton muore dissanguato.
Ce la fa: consigli sulla carta
Michael Scofield ha attivato la sua operazione "origami". Il prigioniero Mike, incuriosito, lo spia da lontano per cercare di capire cosa sta combinando con quella figuretta in mano. Oltre a essere uno dei criminali più temibili e astuti della Pennsylvania, lui conosce molto bene la carta e quella che vede non è certo di qualità. «La carta è la mia vita, io sono un uomo di carta» confessa Prison Mike a Scofield, poi continua: «se vuoi costruire la tue barchette – anche se questo non è un atteggiamento molto criminale – devi scegliere quella giusta» così gli strappa il cigno dalle mani e lo distrugge: un gesto che mette a dura prova anche la calma di Michael. Poi Prison Mike tira fuori dai pantaloni una risma di carta, che ha portato con sé in prigione, e gliela regala. Scofield sorride e lo prende sotto la sua ala protettiva.
Non ce la fa: distrugge il Taj Mahal di Pope
Il direttore Henry Pope fa chiamare Prison Mike nel suo ufficio perché, nonostante sia arrivato da meno di 10 ore, è stato coinvolto già in tre risse. Sotto l'aria minacciosa, Prison Mike nasconde un animo da tenero cucciolone romantico e Pope, in vena di confessioni, lo capisce e decide di mostrargli il suo Taj Mahal. La storia che gli racconta lo tocca così nel profondo che Mike sente subito quell'irrefrenabile bisogno di fare qualcosa. Si avvicina al modellino, lo osserva attentamente, poi allunga il braccio verso il centro, tocca un fiammifero e in un istante la riproduzione del mausoleo a cui Pope sta lavorando da mesi crolla a terra. Il direttore inizia a urlare furioso e a prenderlo a pugni. Per Mike seguiranno 130 giorni di isolamento che lo condurranno alla pazzia.
Non ce la fa: T-Bag
Theodore Bagwell ha un debole per quelli nuovi, per la carne fresca da torturare. Michael Scofield gli ha già dato un due di picche, quindi vedendo Prison Mike così tenero e buffo, si avvicina per offrirgli protezione. Non è arrivato nemmeno a metà della sua solita presentazione, con la storia delle tasche e delle feste sotto la doccia, che Prison Mike esclama: «Alla faccia tua, Martin Nash! Lo sapevo che la prigione era veramente così. Sì, chiunque tu sia, proteggimi, ti prego!» T-Bag non se l'aspettava questa reazione, non è abituato a vincere facile. Prison Mike, su di giri per essere entrato nella sua prima gang, per dimostrare la stoffa da vero criminale, inizia a proporre a T-Bag una carrellata di idee per spaventare tutti e seminare terrore. Parla, parla, parla e T-Bag è sempre più infastidito. «Amico, dovremmo lavorare a un saluto tutto nostro, una stretta di mano inconfondibile da veri duri» suggerisce Mike. «Non c'è nessun noi» ribatte secco T-Bag. Prison Mike, sempre più elettrizzato, inizia a mandare bacetti ai fratelli neri, incappando in una gaffe razziale dopo l'altra. Inutile dire che finirà a terra nel giro di un'ora.
Eppure contro ogni aspettativa, forse, ce la farebbe a sopravvivere.
È vero che le prenderebbe da tutti; anche Bellick non resisterebbe per più di un'ora senza picchiarlo. A pensarci meglio però, questi suoi atteggiamenti bizzarri potrebbero rivelarsi proprio la sua salvezza. Infatti il prigioniero Mike sarebbe una calamita così succulenta che finirebbe per diventare la p********a più contesa dalle gang. Dispenserebbe dei momenti di una ilarità così rara che nessuno si sognerebbe di ucciderlo interrompendo quindi il divertimento. Tutte le gang si batterebbero per tenerlo in vita, per il gusto di vedergli fare quelle cose grottesche che solo Michael Scott sa fare.
Noi però sappiamo che questo non accadrà mai perché Prison Mike non può essere catturato. Lui riuscirà sempre a farla franca, anche se ha rapito il figlio del Presidente.
E da parte mia, Prison Mike, vorrei ringraziarvi per avermi ascoltato e per avermi fatto entrare oggi nella vostra vita. Perché voi fate una bella vita! Una bella vita!