Sono passati appena due giorni da quando Netflix ha rilasciato la quarta attesissima stagione di The Crown. Eppure sul web infervorano già speculazioni e commenti in merito alla presunta reazione della famiglia reale inglese. The Crown 4 è stata forse la stagione più anticipata della serie storica di Netflix. Cosa che non stupisce se si pensa al fatto che questo capitolo racconta la storia di Lady Diana, e più in generale, di un periodo critico per il Regno Unito.
E come da previsione The Crown 4 non rende un quadro particolarmente lusinghiero della famiglia reale, in particolar modo di Carlo e Camilla.
La stagione – che narra eventi accaduti tra il 1979 e il 1990 – parte dall'elezione di Margaret Tatcher a primo ministro, per poi proseguire con il tragico attentato che ha causato la morte di Lord "Dickie" Mountbatten, rivendicato dall'IRA. Va poi a raccontare il fidanzamento e il successivo matrimonio tra Carlo, erede al trono, e la giovanissima Diana Spencer. E lo fa ripercorrendo senza remore la travagliata storia del triangolo amoroso formato dai Principi di Galles e Camilla Parker-Bowles.
Da tutti questi elementi sono nate proteste da parte dei detrattori della serie che sostengono ad esempio come i dettagli in merito alle ultime conversazioni tra Carlo e Dickie siano assolutamente fasulli. Infatti non ci sarebbero prove delle riserve espresse da Dickie al nipote in merito alla sua relazione con Camilla. Come anche dell'ultima lettera che questi avrebbe scritto al nipote come mostrato nel primo episodio di The Crown 4.
Inoltre in molti hanno sottolineato come Carlo "adorasse" il prozio incondizionatamente e fosse assolutamente devastato dalla sua morte. Non a caso pare che il principe ereditario si sia categoricamente rifiutato di guardare la serie di Netflix.
Il Times ha riportato tuttavia la versione di Peter Morgan, autore della serie, che difende la sua storia. Morgan non nasconde che si tratti di una sua interpretazione dei sentimenti di Lord Mountbutten, nata dal materiale letto e dalle interviste avute con i vari consulenti esperti di faccende reali.
Questo dopo che il Mail on Sunday ha riportato notizia di come amici stretti di Carlo – e a quanto pare i reali stessi – fossero scioccati dai nuovi episodi. In particolar modo per la loro inaccuratezza e la tendenza a sfruttare una questione non ancora passata alla storia come tale. Gli stessi avrebbero sottolineato infatti che sarebbe piuttosto indelicato descrivere in modo tanto rude una faccenda accaduta appena trent'anni fa. Una faccenda che – proprio come mostrato in The Crown 4 – è stata fonte di grande dolore per i protagonisti.
A peggiorare la situazione all'interno di Buckingham Palace, inoltre, ci sarebbe la questione circa il contratto milionario da poco firmato dai Duchi di Sussex, Harry e Meghan, per una collaborazione con Netflix. Stessa piattaforma ora accusata di speculare sul dolore di Lady Di, di Carlo e di chiunque sia stato coinvolto nelle faccende raccontate da The Crown 4.
E a quanto pare William, Duca di Cambridge e primogenito di Carlo e Diana, sarebbe "assolutamente infastidito" dalla serie, trovando che il racconto sfrutti l'immagine di entrambi i genitori descrivendoli in una maniera davvero troppo semplicistica. Tutto solo per un mero ritorno economico.
Un ex assistente reale, Dickie Arbiter, ha voluto far notare inoltre che mentre gli Windsor sono in effetti abituati a esser ritratti in produzioni cinematografiche e televisive, il pubblico potrebbe non cogliere quanto The Crown 4 possa essere storicamente inaccurata. Già in passato il responsabile delle comunicazioni della regina aveva posto sulla licenza poetica assunta dalla serie.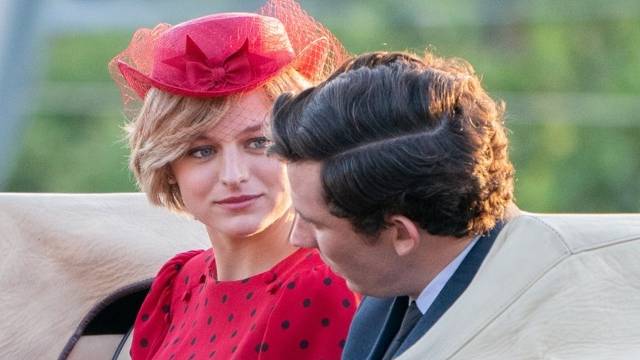 Dunque tutto ciò di cui siamo a conoscenza al momento in merito alla reazione dei reali dopo la messa in onda di The Crown 4, proviene da persone vicine ai diretti interessati. Mentre il Times fa sapere che al momento Clarence House non ha voluto rilasciare alcuna dichiarazione.