Quando i panni dell'eroina cominciano ad andarti stretti, salvare la specie umana e combattere parassiti alieni nei quattro film della saga cinematografica di Alien non è più la tua priorità, l'unica soluzione è passare al lato oscuro.
Sigourney Weaver, infatti, ha deciso di passare dalla parte del male diventando la nuova villain nella serie tv Marvel/Netflix, The Defenders.
La notizia arriva direttamente dal Panel Marvel Television al Comic Con di New York e ad annunciarlo è stato Jeph Loeb, produttore esecutivo e capo della Marvel Television, con queste parole: "Marvel è onorata di avere un'attrice del suo calibro per quella che è già la nostra più grande serie di sempre! Lei è, per definizione, il tocco di classe". Anche Cindy Holland (vice presidente dei contenuti di Netflix) ha espresso il proprio parere sull'attrice: "Cos'altro c'è da dire? Lei è un'attrice formidabile e siamo entusiasti di averla nel nostro straordinario cast accanto a Charlie, Krysten, Mike e Finn".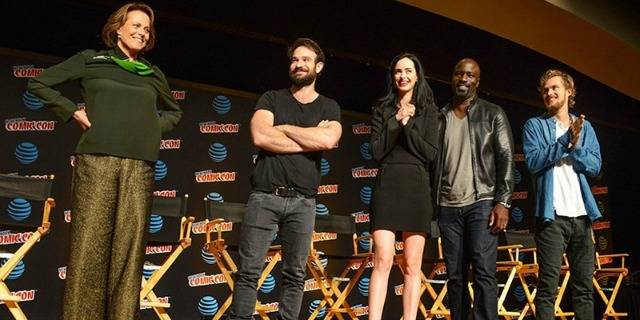 L'ex tenente Ellen Ripley di Alien questa volta sarà uno dei cattivi della mini serie crossover Marvel's The Defenders e avrà a che fare con  i quattro Difensori ovvero Matt Murdock/Daredevil (Charlie Cox), Jessica Jones (Krysten Ritter), Luke Cage (Mike Colter) e Danny Rand/Iron Fist (Finn Jones).
Il suo personaggio rimane però ancora un mistero: sul web sono già state aperte le scommesse su quale villan la Weaver interpreterà ed i più quotati sono la Bestia, demone primordiale usato dall'organizzazione criminale La Mano, l'assassina ex amante di Devil Mary Alice Walker, meglio conosciuta come Typhoid Mary o Mutant Zero, Viper meglio nota come Madame Hydra, o Mephisto.
Seduti dietro la macchina da presa ci saranno Douglas Petrie e Marco Ramirez, showrunner della seconda stagione di Daredevil, ed inizieranno le riprese nelle prossime settimane, in modo da aver pronta l'intera serie per la fine del 2017.