Sull'onda di adattamenti televisivi di romanzi di vario genere, la BBC ha deciso di portare sul piccolo schermo la saga di Philip Pullman, Queste Oscure Materie.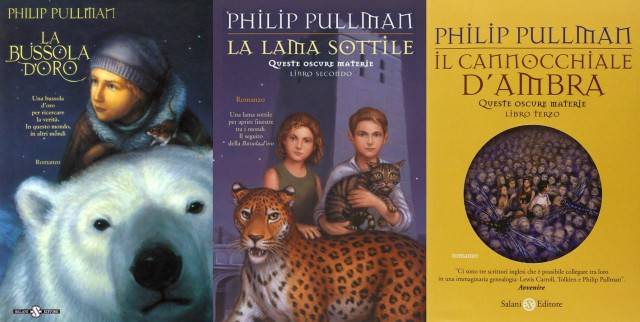 Composta da tre romanzi, La bussola d'oro (1995), La lama sottile (1997) e Il cannocchiale d'ambra (2000), la trama di Queste Oscure Materie si sviluppa seguendo le vicende di Lyra Belacqua e di Will Parry nei loro viaggi attraverso universi paralleli in cui incontrano un gran numero di creature fantastiche, tra le quali streghe e orsi polari in armatura.
Un tentativo di portare sullo schermo la trilogia era già stato compiuto nel 2007, quando uscì nelle sale La bussola d'oro, film diretto da Chris Weitz con Dakota Blue Richards e un cast di grandi attori tra cui Daniel Craig, Nicole Kidman, Christoper Lee e Eva Green; film che non ha avuto il successo sperato, bloccando così la produzione dei due capitoli successivi. Altre trasposizioni di Queste Oscure Materie includono un adattamento radio sul canale BBC Radio 4, una produzione teatrale di gran successo in scena al Royal National Theatre di Londra nel 2003 e audiolibri narrati da Pullman stesso.
La BBC ora si prende carico del progetto e ha reso noto che a occuparsi della serie televisiva sarà Jack Thorne, uno degli scrittori più noti nel Regno Unito.
Thorne ha scritto per la radio (tra i suoi lavori si annovera un adattamento del Gobbo di Notre-Dame di Victor Hugo per la BBC Radio 4), il teatro (tra i vari progetti spicca la collaborazione con J. K. Rowling alla stesura di Harry Potter and the Cursed Child) e la televisione (in serie TV come This Is England, Shameless UK e Skins), quindi possiamo sperare che abbia tutte le carte in regola per fare un buon lavoro. "Avere l'opportunità di immergersi nel mondo di Philip Pullman è un grande onore e una grande opportunità" ha affermato. "I libri della trilogia Queste Oscure Materie sono ampi, pieni di personaggi, e lavorerò il più duramente possibile per rendere loro giustizia."
In merito all'adattamento della BBC, si è espresso anche l'autore dei libri, Philip Pullman, dichiarandosi entusiasta: "È per me una fonte di gioia vedere la storia adattata in diverse forme su diversi media." Ha inoltre aggiunto di essere contento di avere Jack Thorne in squadra. "Jack è uno scrittore dotato di formidabile energia e sono stato veramente contento di parlare con lui e di scoprire le sue idee riguardo la trasposizione di Queste Oscure Materie sullo schermo. Sono certo che farà un lavoro superbo e non vedo l'ora di vedere come si sviluppa l'intero progetto".
La serie verrà filmata in Galles e sarà prodotta da Pullman stesso, da Toby Emmerich e Carolyn Blackwood per New Line, da Bethan Jones per BBC One, da Deborah Forte per Scholastic e da Jane Tranter e Julie Gardner per Bad Wolf.
I piani sono quelli di iniziare la pre-produzione nell'autunno del 2016, con un numero di otto episodi per la prima serie e la speranza di poterla rinnovare, ratings permettendo.