Conoscete Klaus? L'ibrido originale per eccellenza? Non che sua maestà di New Orleans, Klaus Mikaelson? Interpretato, sia in The Vampire Diaries che nello spin-off, The Originals, da Joseph Morgan? Se non lo conoscete dovete assolutamente rimediare, anche perchè, come leggerete qui, è uno degli uomini più sexy delle Serie Tv. Ma torniamo a noi. Ebbene, abbiamo una piccola chicca su JoMo (JoMo voi dire che cos'è?, è il nomignolo che le fan gli hanno affibbiato).
Per quanto JoMo sia affezionato a Klaus Mikaleson, a The Originals ed a tutto il cast vampiresco della Serie, il vero sogno dell'attore è quello di recitare in un altro show. Anche Joseph Morgan è caduto preda del lato oscuro e si è lasciato facilmente affascinare dalle atmosfere apocalittiche di The Walking Dead.
E il suo sogno nel cassetto (ebbene anche le star di Hollywood li hanno) è proprio quello di recitare nella Serie di punta della AMC. Come ogni fan "comune", JoMo ha espresso il suo entusiasmo per The Walking Dead con una foto da vero e proprio fanboy di Rick & Co.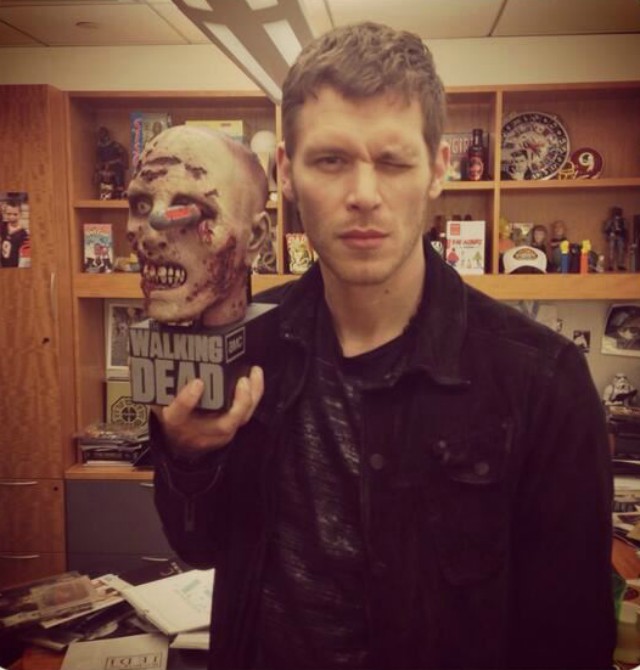 Da mezzo vampiro e mezzo lupo mannaro, a zombie, il passo è molto breve. Joseph Morgan è ormai abituato alle atmosfere dark, tetre, a stare sempre sul chi va là per non farsi catturare o uccidere dai nemici, alla violenza, al sangue.. Insomma ci siamo capiti! Potrebbe essere l'uomo giusto al fianco del protagonista Rick Grimes in The Walking Dead?
Tra Morgan ed i produttori di The Walking Dead ancora non ci sono accordi, anche se il vampiro originale spesso scherza sulla questione, dicendo di aver preso già degli accordi con Robert Kirkman per entrare nel cast della ventesima stagione di The Walking Dead.
L'amore dell'attore verso la Serie della AMC dura da anni e ormai JoMo la sta sbandierando su qualsiasi social. Magari spera, un domani, che i produttori lo contattino..
Chissà se il suo sogno si realizzerà..
LEGGI ANCHE: Cosa non ha funzionato nella quarta stagione di The Originals