# #
Gli Inhumans sono stati realizzati da Stan Lee e Jack Kirby su The Fantastic Four. Sono individui geneticamente superiori agli esseri umani creati tramite esperimenti della razza extraterrestre dei Kree per ottenere delle armi. Hanno evoluto la loro società parallelamente a quella umana, ma rimanendo nascosti per millenni tra le vette dell'Himalaya nella città di Attilan.
# #
La Serie Tv non è nata per essere uno spin-off di Agents of S.H.I.E.LD, poiché avrà una storia totalmente indipendente e soprattutto sarà diversa da tutte le altre serie Marvel targate Netflix.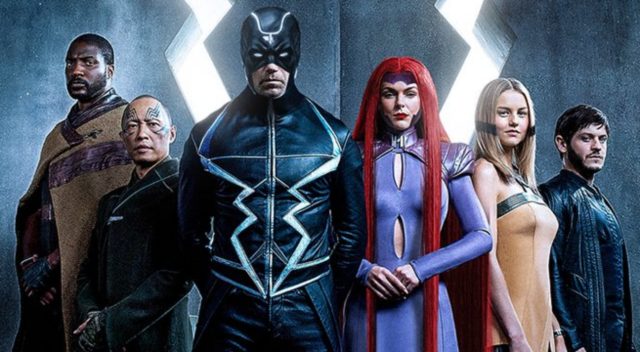 # #
I componenti del gruppo sono: Regina Medusa (Serinda Swa), moglie di Black Bolt e regina degli Inumani; Black Bolt (Ansom Mount), che utilizza il potere della super voce; Crystal (Isabelle Cornish) con il potere di controllare gli elementi; Gorgon (Eme Ikwaukor), anche lui membro della famiglia reale degli Inumani e cugino di Black Bolt. L'altro cugino di Black Bolt è Karnak, interpretato da Ken Leung. Grazie al suo superpotere (riesce a vedere i difetti in tutto) egli riesce a prendere il posto di consigliere di Bolt.
Chi è da temere è Maximus (il Folle) interpretato da Iwan Rheon e fratello di Bolt(-on); Maximus sogna di indossare la corona e farebbe di tutto per ottenerla utilizzando la sua intelligenza e il suo fascino.
La trama ufficiale di questa Serie Tv recita che:
Dopo che la famiglia reale degli Inhumans è stata spodestata da un colpo di stato militare, riesce a malapena a fuggire alle Hawaii. La sorprendente interazione con il mondo lussureggiante e l'umanità intorno a loro si dimostrerà essenziale non solo per salvare se stessi, ma lo stesso pianeta Terra.
I primi due episodi verranno presentati in anteprima sotto forma di film di due ore a partire da settembre 2017, e resteranno in programmazione per due settimane.
Inoltre giorni fa venne pubblicato il primo teaser di Inhumans e adesso, finalmente, riusciamo anche a dare la prima sbirciatina al trailer ufficiale.
ECCOLO