Annullate gli impegni per il fine settimana, Rave of Thrones è in città. Per tutti i fortunati fan di Game of Thrones che si trovano a Milano (o dintorni) sarà possibile infatti partecipare alla festa ispirata alla serie evento.
Il ritrovo è per Sabato 8 dicembre, al Gate Club in via Valtellina 21, dove dalle 1 alla console ci sarà un Dj d'eccezione: Kristian Nairn, alias Hodor. Il costo del biglietto d'ingresso alla serata è di 40 €.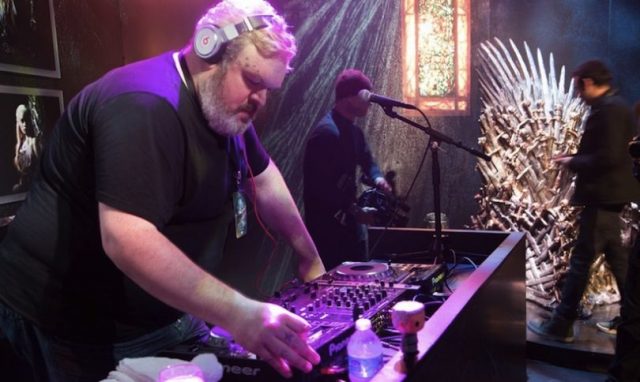 L'evento sarà un vero e proprio spettacolo in stile Westeros, con ballerini e saltimbanchi, nani giocolieri e perfino un drago sputa fuoco di dimensioni reali. Nairn sarà affiancato nello show dal duo italiano Pelussje che, insieme ai dj e producer James Nayler, Chiara Benelli, e i milanesi Margherita D'Aguì e Dustin Philp, proporranno una serie di remix sperimentali della colonna sonora e degli epici temi di Game of Thrones.
Non solo, per l'occasione hanno confermato la partecipazione anche i Dj Redan, Lil Mystic e Wifi Suicide, specializzati in selezioni electro, che regaleranno al pubblico una loro personale versione della colonna sonora.
Non siamo di certo abituati a vedere Nairn in questa veste festaiola. L' attore ha portato sullo schermo un Hodor pressoché perfetto, dimostrando ampiamente le sue doti recitative. Ha infatti più volte spiegato come abbia interpretato quella singola parola, quel benedetto hodor, con tante differenti inflessioni quante le diverse situazioni richiedevano.
Sebbene poco loquace, Hodor è riuscito comunque a prendersi un meritato posto tra i personaggi più influenti di Game of Thrones e nel cuore dei fan. Grazie anche all'efficace battuta "Hold the door", che in tre parole riesce a racchiudere tutta l'essenza stessa di Hodor e del suo compito finale, e che è ormai entrata nell'immaginario collettivo.
E allora cosa aspettate a scatenarvi con Hodor?